Modernist Kaunas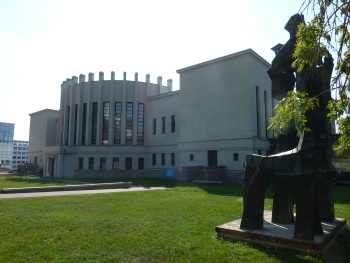 Modernist Kaunas: Architecture of Optimism, 1919-1939, represents the redevelopment of its urban landscape as Lithuania's new capital.
Naujamiestis (New Town) and the adjacent Žaliakalnis (Green Hill) contain numerous examples of early Modernist architecture, adapted to its small scale and local character. Notable buildings include the Central Post Office, the Officers' Club, the Bank of Lithuania, and the former Bank of Agriculture.
Community Perspective: the nominated area can be easily found on maps of Kaunas for its rigid plan and is easy to explore on foot; only the recommended Christ Resurrection church takes a detour.
Community Reviews
---
August 2017 - After the day on the Curonian Split, our next Goal was Vilnius. We had dinner in Klaipeda and had the stupid idea of going a bit further on the Highway that day. After 1 hour we had to stop as we just fell asleep in the car. So we arrived really early in the morning in Kaunas. Fortunately a small cafe had already opened and we had some breakfast. We walked the Main street and a parallel street to Marvel at the modernist buildings. Well, they are quite nice, but as a standalone Whs? We also drove by the Big white church, which is quite amazing. Definitely worth a stop between Vilnius and Klaipeda.
---
Building a new capital from scratch, often results in a large and consistent set of period architecture. Fatehpur Sikri or Jaipur come to my mind. A capital needs many buildings. You need offices for the government, you need more residential areas for the influx of inhabitants and you need to provide public services. And more likely than not, you will build using the at the time hip architectural style. Kaunas is no different.
After WW 1, the Polish occupied the main city of Lithuania: Vilnius. The temporary capital of the new found country of Lithuania was established in Kaunus. The original historic town was greatly enlarged by new, modernist buildings. They went all in and the amount and consistency of the modernist buildings is unique.
OUV
I feel the modernist architecture is unique and consistent enough to warrant inscription. It's not backward looking, but represents cutting edge architecture of the time.
Getting There
Kaunas lies on the main highway between Vilnius and Klaipeda (Curonian Split). It's a natural stop, if you travel from Vilnius to the coast and plan to tick off all sites in Lithuania In the city, I did everything on foot.
---
Lithuania gained independence after World War One, however Vilnius was soon after given to Poland. Kaunas was then designated as the new capital of Lithuania. As a consequence, many buildings were built in homogenous modernist style in a short period of time – actually till 1940 when Lithuania was taken by Germany then USSR.
It is easy to identify this part of the city on a map of Kaunas, with its straight and large streets, at the East of the historical area. Laisves avenue is the main street of the area. Arriving in the morning from Klaipedia, we stayed one night in Hotel Kaunas (easy to remember that name!) right in the centre of that area, before making our way to Vilnius on the next day, in August 2017.
Tourist website of the city provides a good list of most interesting interwar buildings; most of them close to each other. Walking Laisves avenue from East to West, we could see the post office, the former headquarters of Pienos Centras Company (at a street croner), Romuva cinema (on the north side of Laisves avenue, not immediately on the avenue but some 50 m back). Still walking to the East on Laisves avenue and turning next right (South) after seeing the cinema, we immediately found the former Officers' Palace. One block north of Laisves avenue, you can easily reach Unity Square, surrounded by many "interwar" buildings: former ministries, schools, and the War museum. We wanted to end our tour at Christ Resurrection church (a massive white building on top of a hill), unfortunately the cable car (also listed as interwar building) was closed for maintenance, so we had to climb stairs under warm August sun to reach the church. The visit was rewarding, as the church looks like no other we visited before: it looks more like a factory – and was actually used as such during the period Lithuania was occupied.
We enjoyed this half-a-day visit of Kaunas. Interwar buildings are quite concentrated, so you don't have to walk long from one building to the other. Most of them are still in use (post office, museum, church, restaurant at the ground floor of Officers'' Palace), so you can go inside and don't have the feeling to visit a "museum" city. Others are being restored (cinema, cable car). Panels with information have been installed in front of some buildings, giving the feeling that Kaunas city is making big efforts to showcase this part of its history. Interwar buildings of Kaunas are clearly important in the history of the country, but maybe not fundamental in World history. However, considering there are still few modern architecture buildings on the list, and with a strong supporting file, I believe it could make its way to the List.
---
Site Info
Full Name

Modernist Kaunas: Architecture of Optimism, 1919-1939

Unesco ID

Country

Inscribed

Type

Cultural

Criteria

4

Categories

Link
Visitors
77 Community Members have visited.