La Lonja de la Seda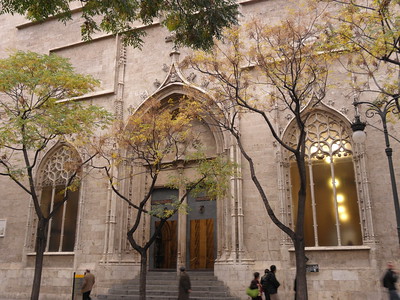 La Lonja de la Seda de Valencia is a 15th century Gothic masterpiece that was used as a trade hall and silk exchange.
This commercial building was founded in 1469 as a market for oil. The design was derived from a similar structure in Palma de Mallorca. The architects were Pedro Compte, Juan Yvarra, and Johan Corbera. It was not until 1498 that the crenellated tower and the Flamboyant Gothic trading hall were completed, and the whole complex was finished in 1533.
The building became a symbol for the Golden Age of Valencia, when it was one of the great Mediterannean mercantile cities. During subsequent centuries, La Lonja functioned as a maritime trading centre and a silk exchange. It still is used for commercial purposes. The site includes the main Contract Hall, the Pavillion of the Consulate which was the seat of the Tribunal del Mar (merchant tribunal) and the central tower.
Map of La Lonja de la Seda
Legend
Visit November 2011
This is only one building, so my visit wasn't too long. At the entrance I opted for the guided tour, which turned out to be very informative and was conducted (in Spanish) on a one-to-one basis. The start of the tour is in the main hall, which I also found to be the most impressive part of the building. It is no coincidence that it looks like the interior of a cathedral, as the wealthy merchants decided to emulate the religious symbolism because their trade was looked down upon.
The large, spiralled columns that dominate this hall represent palm trees: the columns used to be painted brown, their tops green and the ceiling sky blue. What a difference that must have been! Now all is the same kind of grey, a bit like when you're visiting Roman ruins and all those monuments look the same colour too.
The rest of the complex consists of a courtyard, a chapel (with pretty Renaissance wooden ceiling) and the tribunal room on the second floor (also with excellent ceiling). Although the main rooms are quite empty and austere, in the corners, around doors and windows, there are tiny sculptures. They often are grotesques and it is a delight to check them out. Actually, I visited La Lonja twice (the batteries of my camera ran out halfway during the first visit) and didn't regret it. There are a lot of interesting details, and I liked the atmosphere in the evening when the lights are switched on.
Click
here
to see more of my photos of La Lonja de la Seda
Community Reviews
---
---
---
---
---
---
---
Community Rating
Community Rating 2.47. Based on 19 votes.
Site Info
Full name: La Lonja de la Seda de Valencia
Unesco ID: 782
Inscribed: 1996
Type: Cultural
Criteria: 1 4
Site Links
Unesco Website
Official Website
Related
Connections
The site has 9 connections.
Visitors
151 community members have visited La Lonja de la Seda. Show all