Kalwaria Zebrzydowska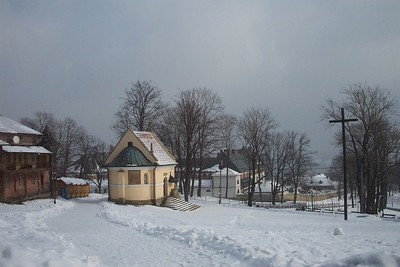 Kalwaria Zebrzydowska is a landscape park and a pilgrimage site.
The layout was designed by Feliks Zebrowski in 1604. It intended to represent the landscape of Jerusalem at the time of Christ. It's an example of a so-called Calvary (a man-made landscape symbolizing the stages that led up to Christ's crucifixion), of which many were built in Europe in the 17th century.
The site includes a total of 44 buildings, among them many diverse chapels. It was named after its founder, Mikolaj Zebrzydowski, at the time governor of Krakow. The distances between the chapels here are longer than in Jerusalem itself, but within the same proportions.
Map of Kalwaria Zebrzydowska
Legend
Visit February 2005
Hourly buses connect Cracow in about 50 minutes with the town of Kalwaria Zebrzydowska. Of course I took the wrong way from the local bus station at first, until I sensed that this road wouldn't take me anywhere else than the bleak outskirts of town. The correct way turned out to be a half an hour uphill walk. There are subtle marks to guide you though (signs to Kloiszter), and to make it even easier the large Benedictine monastery can be seen from almost everywhere in town.
This Benedictine monastery and its adjacent church are the major landmarks of the area. The church, where frequent services are held, is rather loud on colours and gold on the inside. I arrived just after a service had finished, and could still smell the strong odour of incense. Worth seeing also are the traditional wooden houses on the right of the church.
I had planned to walk along the Stations of the Cross on this Polish Via Dolorosa. There are three separate tracks however, none of them too visible under some 30 cm of snow. Without clear directions I just roamed around a bit. In all, I was a little disappointed with my visit. I had expected Kalwaria to be more of an active pilgrimage site. Probably I just arrived in the wrong season.
Community Reviews
---
---
---
---
---
---
---
---
---
---
Community Rating
Community Rating 2.67. Based on 18 votes.
Site Info
Full name: Kalwaria Zebrzydowska: the Mannerist Architectural and Park Landscape Complex and Pilgrimage Park
Unesco ID: 905
Inscribed: 1999
Type: Cultural
Criteria: 2 4
Site Links
Unesco Website
Official Website
Related
Connections
The site has 7 connections.
Visitors
127 community members have visited Kalwaria Zebrzydowska. Show all