Jongmyo Shrine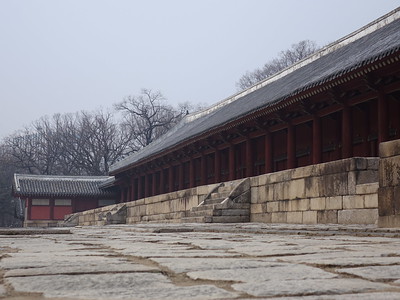 The Jongmyo Shrine is the earliest surviving Confucian royal ancestrian shrine. It was dedicated to the memorial services for the deceased kings and queens of the Korean Joseon Dynasty.
It was built in 1394 and has been used to the early 20th century.
The main hall is the longest building in Korea of traditional design. During the Seven-Year War, Japanese invaders burned down the original shrine and a new complex was constructed in 1601 which has survived to this day. The original tablets were saved in the invasion by hiding them in the house of a commoner and also survive to this day. There are 19 memorial tablets of kings and 30 of their queens, placed in 19 chambers.
An elaborate performance of ancient court music (with accompanying dance) known as Jongmyo jeryeak is performed here each year for the Jongmyo jerye ritual.
Map of Jongmyo Shrine
Legend
Visit September 2001, January 2017
This is sober stuff. I don't know if you can say that you like it or not - it's meant as a shrine. Although I did some homework I didn't really get a grip on this monument during my first visit in 2001.
The shrine nowadays can only be visited with a guide (except on Saturdays, when you can walk around on your own freely). Four times a day there is a guided tour in English. I bought a ticket for the tour of 4 p.m., a tour that still attracted 25-30 people.
In this shrine are kept the so-called memorial tablets for the kings and queens of the last dynasty of Korea. Their bodies are buried elsewhere. Twice a year, these ancestors are honored by a big ritual of song, dance and music in the Confucian tradition. The rest of the year the complex is peaceful and quiet. The tablets are kept behind closed doors. You have to watch your step walking here: the spirits have their own path that leads directly to the shrine.
The tablets of the most important kings are located in the main building on the site: an elongated building with 35 rooms on a vast square. Next to it is a similar building for the less important ancestors. In the freezing cold of early January it is all very austere, but I'm glad I went for a second time to hear more of the explanations of the guide.
Community Reviews
---
---
---
---
---
---
---
---
---
---
Community Rating
Community Rating 2.37. Based on 15 votes.
Site Info
Full name: Jongmyo Shrine
Unesco ID: 738
Inscribed: 1995
Type: Cultural
Criteria: 4
Site Links
Unesco Website
Official Website
Related
In the News
Locations
The site has 1 locations.
Jongmyo Shrine lies in the center of Seoul. It can be visited from metro station Jongno-3 (sam)-ga.
Connections
The site has 14 connections. Show all
Visitors
138 community members have visited Jongmyo Shrine. Show all