Albi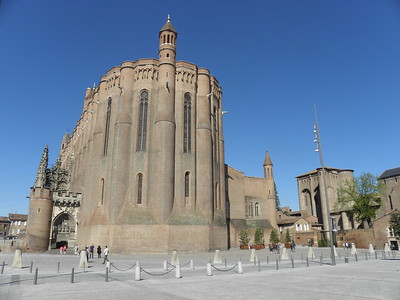 The Episcopal City of Albi was built around the original cathedral and episcopal group of buildings. Red brick and tiles are the main feature of most of the edifices.
Among the buildings of the town is the Sainte Cécile cathedral, a masterpiece of the Southern Gothic style, built between the 13th and 15th centuries. Built as a statement of the Christian faith after the upheavals of the Cathar heresy , this gigantic brick structure was embellished over the centuries.
The Palais de la Berbie, formerly the Bishops' Palace of Albi is one of the oldest and best-preserved castles in France. This imposing fortress was completed at the end of the 13th century.
The Old Bridge (Pont Vieux) is still in use today after almost a millennium of existence. Originally built in stone (in 1035), then clad with brick, it rests on 8 arches and is 151m long. In the 14th century, it was fortified, reinforced with a drawbridge and houses were built on the piers.
Visit April 2013
I am the first on this website to "review" this WHS - pretty remarkable as it involves a midsize city in a popular tourist region of a West European country. Maybe it has been boycotted by the regular WH visitors because of its very doubtful admission to the List in 2010. The whole story about "Filling in the Gaps" seemed to have been forgotten, the AB ICOMOS was overruled, and here we are: another European town with medieval roots and a prominent Gothic cathedral.
Albi lies just under an hour north of Toulouse, and on the way to another fairly recent French WHS - the Causses and Cevennes. I visited it on a glorious Sunday, and certainly wasn't the only tourist around. The main area of interest is the cathedral and the adjacent bishop's palace. And I have to say: these both are perfect harmonious structures, with curves featuring prominently in their architecture. And of course both are made out of the local red brick, which seems to have been the main reason why it has been allowed to be a WHS. It has even be compared to the Minaret of Jam!
The designated area also includes four historic quarters with some timber-framed buildings. And there's an old bridge. The core zone is not that large. I found it a bit similar to Strasbourg, though smaller. The best surprise I got from the cathedral's interior - behind the austere walls there's a wonderful blue glow in the exuberant gothic interior. I so wanted to be critical of Albi, but it really is worth a short detour.
Click
here
to see more of my photos of Albi
Community Reviews
---
---
---
---
---
---
Community Rating
Community Rating 3.26. Based on 19 votes.
Site Info
Full name: Episcopal City of Albi
Unesco ID: 1337
Inscribed: 2010
Type: Cultural
Criteria: 4 5
Site Links
Unesco Website
Official Website
Related
Connections
The site has 15 connections. Show all
Visitors
144 community members have visited Albi. Show all