Zamość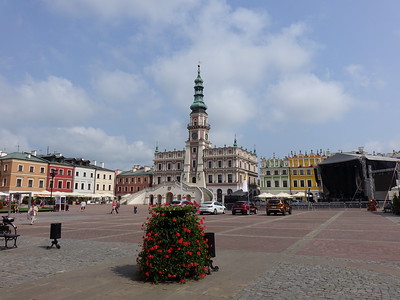 The Old City of Zamość is a planned town from the Renaissance with blended Central European and Italian architecture.
The city was built from 1582-1591 by the Paduan architect Bernando Morando, on the instructions of chancellor Jan Zamoysky. He named it after himself. The new town was populated by merchants from all nationalities, religious tolerance was shown to attract people and an academy was founded.
The town also had an imposing fortress, of which now only little survives. It was built between 1579 and 1618, also by Zamoysky and Morando.
Community Reviews
---
I visited this WHS in August 2020 after a never ending drive due to roadworks and deviations. It will always have a special place in my memory as by visiting it I completed Poland's WHS and reached my 500th WHS milestone.
Zamosc is quite a small WHS and its main square can be compared to Telc's in Czechia or to Bardejov's in Slovakia. While the latter lacked any outstanding element, the former was more complete with excellent varietes of townhouse facades all around the square. Only a few 'Armenian' town houses next to the town hall (photo) are on par with Telc's townhouses. On the other hand, the old town of Zamosc has a unique layout and an outstanding implementation of the theory of the "ideal town" based on a plan of a human figure. The Zamoyski Palace was the head, the Zamoyski Academy and the Collegiate Church were the lungs, the Town Hall was arranged at the heart, and Grodzka Street formed the backbone running from the Palace to Bastion VII. The bastions embodied elbows, knees and hands to be used for defence. This concept was developed by the Italian architect Bernardo Morando and implemented by Jan Zamoyski, the founder of Zamosc.
I really enjoyed walking around the town's fortifications at different times of the day. For a panoramic view of the town's layout, it is possible to go up the cathedral tower for 5 zloty. Entrance to the rest of the cathedral complex is free. Another church worth visiting lies in the opposite direction of the cathedral is the former Colleagiate church known as the Cathedral of the Resurrection and St. Thomas the Apostle, an excellent restored example of Polish Mannerism. A hidden gem I confess I knew nothing about prior to my visit is the old synagogue (quite expensive to visit the small interior by Polish standards but worthwhile nonetheless).
Any direction you pick to start exploring this town will inevitably lead you to the Grand Market Square with the Town Hall, which boasts a 52 metre clock tower, integrated into a line of tenement houses. The square is one of the most magnificent 16th century square in Europe, based on the ideal 100 x 100 m square. It is surrounded by bourgeois tenement houses with arcades formerly owned by Armenian townsmen. The house with a red facade and an angel statue houses the Zamosc Museum. This year happens to mark Zamosc's 440th anniversary so a huge yellow Zamosc 440 sign was placed near the middle of the square. A marble or stone UNESCO WHS inscription plaque can be found just beneath the town hall clock tower.
---
2.50 The Netherlands - 02-Jun-19 -
Zamość, located in the Far East of Poland near the border with Ukraine, was one of the two WHS goals of my recent Pentecost trip. This year especially I am trying very hard to cover isolated sites like these in my quest to visit all European WHS. In January 2017 I calculated that I had 98 to do - now, in June 2019, I have only 24 to go (after excluding Turkey, Russia and Israel which are a bit too far and complex for weekend trips). I might be confronted however with an additional 4 to 9 after the 2019 WHC meeting that takes place in early July.
I arrived in Zamość on Saturday around dinner time after a long day of driving and had looked forward to eating a meal at the famous Rynek square. But, lo and behold, a full stage had been set up there and a classical concert was about to start. Everyone who had managed to secure a spot at one of the terraces obviously stayed put to listen in.
Some time ago in our Whatsapp group, we discussed what spoils a WHS visit (or a photo thereof): a parked car in front of the object, a person wearing too bright coloured clothing. But a full-size concert stage obscuring parts of the famous colorful 'Armenian' houses certainly was a low point for me.
The next morning I started my town visit with a full loop outside of the fortifications. These are mostly reconstructions from a later date than the early 17th century origins. A footpath has been created along most of them and it was a pleasant walk. There are information panels along the way to read as well. Some mentioned the similarities with Naarden-Vesting (part of the TWHS Nieuwe Hollandse Waterlinie). But it reminded me of Visby as well.
It took me only 45 minutes to complete the full circle. This demonstrates how small the historical center of Zamosc actually is. When you have seen the Rynek, the central square, you've seen most of it. The Town Hall with its 52m high tower is the major point of attraction, plus the row of 5 colourful houses next to it with façade reliefs. In the surrounding streets, you'll find the restored synagogue and a number of churches. The latter were fully in use as it was Sunday morning when I visited: at some of them people even had to stay outside to follow the sermons as the church was full. This is a common sight in Poland, something I had noticed before on a tour along the Wooden Tserkvas (they either build churches that are too small or the population grows more than the number of churches).
I had to think hard about my final 'verdict' on Zamość. It surely is special to find such a well-designed urban center in what is now a remote corner of Poland. And the restorations have been done very well. But it is a bit museum-ish and I couldn't stop thinking about vibrant L'viv, just 130km away on the other side of the border. Part of the same trade route, but with a more obvious cultural mix of Armenian, Jewish, Hungarian and German heritage.
---
Hidden in what nowadays is the Eastern border region of Poland Zamosc is a well preserved Baroque fortification town. It was built by an Italian architect from Padua. While there may be Italian influences, to me it felt Eastern European, similar to Nesvizh.
The most memorable spot is the colorful old market square (Rynek Wielki, photo). When I came much needed renovations were ongoing as the state of preservation was not great. In addition there are plenty of fortifications to explore. Just outside the fortifications to the North West you find the lovely Park Miejski.
Getting There
Zamosc is tucked away in a rather remote corner of Poland. Be prepared to spend some time to get there if you plan to visit from Poland's touristic hot spots (Cracow and Warsaw). Myself, I came from Rzeszów where I had visited some of the Wooden Churches of the region. To get to Zamosc I had to make a major detour and change in Lublin. Luckily, Lublin has a nice old town as I had to spend a few hours waiting for my connecting train.
The next day I left Zamosc for Ukraine. Unfortunately, the bus from Warsaw to Lwiw/Lvov/Lemberg does not stop in Zamosc, even though it passes through. I had to take a local bus to Tomaszów Lubelski first, an unmemorable border town on the border, where I boarded the bus to Ukraine.
As always: Use e-podroznik to research your travel options in Poland.
While You Are There
On both sides of the border with Ukraine you find Wooden Tservkas. If you travel between Zamosc and Lviv the easiest option is to do a short stop in Schowka. Apart from the church, Schowka also has a big ruin of a synagogue and a palace. The state of preservation if poor, though. From Schowka it's fairly easy to continue to Lviv (North) by local bus.
---
Bojana Bartol
This incredible city of Renaissance layout, designed by an architect from Padua in the late sixteenth century, is a destination not to be missed. It's a little shifted from traditional tourist routes, but it is worth making a detour. Simply gorgeous and unmissable.
---
The centre of the town of Zamosc seemed like a minature of the Stare Miasto in Warsaw. But the features of this WHS that made it different were the extensive city walls and fortifications, and the Rotunda.
Built as part of the town's defences, thye Rotunda bacame infamous during WWII as a transit camp and execution site. The communists continued that tradition during their years of oppression. Now it is at the centre of a cemetery, as a memorial to the victims. Each of the cells contains relics of a different atrocity.
---
Zamosc is just waiting for the tourist crowds to re-discover its renaissance charm but with its remote location my guess is that he tourist boom will have to wait for a while. It takes quite some time to get to Zamosc and what was once a perfect location on the trade-route between Lvov and Krakow/Lublin today requires somewhat of a detour to the south-eastern tip of Poland. And it's not making it easier that the only train in the Cracow direction leave Zamosc at 5 in the morning....
The town was founded by Jan Zamoyski in the late 16th century and has been described as the Padua of the North, The Town of Arcades or the Pearl of the Renaissance. Personally I could not agree less. The main rectangular square is dominated by the pink town hall and flanked by three-level burgher's houses, where the Armenian merchant houses take the beauty price.
Zamosc is one of those towns were you just aimlessly wonder round, hour after hour enjoying the place and that you are here right now. After having visited Zamosc you hereby have my strongest recommendations for a south-eastern Polish detour!
---
Site Info
Full Name

Old City of Zamość

Unesco ID

Country

Inscribed

Type

Cultural

Criteria

4

Categories

Link
Site History
1991

Referred

Proposed to inscribe, but Poland asked for buffer zone + comment whether it wants criterion vi also to apply
Site Links
Unesco Website
Official Website
In the News
Visitors
144 Community Members have visited.