Sian Ka'an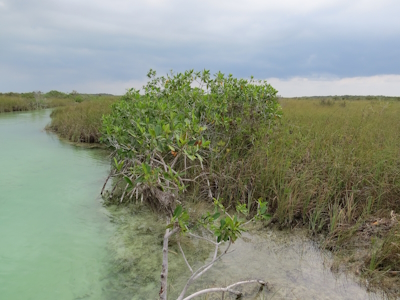 Sian Ka'an is a biosphere reserve in the coastal lowland, with land that is frequently inundated.
Part of the reserve is on land and part is in the Caribbean Sea, including a section of coral reef. It is located in the state of Quintana Roo, Yucatan peninsula.
Five species of cat are found in the reserve, including the jaguar and puma, as well as the tapir and a wide range of bird species.
The reserve also includes some 23 known archaeological sites of the Maya civilization including Muyil.
Visit January 2014
1.0
There are three ways to enter Sian Ka'an Biosphere Reserve: one from the south (Chetumal side) and two from the north (Tulum side). I had originally wanted to visit it on an organized day trip, but I could not get a confirmation from the company I wanted. This is quite common according to the manager of my B&B in Tulum: the tour companies in Tulum are notoriously unreliable in making commitments. Also read the reviews on Tripadvisor and you'll see what I mean. But after a bit of searching on the internet I found out it was perfectly doable to visit the core zone of the WHS on my own. I choose the approach from the archaeological site of Muyil, some 20 kms south of Tulum.
Muyil is a small Maya site in the "West Coast" architectural style, the same as the nearby ruins of Tulum which I visited yesterday. These are very late constructions (up until 1550!), so they are also more technically advanced then for example Calakmul. A few buildings have some coloured painting and murals/reliefs left on them. The "Castillo" shows an appropriate relief for a natural WHS close to the sea: two birds, one of which looks like a pelican.
From the archaeological site of Muyil, there's a "hidden" access to the biosphere reserve. The jungle path is common knowledge among tour guides and info can also be found on the internet, but it's not signposted or advertised in any way at the site itself. From behind the Castillo, you have to follow the sacbe (traditional Mayan road, this one has a sign). It will lead you on a short walk through the jungle and ends up at a gate. There you have to pay 50 pesos to enter the nature reserve. The guard had to leave his hammock for me, but was not surprised at all to see a lonely visitor coming this way.
What follows is a newish boardwalk across the mangroves and pools. This is the part of the excursion that I enjoyed most. It takes about half an hour. Because the vegetation is very dense, it can be spooky at times walking their on your own. I was startled more than once by a bird landing on the tree branches above my head. But I did see relatively few birds. The other visitors I had seen at Muyil were a couple of birders, so there must be something there. About half way there's a wooden watch tower which you can climb. It's very steep and I stopped half way without seeing anything remarkable.
The boardwalk ends at a beach, which also can be reached by car (it's the first unpaved road left after Muyil). From here you are supposed to be able to rent motor boats for a trip into the lagoon. I found a couple of guides there, and they were willing to add me to a group that was arriving at 10 a.m. I knew already that they charge a lot and had brought extra cash. The (half) day trip I had looked into would have cost 105 US dollar, and this boat ride alone costed me 1000 pesos (57 EUR). Well, it's not the most I have ever paid to enter a WHS and I felt that a visit would not be complete without a view from the water (although you can really tick it off at Muyil already).
A group of French and German tourists duely arrived, all-in their swimming suits. Most of them even had not brought cameras! I was still wearing my hiking boots and normal travel clothing, and looked the odd one out. But I wanted to get on the water, and joined some of the French and a French speaking guide on one of the boats. We navigated the Muyil lagoon at full speed, the boat men and guides enjoying this way of travelling. Obviously we didn't see anything. We then went through a narrow passage with some mangroves (if you have seen mangroves once, you've seen them all). And ended up at a little island with a small Mayan building. The group went "floating" from there (floating in their lifejackets on the strong currents downstream), and I walked another boardwalk. And that was it – the boat trip took 1.5 hours, but there was not much enjoyment of nature at all. Maybe I should have tried harder and find a reputable company beforehand, but I wasn't impressed what these guys (Sian Kaan Community Tours) delivered. They're there to entertain the big tour groups, aren't interested in individual travellers and – maybe the worst of it – aren't by far as eco-conscious as they advertise to be. They race their boats, and at the end I saw one of the guides walking away on the boardwalk smoking and playing loud music from his cell phone.
But that was not all: after having lunch in Tulum, I gave the other entrance from the north a try. It's the road that goes from Tulum to Punta Allen, and passes the official visitor center of Sian Ka'an. I had read that the road was in terrible state but wanted to look for myself. First (on a paved road) you pass the "hotel area" of Tulum. It's more of an alternative seaside resort than Cancun: think yoga hotels and quinoa salads (I really saw signs for both along the way). At the gate to the nature reserve, where the official Unesco sign is, the road starts to deteriorate dramatically. I have experienced a number of bad roads already in Mexico and of course there are always these annoying topes, but this was unseen. After about 2km of bumping around, I decided to turn around and call it a day.
Click
here
to see more of my photos of Sian Ka'an
---
---
---
---
---
---
---
---
---
---
---
---
---
---
---
---
---
---
Site Info
Full Name

Sian Ka'an

Unesco ID

Country

Inscribed

Type

Natural

Criteria

7

10

Categories

Link
Site Links
Unesco Website
Official Website
In the News
Visitors
103 Community Members have visited.