Mount Emei, including Leshan Giant Buddha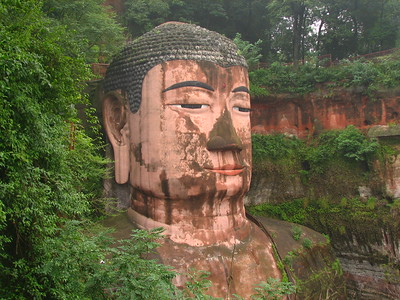 Mount Emei Scenic Area, including Leshan Giant Buddha Scenic Area, comprise the place where Buddhism was first established in China. It is also outstanding for its plant species diversity.
The Giant Buddha of Leshan measures 71 m high overall, which makes it the largest statue of the Buddha in the world.
Emei is the most outstanding Buddhist mountain in China. Emei became a sacred Buddhist site following the sixth-century visit of Bodhisattva Puxian and his six-tusked elephant. Here Buddhism first became established on Chinese territory and from where it spread widely throughout the east.
Covering Emei Shan is a sub-tropical forest with many endemic and endangered plants. They include orchids, primulas, rhododendrons, camellias, ginkgos, cycads and tree ferns. The mountain is frequently covered in dense cloud, with associated high rainfall and humidity.
Map of Mount Emei, including Leshan Giant Buddha
Legend
Visit September 2007
During early September I stayed for three days in the Emei/Leshan area. Those days were easy to fill because there's a lot to see and do here. The iconic sight of the Giant Buddha for example. I arrived at 8.45 in the morning, and had the place virtually to myself. The bus had dropped me at Dafo's head, and from there you can climb down his body until you arrive at his feet. The way he sits and looks out over the river makes him look like a gentle giant watching over the world.
My first two days I spent around Mount Emei. I started with visiting Fuhu Si (Crouching Tiger Temple), today a nunnery. It dates from the 12th century. Its major assets are its location (up against the mountain in dense vegetation) and its great garden complex that is very well taken care of.
And oh yes, I did use the cable cars. One of them to be exact - there are two on this mountain!. At the inscription of this site the Advisory Bodies to Unesco were very worried about the cable car "which leads to the Golden Summit of the mountain and brings some 300,000 people a year to the sensitive montane forest zone." I took the lower cable car to Wannian Temple, a lively and colourful one with the statue of Puxian and his six-tusked elephant. From there I hiked down to the foot of the mountain at Baoguo Si in about 5 hours. I passed the Qingyin Pavilion (nicknamed The Mountain Garden for its greenery) and some minor temples. I walked and walked the stone steps, up and down and up again. I met the occasional monk, looked at the fungi and medicinal herbs that were for sale by old women, almost took a wrong turn or two but safely made it back. Emei Shan and its surroundings are surely worth a couple of days of anyone's itinerary.
Community Reviews
---
---
---
---
---
---
Share your experiences!
Have you been to Mount Emei, including Leshan Giant Buddha? Add your own review!
Community Rating
Community Rating 4.00. Based on 7 votes.
Site Info
Full name: Mount Emei Scenic Area, including Leshan Giant Buddha Scenic Area
Unesco ID: 779
Inscribed: 1996
Type: Mixed
Criteria: 4 6 10
Site Links
Unesco Website
Official Website
In the News
Locations
The site has 2 locations.
Connections
The site has 37 connections. Show all
Visitors
112 community members have visited Mount Emei, including Leshan Giant Buddha. Show all