Kyiv Cathedral and Lavra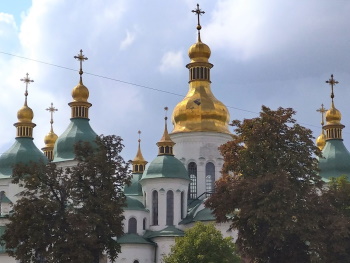 Kyiv: Saint Sophia Cathedral and Related Monastic Buildings, the Kyiv-Pechersk Lavra consists of two monuments known for their decorative art and architecture.
The Saint Sophia Cathedral (1037) was designed to rival the Saint Sophia of Constantinople. In its interior, the Byzantine frescoes and mosaics have been preserved. The 16th-century Kyiv-Pechersk Lavra is a monastery renowned for its underground churches and catacombs. It has been modernized in the style of the Ukrainian Baroque.
Community Perspective: St. Sophia's cathedral is worth visiting for its frescoes, while the Lavra is an active pilgrimage site, where in its caves the mummified bodies of saints can be viewed in almost total darkness. Tsunami has put both buildings into a religious-political perspective.

Map of Kyiv Cathedral and Lavra
Load map
Community Reviews
---
Japan / USA / Europe - 09-Sep-21 -
Having had lived in Chernihiv, Ukraine, over 18 months, I was compelled to do justice to the Kyiv WHS, the country's most important WHS, by visiting all the associated sites, including the ones on the proposed extension, I had not visited before. (I had visited St. Sophia Monastery and Kyiv Pechersk Lavra in the core zone and St. Michael's Monastery and St. Andrew's Church in the buffer zone.) By doing so I have learned a little more about this WHS, and that is what I would like to talk about here.
WHS has to do with OUV and not with politics or religion. But I feel that visitors should at least know what they are visiting. I have encountered some foreign visitors to Japan who had no idea whether they were visiting a Shinto shrine or a Buddhist temple. One even thought that the Himeji Castle was a Shinto shrine!
The original St. Sophia (Hagia Sophia/Holy Wisdom) in Constantinople/Istanbul is now an Islamic mosque again. So what about St. Sophia (photo) in Kyiv? The importance of St. Sophia Cathedral in Kyiv, founded 40 years before Kyiv Pechersk Lavra, can't be exaggerated but today lies in the fact that it is sort of a neutral place of worship, as all major Christian denominations in Ukraine had made claims to St. Sophia Cathedral, creating much conflict. So it remains a museum today, just like St. Sophia in Constantinople/Istanbul was before 2020.
If you visit St. Sophia Cathedral in Kyiv, you would immediately notice another awe-inspiring monastery on the opposite end of Volodymyrska Passage. This is St. Michael's, the only major working monastery aside from Kyiv Pechersk Lavra in Kyiv, but is nowhere to be seen in the proposed extension of this Kyiv WHS (although it is in the buffer zone). The origin of St. Michael's goes just as far back as St. Sophia, but St. Michael's was demolished by the Soviet in 1935 and was only reconstructed after the collapse of the USSR in 1991. (St. Sophia Cathedral was fortunately saved from the destruction by the Soviet.) The reconstruction is one of the reason St. Michael's is not included in the extension, but there is another reason.
The main religious body in Ukraine today is called Orthodox Church of Ukraine, after its creation by the mergers of several denominations in 2018 and the recognition by the Ecumenical Patriarch of Constantinople, Bartholomew I (so called First Among Equals), in the following year. This also signified the schism between the "Orthodox Church of Ukraine" and the "Ukrainian Orthodox Church", which is a branch of the Russian Orthodox Church. The Orthodox Church of Ukraine is headquartered at the St. Michael's Monastery described above and the Ukrainian Orthodox Church is headquartered at Kyiv Pechersk Lavra. Nominating St. Michael's would further p*** off the Russian Orthodox Church and Putin. At the time of the recognition Bartholomew I said, "The pious Ukrainian people have awaited this blessed day for seven entire centuries." I find it interesting that the UNESCO left at least one photo of St. Michael's in the gallery of the Kyiv WHS website.
Generally, after the annexation of Crimea by Russia in 2014 and the war in the Donbas region, the tendency in Ukraine today is, unfortunately, to eschew anything Russian more and more, including religion and language.
In short:
St. Sophia Cathedral: a neutral place of worship
St. Michael's Monastery: Orthodox Church of Ukraine
Kyiv Pechersk Lavra: Ukrainian Orthodox Church / Russian Orthodox Church
Among the 3 locations of this WHS the only one I newly visited is the Church of the Saviour at Berestovo. This Church is located just outside the wall of the Kyiv Pechersk Lavra but is considered a part of the Lavra. The original church from the 12th century was destroyed by the Mongols and was rebuild to one half of the size of the original in the 17th century, incorporating some remains from the original. The foundation of the original church can still be seen outside of the current one. This church is considered quite important partly because the founder of Moscow, Yuri Dolgorukiy (1099-1157), is supposed to be buried here.
UPDATE: May, 2022
Ukrainian Orthodox Church has cut ties with Russian Orthodox Church due to the latter's full support for Russia's war against Ukraine.
Read more from Tsunami here.
---
I have been to Kiev many times in my childhood, but those visits never included any sightseeing. Decades later, I found myself in Kiev on a business trip. It was January of 2014, in a period of relative calm of the Maidan revolution before its final eruption. The city did not feel unstable or dangerous to navigate, so on my only free day I spent time exploring some of the city major sights, including both parts of the WH site.
Inscribed for the spiritual and intellectual influence these religious complexes had on the "Russian world" in 17th-19th centuries, Saint-Sophia Cathedral and Kiev-Pechersk Lavra are on the most basic level fascinating architectural monuments with history going back nearly a thousand years. Seeing these close up is highly recommended if you are in town.
This is not a single site, but two distinct compounds that both date back to the 11th century. The great church of Saint-Sophia assumed its current form by 1767, along with the cluster of buildings surrounding it. The Lavra also underwent significant expansion in 16th-17th centuries, although some of its original caves remain and are accessible for a visit.
Both sites are located in the central part of Kiev, well served by public transportation (although not within walking distance of one another). At the time of my visit, general entry was free, but interior access for non-worship purposes required tickets. Saint-Sophia Cathedral could only be visited with a guide. A walking tour of the Lavra included interior exploration of a single church, that of All Saints.
Photography is limited inside most of the buildings.
It should be noted that there are many other marvellous points of interest in the city of Kiev, no less interesting for the fact that they are not recognized as UNESCO sites. St Michael's and St Volodymir cathedrals are just two obvious examples.
Read more from Ilya Burlak here.
---
This was my first real experience of an eastern orthodox cathedral and the interior of St Sophia's cathedral certainly didn't disappoint. I wasn't quite expecting to see such a beautiful set of frescos. I found myself wandering from arch to arch staring up and marvelling at the next new impressive sight. I spent quite some time wandering around the interior, losing my travelling companion only to be reunited with broad grins across our faces; neither of us was really expecting a site of this quality. The rest of the precinct of St Sophia's was reasonably nice but not especially interesting.
A day later we visited the Lavra Monastery a little further to the south of the centre. This is a much larger complex and is still an active site of pilgrimage. The upper part of the Monastery was fairly busy, the Bell Tower was closed for renovations so we headed into the Cathedral, and this has been mostly rebuilt and was only mildly interesting inside. The highlight of the Upper Part was the Refectory Church, which had a magnificent interior, really showing the Byzantine heritage of the architecture of the buildings.
We then proceeded down to the lower part of the monastery, taking in the wonderful views over the Dnieper flowing through the centre of Kiev. The Lower part of the complex is the focal point for pilgrims as this contains the caves for which the site is famous. All are welcome to enter some of the caves to view the mummified bodies of saints, though there are requests posted to ask that certain areas be reserved for Pilgrims and prayer only. There is no light in the Caves and the only way to navigate around is by buying a beeswax candle to light the way. This actually leads to quite a sensory load. There is the almost total darkness, the chill of the caves, the heat and smell from the melting beeswax, it makes visiting this WHS quite a unique experience.
Altogether I was very impressed with Kiev, it is a big, bustling city reminding me of places like Barcelona and Milan. There were lots of tree lined boulevards with cafe's spilling out into them. The roads are busy and there are a multitude of grand buildings. It is not the sort of place that you could get a full grip on in a few days and I think repeat visits would be greatly rewarded. The WHS itself is truly brilliant the architecture and internal decoration were simply fantastic. A real favourite site from the list.
---
Kiev proved to be quite a surprise for me. But it was not the first time I travelled to former Eastern European countries in order to find that it's not all concrete, Stalin-architecture and generally miserable.
Same thing happened again in Kiev, a town that turned out to be a relaxed place, with beautiful buildings where even the post-Stalin architecture blends in well. A city filled with nice restaurants, cafés, incredible parks, good shopping and - of course - the magnificent churches and monasteries of Kiev-Pechersk Lavra and Santa Sophia Cathedral, the World Heritage Site of Kiev.
The monasteries and churches are really the landmark of Kiev and someone said that there are over 200 churches in this orthodox "junction" of Slavic Europe. To even further grasp the religious history I took a trip to Tchernigov, some 170 km north of Kiev, today a small town of northern Ukraine but once a religious centre with some of the oldest churches and monasteries in the country. Even one of the monasteries is located complete underground. Tchernigov is also found on the tentative list and might become a real World Heritage Site one day, which it well deserves.
---
Jared Snider
I lived in Ukraine for a couple of years, and visited Saint Sophia a number of times. I always found it a beautiful cathedral, and along with the grounds was always a spectacular visit. These visits became more significant to me when my father, an avid geneologist, found out that one of our ancestors was Yaroslav the Wise, who built the cathedral and is buried in a sarcophagus there. I highly recommend a visit to Saint Sophia Cathedral on your next visit to Kiev.
---
Kevin Strider-Lachinov
Saint Sophia's?
Spectacular! Breath-taking! Beautiful!
In fact, it's so good that My Wife and I are considering re-marrying (without a divorce) in Saint Sophia's. If you are going to get married in Kiev (and why not) then Saint Sophia's is the place to do it.
---
Site Info
Site History
2023

In Danger

"as a result of the war in Ukraine, optimal conditions are no longer met to fully guarantee the protection of the OUV"
2019

Name change

From "Kiev: SaintSophia Cathedral and Related Monastic Buildings, Kiev-Pechersk Lavra" to "Kyiv: Saint-Sophia Cathedral and Related Monastic Buildings, Kyiv-Pechersk Lavra"
2012

Extension deferred

to include Saint Cyril's Church and Saint Andrew's Church
2010

Extension deferred

to include Saint Cyril's Church and Saint Andrew's Church
1990

Deferred

Bureau - Separate nominations of Sant Sofia Cathedral of Kiev and State Reserve of Kievo Pechersk should be joined into one
Site Links
Unesco Website
Official Website
In the News
Visitors
285 Community Members have visited.