Um er-Rasas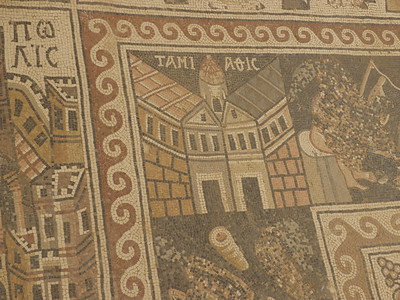 Um er-Rasas (Kastron Mefa'a) is an archeological site which contains ruins from the Roman, Byzantine and early Muslim civilizations.
It was an important Christian pilgrimage center in the 8th century. There were at least 16 churches here, and pilgrims travelled from afar to see and consult the Stylite monks that lived on stone towers. One of those towers (13m high) is still standing.
The majority of the site has not been excavated. It has survived undisturbed for 1200 years and has a high level of authenticity. Among the portions excavated so far include the Roman military camp, 'Kastron Mefaa', a frontier camp of the Limus Arabicus. and several churches. The remains date from between the late 3rd and end of the 9th century.
Particularly noteworthy is the mosaic floor of the Byzantine Church of Saint Stephen with its representation of towns in the region.
Map of Um er-Rasas
Legend
Visit October 2012
Um-er Rasas lies about 30km south of Jordan's mosaic capital, Madaba. It is signposted all the way. The only thing that you have to be careful about are Jordan's infamous speed bumps. The surrounding landscape is unbelievably dry and empty. No wonder that it took so long to excavate this archeological site: only in 1986 work was started.
As other posters have already mentioned, there's a large visitor center and it has no less than two parking lots that also have spaces for numerous buses. However - the visitor center still seems to be closed, even on a Friday (first day of the weekend for the Jordanians). A group of French tourists was just leaving when I arrived, and one family entered with me. We all did so without paying an entrance fee, as the ticket office was as closed as the restaurant, the souvenir shop and the museum.
The main site is quite extensive, and without shade except for the covered building that houses the mosaics. I walked there as fast as I could under the radiating sun. The French that I encountered at the entrance all had very red heads, and that's anybody's fate here I guess.
After having seen several mosaics in Madaba this morning, I wondered about what Um-er Rasas had to add. Most organized tours only make a short stop at Madaba and skip Um-er Rasas alltogether. Well, the design of the mosaics are quite similar, but these here seem to be almost intact and much better preserved. The colours are darker, the designs more sharpened. There are geographical mosaics here too, just as in St. George's Church in Madaba. The ones here are little icons that represent cities such as Caesarea and Philadelphia (now Amman).
I didn't spent much time at the rest of the archeological complex. It looked like several piles of rubble to me. A lot of excavation and explanation still has to be done.
So I got back in the car to drive to the enigmatic Stylite tower. It can be seen from the main area, but it's over a kilometer away. The tower has been well-restored, and now is a lonely reminder of what Um-er Rasas looked like 1200 years ago. I find the story of the ascetic monks fascinating, and it probably needed a location as forgotten as Um-er Rasas to preserve this.
Community Reviews
---
---
---
---
---
---
---
---
Community Rating
Community Rating 2.83. Based on 12 votes.
Site Info
Full name: Um er-Rasas (Kastron Mefa'a)
Unesco ID: 1093
Inscribed: 2004
Type: Cultural
Criteria: 1 4 6
Site Links
Unesco Website
Related
In the News
Connections
The site has 9 connections.
Visitors
78 community members have visited Um er-Rasas. Show all