Quseir Amra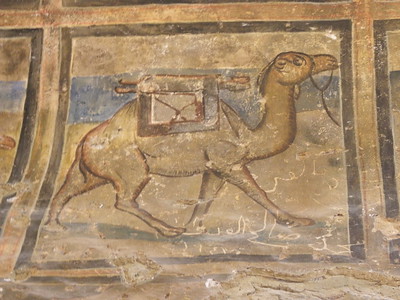 Quseir Amra is an early 8th century Umayyad building known for its well-preserved wall paintings. It is considered one of the most important examples of early Islamic art and architecture.
This 'desert castle' with a triple-vaulted ceiling was used as a retreat by the caliph or his princes for sport and pleasure. The interior walls are painted with decorations such as hunting scenes, fruit, musicians, portraits of great rulers (including the Umayyad Caliph himself), bathing nude women and a map of the northern hemisphere sky accompanied by the signs of the Zodiac.
Part of the building is a bath complex that shows a Roman influence.
Map of Quseir Amra
Legend
Visit October 2012
Like everybody else, I visited Quseir Amra as part of a (half) day trip along the desert castles. In my small rental car, I sped on at Highway 40, one of the few roads in Jordan where it is allowed to drive 100km/h. Most of the other traffic consisted of trucks, on their way to either Iraq or Saudi Arabia. This far northeastern part of Jordan is in the border zone with both countries.
After having warmed up at the already quite pleasant Qasr al-Kharanna, I arrived at the 3 vaults of Quseir Amra. The site is outfitted with a large parking lot, a small visitor center and a bedouin tent where you can buy drinks and souvenirs. Entrance costs 1 JD, but the ticket is shared with the al-Kharanna and Azraq castles so I did not have to pay again. I surely wasn't the only one visiting these castles. I caught up with an English tour group here, after I was already shocked by finding 3 tour buses in the parking lot of Qasr al-Kharanna.
What remains of Quseir Amra is a rather small building, which held a bath house and an audience hall. Next to it stands the well that was responsible for this being a popular caravan stop during its days. The restoration of the exterior seems to have finished, but they're still working on the wall paintings inside. The large wall to the right after entering was obstructed unfortunately by scaffolding. Two Spanish women were busy reconstructing the paintings on that side.
There's enough left to admire though. The walls of all rooms (5?) are completely covered by paintings. Many different scenes, different painters also I guess. Some are like Roman hunting scenes or parts of Greek mythology. Others depict famous persons, and some do represent scenes out of daily life. It all looked very Byzantine to me, although it is early Islamic. The Umayyads in this region must have been inspired by the mosaics and paintings of the Byzantine churches in this part of Jordan.
Click
here
to see more of my photos of Quseir Amra
Community Reviews
---
---
---
---
---
---
---
---
---
Community Rating
Community Rating 3.13. Based on 12 votes.
Site Info
Full name: Quseir Amra
Unesco ID: 327
Inscribed: 1985
Type: Cultural
Criteria: 1 3 4
Site Links
Unesco Website
Official Website
In the News
Connections
The site has 11 connections. Show all
Visitors
92 community members have visited Quseir Amra. Show all