Quseir Amra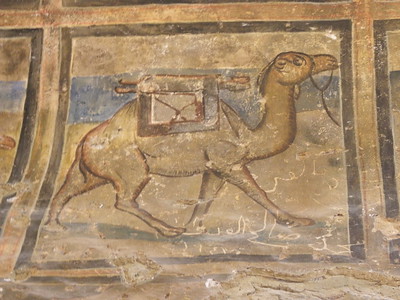 Quseir Amra is an early 8th century Umayyad building known for its well-preserved wall paintings. It is considered one of the most important examples of early Islamic art and architecture.
This 'desert castle' with a triple-vaulted ceiling was used as a retreat by the caliph or his princes for sport and pleasure. The interior walls are painted with decorations such as hunting scenes, fruit, musicians, portraits of great rulers (including the Umayyad Caliph himself), bathing nude women and a map of the northern hemisphere sky accompanied by the signs of the Zodiac.
Part of the building is a bath complex that shows a Roman influence.
Community Reviews
---
The road east was long and featureless. Dun unremitting grey plains stretched out on either side as far as my eye could see. Trails of dust hung in the air to mark the passage of off-road vehicles. I almost didn't spot our destination until Amir pointed out to our left, his finger sticky with the juices of the honey-sweet plums we had been sharing. Not much to see, a low domed edifice of pale limestone, isolated among the barren wastes. I was reminded of Luke's moisture farm home on Tatooine at the start of Star Wars Episode IV.
Quseir Amra dates from the 8th century. The wider fortress part of the site is now long gone – all that is left is a standalone building consisting of a reception hall and a set of baths. It is generally considered to be royal retreat for a high-ranking member of the Umayyad dynasty of Damascus. What makes it notable is its interior. The walls and ceilings are covered with quite remarkable frescoes. They are faded, decayed and defaced, but enough remains to enthral: an astrological map, a bear playing a guitar, Venus and her Cupids, Gauguin-esque female bathers (picture). If , like me, you are shocked by such images in a site constructed for the caliphs of Islam a sign at the information centre is quick to hand-wave away any notions of impropriety: the decoration "does not depict any "loose living" or "carryings on": it is the grape and not the wine that is shown"! A label attached to a fresco of six kings identifies one their number as Rodrigo, a blink-and-you-miss-him Visigothic king from Spain, meaning that the decoration can be pretty accurately dated to shortly after 710 (75 years earlier than the mosaics in the Um er-Rasas's Church of St Stephen).
I visited by taxi from the charming (and highly recommended) little town of Madaba. I combined two set itineraries into one afternoon – a trip to see Umm er-Rasas, followed by the 'desert castles' tour along Highway 40 to the squat, threatening Qasr al-Kharana, Quseir Amra and the blocky basalt Azraq Castle. Total price for the afternoon was 60JD (£54) – 15 JD for Umm er-Rasas, 45JD for the castles. There is an additional entry fee for the castles, a 1JD ticket to cover all three. However Kharana was unstaffed, the chap at Amra waved me through indulgently and it was only at Azraq that I was required to pay.
World Heritage-iness: 2.5
My Experience: 3
(Visited August 2009)
---
I made my second trip to Jordan in October 2018. From the middle of the seventh century until the middle of the eighth, the Umayyad dynasty built several desert castles in what is now northeastern Jordan, which represent some of the most impressive examples of early Islamic architecture. I visited Qasr Amra and Qasr Al-Kharanah, two of the best known desert castles — but inexplicably only the former has been inscribed on the list of World Heritage Sites. I also visited Umayyad Palace on the Citadel Hill of Amman, from where all of hazy Amman could be seen.
---
My visit to Quseir Amra was a crazy, adrenaline-fueled getaway after a lovely independent tour from the tour guide.
Quseir Amra is a beautiful Ummayad hunting lodge and pleasure palace in the desert in northern Jordan, near Azraq. The frescoes inside are beautiful.
Getting there I had an option of an organized tour, but I went in a private taxi on my way down to Petra.
Read more from History Fangirl here.
---
It is unfortunate that Quseir Amra is generally the second stop on a Desert Castles tour from Amman, since it is a bit underwhelming compared to the superb Qasr al-Kharanah. I visited Quseir Amra in spring this year, and on first approach the castle seemed like it belonged on a Star Wars set. Inside, the ceilings and walls were covered with frescoes depicting daily life from the 8th century, and some of the frescoes were surprisingly libertine in contrast to today's culture. I particularly appreciated the dome of the caldarium, or hot bath, on which constellations of the night sky, including Ursa Major and Sagitarrius, had been painted. Quseir Amra was not as amazing as I thought it might be, but it was a worthwhile stop on the Desert Castles tour. I would note, as Chris mentioned in his blog post below, the extensive Syrian refugee camp I passed on the way back to Amman is a sobering reminder of the terrible trials facing this region; nevertheless, Jordan currently remains safe, and is an extremely hospitable, scenic, and memorable country to visit.
Logistics: Quseir Amra can be reached by rental car, hired driver, or guided tour from Amman; a Desert Castles tour generally includes Qasr al-Kharanah, Quseir Amra, and Qasr al-Azraq (a favorite of T.E. Lawrence)
---
Chris
During my road trip in Jordan I visited Quseir (or Qasr) Amra when we drove the desert castle loop. We arrived close to 4PM and it was kind of closed already (keep this in mind). We found some man who was ticket officer or guard and they gave us the keys to check the building out. A lot of trust. The building is very small but inside it will take you time to admire all the beautifull frescos. They are so great. Its worth the time to see this place for sure! Some fresco photos on my site
Read more from Chris here.
---
I visited this WHS in 2010 on a short day trip to Madaba and the desert castles. The mosaics are the highlight of this WHS, quite similar to Um er-Rasas. I think it would have made much more sense to have 1 WHS including Roman Mosaics of Upper Jordan instead of 2 separate WHS.
---
3.50 The Netherlands - 08-Oct-12 -
Like everybody else, I visited Quseir Amra as part of a (half) day trip to the desert castles. In my small rental car, I sped on Highway 40, one of the few roads in Jordan where it is allowed to drive 100km/h. Most of the other traffic consisted of trucks, on their way to either Iraq or Saudi Arabia. This far northeastern part of Jordan is in the border zone with both countries.
After having warmed up at the already quite pleasant Qasr al-Kharanna, I arrived at the 3 vaults of Quseir Amra. The site is outfitted with a large parking lot, a small visitor center, and a Bedouin tent where you can buy drinks and souvenirs. Entrance costs 1 JD, but the ticket is shared with the al-Kharanna and Azraq castles so I did not have to pay again. I surely wasn't the only one visiting these castles. I caught up with an English tour group here, after I was already shocked by finding 3 tour buses in the parking lot of Qasr al-Kharanna.
What remains of Quseir Amra is a rather small building, which held a bathhouse and an audience hall. Next to it stands the well that was responsible for this being a popular caravan stop during its days. The restoration of the exterior seems to have finished, but they're still working on the wall paintings inside. The large wall to the right after entering was obstructed unfortunately by scaffolding. Two Spanish women were busy reconstructing the paintings on that side.
There's enough left to admire though. The walls of all rooms (5?) are completely covered by paintings. Many different scenes, different painters also I guess. Some are like Roman hunting scenes or parts of Greek mythology. Others depict famous persons, and some do represent scenes from daily life. It all looked very Byzantine to me, although it is early Islamic. The Umayyads in this region must have been inspired by the mosaics and paintings of the Byzantine churches in this part of Jordan.
---
5.00 Switzerland - 07-Nov-11 -
I visited Qsar Amra on a half-day trip from Madaba with a rental car. It is located about an hour east of Amman, and well sign-posted from the main road.
At first, this desert castle seems a bit disapointing. The outside walls were been restored and surrounded by scafoldings.
The real treasure lies within. The walls are painted (some of them are also being renovated). It shows very fine figurative murals depicting humans in pleasure activities (hunting, bathing) princes and angels, animals of all kinds, even a bear playing a music instrument.
One would not expect this kind of painting from the 8th century Umayyads dinasty.
They is a small museum near the car park, giving explanation on the paintings and the buildings (in fact a hunting and pleasure palace rather than a real desert castle).
There was not entrance fee. And we were the only tourists on the site.
I would strongly recommend a visit to this site.
---
Having driven round Jordan to famous sites on the World Heritage Tenative list for a couple of days, including the Roman city of Jerash and Jesus's baptising site Bethany, it felt good to be on the way out in the desert in order to visit a REAL site.
On the east side of Amman, on the way towards the Iraqi border, you find a number of Caravan Seray's, known as "desert castles". During it's hey-days one could say that they filled they same function as today's motel or road-side-restaurants. Park your camel over here and join the party, so to say. One of these desert castles is the beautiful Quasir Amra, a place where baths, dinners and probably a "few other things" was enjoyed back in the good old days. Inside, you will find unique – and reasonably well-preserved – frescos, portraying bathing women, animals, hunting scenes and other motifs.
Quasir Amra in itself is not worth a detour but if you visit a few of the other desert castles on the way to Azrac (where Lawrence of Arabia stayed), you could make it into a quite rewarding day-trip. Watch out for the desert heat though…!
---
If you are in Jordan to see the world class site of Petra it is relatively easy to pick up the desert castle of Qusayr Amra. It is certainly not an "unmissable" site but "worth a detour" if you are mobile and have half a day to spare.
It lies around 80kms east of Amman on route 40. Nearby are a number of other desert castles. Indeed if you have a whole day to spare you could do the "Desert Castle loop" going out by Zarqua towards Asraq and then back via route 40 taking in some 5 castles and also the opportunity to see Oryx at the Shaumari Reserve (we didn't do this so I can't comment on whether it is worthwhile)
The castles all date from the time of the Damascus-based Omayyad dynasty around the 8th century – although many were built on earlier remains including Roman and Nabatean. They are often lonely buildings built on a treeless desert.
The choice of WHS status for Qusayr Amra is probably determined by its frescoes and you will certainly be surprised by the depiction of living things (including naked bathers!) by an Islamic culture. Among the most interesting to us was a dome in what was a hammam's steam room (the castle was used as a caravanserai) with a map of the heavens in the layout of a zodiac with the "bear" and other signs clearly visible.
---
Site Info
Full Name

Quseir Amra

Unesco ID

Country

Inscribed

Type

Cultural

Criteria

1

3

4

Categories

Link
Site Links
Unesco Website
Official Website
In the News
Visitors
145 Community Members have visited.