Mount Athos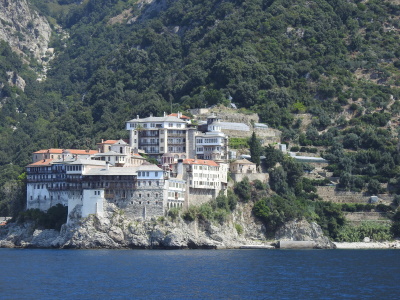 Mount Athos is a holy mountain that has been the spiritual centre of the orthodox world since 1054, and combines natural beauty with architectural creation.
It lies on a peninsula of about 50x10km in the Aegean Sea. The area, which is forbidden to women and children, includes 20 monasteries. They have been influential on religious architecture and iconographic painting. The Monastery of Great Lavra is the first monastery built and the most prominent. Its library has one of the richest collections of Greek manuscripts in the world.
Mount Athos is also home to 12 "sketes", communities of Christian hermits.
Community Reviews
---
2.50 The Netherlands - 01-Sep-22 -
So this will be the first review of a visit to Mount Athos by a woman! Although a couple of females have succeeded in entering in the past, I didn't risk trespassing as I still needed to visit 4 more Greek WHS afterwards. I stayed overnight in the nearest town, Ouranoupoli. It lies about 3km from the guarded border with Oros Athos, where the monastic community enjoys autonomous self-government within Greece. The pleasant town has a few memorabilia stores, the pilgrim's office and furthermore a lot of shops and restaurants geared to the generic beach tourist.
My day started at ease in my hotel room behind my laptop, answering questions about Obelisks, as my boat tour along the coast of the Athos peninsula was only to leave at 11 a.m. But there was that monastery near Ouranoupoli that I had seen on the map: the Holy Monastery of Zygos. It turned out to be the ruins of one of the original Athos monasteries, within touching distance of the border. It would be a 30-minute walk from Ouranoupoli's city center, but I only had 25 minutes at best for each way. Could I still make it there? I grabbed my bag and speed-walked towards the spot indicated on the map. It's a sandy road, uphill, and even at 10 a.m. bloody hot without much shade. In the end, I gave up about 1 km before the finish – I wouldn't have made it in time and the monastery nor the border was visible yet. But definitely scout it out when you're in the area, I think it would be a good addition to only seeing Athos from a boat. Google maps even shows a photo of a woman strolling along the border fence!
For my Athos cruise, I had booked with the Calypso. Its trip takes 3.5 hours and costs 22 EUR. There are several companies to choose from, but I don't think there are significant differences. They all sail the same route anyway. You can even do it as part of a full-day tour from Thessaloniki (65 EUR), and you'll end up on one of these boats. They can hold over 100 people each, and 4 of them were leaving between 10.30 and 11 a.m. when I was there (August 31). When I arrived at "my" boat, members of a large group already had put their proverbial bath towels on all outdoor seats. I was lucky to find a spot on the upper deck and on the left side (the one that faces the shore), next to the steering cabin. Standing room only, and my neighbours turned out to be people that kept themselves busy feeding bread to seagulls. There is an audio commentary in Greek, English and Russian about Mt. Athos and what you see on the shore. The English one seemed to be taken directly from Wikipedia, and was hardly understandable anyway. You can easily look up which monastery is which afterwards as well, so it does not really matter.
So, accompanied by the droning voice of the commentary and the bird-feeding idiots, I had to concentrate on what I could see on the peninsula. One 'enters' Athos almost directly after leaving the harbour of Ouranoupoli – there is a stone border wall visible. For the first 20 minutes or so the scenery shows mostly forest, with some man-made additions such as wooden beehives and olive groves. The undoubted highlights of the tour are the monasteries, which then start to appear one after another. Most face the coast and are quite close to it. The boats need to stay 500m away from the shore (due to the monastic regulations and the WHS buffer zone), but still, the monasteries can be seen well with the naked eye. I had brought my camera with 83x optical zoom, especially for the purpose of getting close-ups of the monasteries, and it worked out well. Another obstacle is that the boat faces the sun in the morning, so the best bets are when you've just sailed past the monastery and can look back towards it.
Although the monasteries differ in appearance, they all are fortified with tower construction similar-looking to the tower houses of Gjirokaster. Also, they are so much more than a church and some outbuildings – you'll notice gardens, trails, boat sheds, and even solar panels. The most remarkable ones among the monasteries I found:
Xenophontos Monastery - with the red walls of its church peeking out on top.
St. Panteleimon Monastery - this is the Russian Orthodox monastery, it is a very large complex with a huge hotel-like structure and green as its dominant colour.
Simonopetra Monastery – it looks like a Bhutanese dzong, hanging from a cliff wall.
Dionysiou Monastery – with an impressive terraced garden.
Counting this excursion as a 'visit' was never a question for me at all. If discriminatory policies keep me out of the core zone, I will resort to a "from the outside looking in"-type of visit. And its OUV, especially the typical layout of the monasteries, is clearly visible from the sea. I finally rated it 2.5 stars, the end result of this calculation:
(3 stars) my starting point when I find a site WHS-worthy: here no doubts about its cultural values. The natural aspects are much less outstanding and it seems that IUCN did not even write an AB evaluation about it. A cultural landscape would have been a better choice.
(+ 0.5 star) for the quality of its tangible structures. The monasteries are interesting constructs, with some pretty aspects. But none did really Wow! me (which would have been necessary to gain at least 4 stars), there's a lot of (relatively modern) hotchpotch construction visible. There also still is no Management Plan for the WHS, although already promised in 2012. Lack of funding is stated as the issue, but it could well be that they are dragging their feet as they don't want snoopers.
(- 1 star) for its discrimination against women. What's the use of having a heritage site for all mankind, but not letting everybody in? It's a similar story as with the Stoclet House. If you want to have your own private club, that's fine with me. You can do that outside of the WH convention. It would be easy to allow female day trippers to visit part of the peninsula, as they are already allowing non-orthodox male tourists. They could open up the monasteries that are willing to show them around.
Read more from Els Slots here.
---
I visited Mount Athos in November 2017, staying three nights. While I certainly enjoyed my visit, it is also something of a cautionary tale, as I definitely did not get the most out of the experience as I could have.
I don't need to go into particular detail about the practicalities of visiting from Thessaloniki, as they have been readily outlined by the previous review. As I was with only one other visitor, our request for a diamonitirion for entrance about four months later was granted by email within a couple of hours of requesting it, no issues whatsoever. One point, however, is that all ferries from and to Ouranopolis seemed to 'require' advance booking. Upon arrival in Ouranopolis, there was almost an hour before the next ferry. When I tried to get a ticket at this point, the ticket office wrote down my 'reservation' and declared that I should come back 15 minutes before the ferry departed. Returning at that point, there was a confusing scrum to try to get tickets, involving a lot of pushing and yelling. A monk was refused a ticket because he had not 'reserved', so it was greatly reassuring to have my name called immediately after all phone reservations had been collected. Similarly, the ferry back from Daphni 'required' a reservation, and we were told it was full when we arrived an hour before its departure. We were put on a waiting list that ended up being maybe 50 people long, all who managed to board to boat. How it could have been fully booked but so readily accessible to non-reserved guests is rather mysterious. To be safe, though, advance reservation is probably a good idea.
And that is basically the crux of my review: reserving in advance will definitely improve your experience. We were far more casual about our visit than I expect all other visitors are, and the experience suffered for it. After researching the touristic practicalities of the peninsula extensively, I decided to catch a ferry to Kavsokalivia skete for the first night, then hike to Nea Skiti for the second night, hike to Simonopetra for the third, and then leave for Thessaloniki the final day. The internet raved about the majesty of the hiking along this trail, and as I am an avid hiker, this definitely appealed. Doing it again, I would definitely have hiked the extra hour or so past Nea Skiti to Agiou Paulou, as the hiking time estimates on the internet are highly conservative. The '6-7' hours from Kavsokalivia to Nea Skiti was closer to 4 hours, meaning we arrived just after midday.
Simonopetra responded to an email inquiry for accommodation a few months before the trip within an hour, but Nea Skiti never responded and Kavsokalivia never answered their phone after multiple attempts on different days. As the internet proclaimed that the monks often never bothered to respond to emails, but nevertheless logged the reservations, I was not especially concerned. The fact that the Pilgrim's Bureau in Thessaloniki said that it was possible to just turn up made me confident that it would be fine.
Upon arrival in Kavsokalivia, the single monk we found there seemed confused at our presence, but led us to a guest room with English signage and offered us the traditional greeting of loukoumi and tsipouro. He begrudgingly showed us the church, and soon offered us a meal of cold soup and stale bread in a modern-looking kitchen, alone. As this was the night I thought posed the greatest risk of being turned away, I felt reassured for the future. Yet, upon arrival at Nea Skiti, a location the internet seemed to claim was a popular spot for foreign pilgrims to stay, we were met with nothing but cats. When we eventually found a monk around the guesthouse area, he was visibly confused and angry at our presence, at first trying to ignore us. There was no hope of trying to explain that we had sent multiple emails trying to reserve a spot to stay. By just standing around looking lost, he eventually couldn't continue to pretend we weren't there, and he just pointed at a room and then walked off. For the rest of the day and the next morning, the monks pointedly ignored us, offering no food or drink for dinner or breakfast.
Thus, my experience is that reserving a spot in advance at actual monasteries, rather than the sketes, results in an immeasurably better cultural experience. Apart from the fact that that Simonopetra is a stunning building, it was well-geared towards international visitors. As many visitors are Russian Orthodox, and thus not fluent in Greek, English was readily spoken by the monks. The facilities included electricity and hot showers, both of which were a godsend after two days hiking over mountains. I can't say that it was worth waking up at 3am for the full 3 hour service in the church, as to the layman each distinct one hour consecutive segment is pretty indistinguishable, but being allowed access to such an experience was definitely a fascinating experience. The monks arrived at left at their own pleasure, so other foreigners arriving at 5ish for the final hour was no issue, and probably enough to still get a good experience. Guests are allowed to sit/stand in any of the uncomfortable booths in the church at Simonopetra, though non-Orthodox guests are understandably not permitted to actually take part in the ceremonies. The monks were kind enough to explain the nature of the church's relics in Russian, French and English, for the benefit of all the foreign visitors. Each group of travellers seemed to attract their own individual monk to discuss life in Athos, depending on the language that they spoke.
Chatting for an hour with a friendly Greek monk about his decades of life in Athos was absolutely the highlight of the visit. He did admit though, that there was a pretty significant schism on Athos between those monks who valued their role as hosts to foreign pilgrims, and those who see this as a crass incursion upon the spiritual sanctity of the mountain. His simple advice was for those monks to simply move to one of the unpopular sketes, which might explain why Nea Skiti monks seemed so affronted by our existence. While he obviously hoped we might one day convert to Orthodox Christianity, the monk (whose name I have upsettingly forgotten) seemed very open-minded and liberal with his ideas, claiming that everyone was welcome to visit Athos 'even Muslims and Jews'. I didn't thinking asking about atheists was a good idea, though. Ignoring that 'everyone' clearly excludes more than half the world's population, this was a much friendlier tone than the man at the Ouranopolis Pilgrim's Bureau who seemed reluctant to give us our diamonitirions because we didn't seem 'Christian' enough. The monk was previously a financial advisor at a Greek corporation, and was happy to talk about economics and other issues outside of Athos, and was interested in our own lives and experiences.
While the hiking along the coast of Athos is indeed rather impressive, I feel that my visit would have been improved by focussing on visiting the monasteries as a cultural experience. Sleeping in a small room without dinner or breakfast being ignored by monks isn't the best way to visit Athos.
---
Not sure how and why, but I got in. As Ian can attest, I didn't believe it would work out till I held my official permit (diamonitirion) in my hands and had boarded the ferry. And then it settled in, I did it!
Given Mount Athos' restrictions on visitors, I was one of ten non Orthodox male visitors that day. Albeit visitor is the wrong term as everybody is considered a pilgrim. Please bear that in mind when you travel there.
In addition 100 Orthodox Christians are allowed entry each day. At least that's what is communicated officially. When I looked at the large crowd on my return ferry and the hard time I had to get a seat, I came to doubt, if they really stick to these numbers each and every day.
On Mount Athos I visited two major monasteries (Agiou Panteleimonos and Xeropotamou) and a skiti (Evaggelismos tis Theotokou). I hiked along the coast line taking in the gorgeous scenery and nature the monasteries are embedded in. Seeing Klaus brought it up, this is a mixed site and I feel deservedly so. I visited in spring and all flowers were in bloom. The trees colored the mountain sides in a lush green. And the entry restrictions of the area serve as a perfect protection from the mass tourism found all along the Greek and Turkish coast.
I stayed overnight at the Russian monastery. It was undergoing heavy construction work and looks rather modern. The sheer size of it and the surprising number of balconies had me wondering if this acted as a winter resort for Russian monks. Being a monk must have its perks. Being woken at 3.30h for morning prayer wouldn't be one of those, though.
Interestingly, the schedule was well aligned with the one I had to follow while staying at Haeinsa. Being a Buddhist or a Christian monk seems to come with similar requirements. And both seem to have a similar taste for exquisite scenery.
On an educational level I found my temple stay in Haeinsa more interesting. The Russians treated me as a pilgrim providing food and shelter and allowing me to participate in the daily ceremonies. They did not provide any information. The Buddhists meanwhile went to great length to explain their ways and their faith.
Getting In
The internet offers ample resources on the subject. What it boils down to is:
Write an email to athosreservation@gmail.com specifying your date and if you are an Orthodox Christian or not. And yes, at the time of writing the pilgrim's office uses a gmail address.
If they say yes, send them a copy of your passport.
Two weeks prior to your arrival, call them to confirm.
On arrival to Ouranopoulis pick up your permit at the pilgrim's office.
When you board the boat and each time you arrive at a monastery you plan to stay at, you will be asked for your permit, so keep it safe.
Getting a Monastery
With your stay confirmed by the pilgrim's office, call the monasteries you want to stay at. Some use email, but most don't. My Russian monastery was a nice distraction. Still, I would recommend staying in a more traditional Greek one. Lavra comes to mind being the most ancient one.
Please check that you can make it in time. At sunset all monasteries close their gate. Better to arrive in the afternoon.
Getting There (and Away)
Most pilgrims come in from Thessaloniki. The bus terminal (Halkidiki) connecting Ouranopoulis is well South of the city, quite close to the airport actually. You can check the schedule online. Be advised that the schedule differs for weekdays and weekends. Tickets can be bought directly at the bus terminal in cash. Get a return ticket. I would also recommend picking up some cash from the ATM in the bus terminal as you won't get any in Mount Athos. The trip will take between 2.5h and 3h.
To get to Halkidiki, you are probably best off taking a cab (18€), because the bus terminal is badly connected via public transport. If you are opting for the early bus to Ouranopolis, you won't have much choice anyhow. Meanwhile, on my way back I waited 45min for a bus to take me back into town that never materialized.
In Ouranopulis get off at the first stop. Pick up your permit and head to the ferry. The big ferries do not require a reservation, the fast ones do. Again, reservations need to be done by phone for the most part. Most ferries go to Daphni, but some do extra stops in between or continue onwards. Check the time plan and where your monastery is.
To get back I would recommend the 12:10h slow ferry. Tickets can be bought near the customs office in Daphni. It's arrival in Ouranopolis is aligned with the bus for Thessaloniki. The added kicker is that it stops at several monasteries on the way, so you get a close look and picture opportunity on the way back. If possible get a seat facing the coast line.
Getting Around
Athos must be a hiker's dream come true: Pristine landscape with no crowds and free dormitories. What is not to like? Well, seeing how few people actually hike on the peninsula, the trails are in bad shape. I actually fell pretty badly once. The sign posting leaves much to be desired. If you are serious about hiking, you will have to buy a proper map. And finally, outside Daphni and Karyes you will have a hard time getting provisions, so bring all you need. Apart from hiking you can also take mini busses from Daphni (reserve) or a ferry (reserve) to get from one monastery to another.
Miscellaneous
You can find plenty of resources on Athos online. Surprisingly in a sense, taking into account how many people are actually able to visit each year (less than 40.000).
If you aren't lucky getting a permit or you happen to be female, one option is to do the cruise along the shore.
Finally, I am not sure this belongs in the Thessaloniki hotspot. While technically possible to do be done on a stressful day trip, you should stay overnight.
---
Japan / USA / Europe - 11-Sep-16 -
The recent visit by Putin to Mt. Athos reminded me of my time there in 2010.
Mt. Athos is the name for the highest mountain on the peninsula into the Aegean Sea as well as a short name for the Autonomous Monastic State of Mt. Athos.
I spent the Orthodox Easter weekend in 2010 at the Megisti Lavra, Mt. Athos' oldest and single most important monastery, located at the south-eastern corner of the peninsula.
I booked this trip with Mt. Athos authorities 6 months in advance. I took a boat from Ouranoupoli in Greece to Dafni, a port in Mt. Athos, took a mini bus from the port to Karyes, the capital of Mt. Athos, and from there took another mini bus for 5 hours to get to the Lavra.
The two night-stay in a dorm and food were free.
As I remember, the Easter service started at 2 am on the Sunday morning. I diligently listened to the monks read in Greek until 6 am when they served large chunks of amazingly tasteless (as in no taste, not in bad taste) fish, considered to be a feast for the monks as they had been fasting for a while.
I learned that some secular/non-secular people also went to Mt. Athos for hiking, as it offers spectacular view of the Aegean Sea. I met such a man from Cyprus, with whom I am still in touch. There are hiking trails (Originally for monks to travel from one monastery to another), so it's possible to hike around the peninsula staying at monasteries for free. What a vacation that would be! But I think there is a time limit for non-Orthodox Christians to be in the Monastic State.
PHOTO 1: A view of Mt. Athos from Greece.
PHOTO 2: The Megisti Lavra
PHOTO 3: The Easter service.
PHOTO 4: A view from the Lavra of the Aegean Sea at sunrise right before the breakfast.
All in all it was quite an extraordinary experience!
---
My visit to Mount Athos involved a long bus ride from Thessalonika to Ouranoupolis, a small town close to the border of Mount Athos. From here I took a boat along the coast of the Mount Athos territory, passing the Greek border post and continued past several exotic looking monasteries as far as the mountain itself.
Inevitably I did not actually set foot on Mount Athos.
---
Bojan
I visited Mt. Athos two times in the past four months. My first visit was planed and I went with a larger group of my countryman. Ladies stayed in Jerisos and the men went on to Chilandaris. The whole experience for me was amazing. While waiting for the ferry one can hear many different languages and get first gimps of Mt. Athos by noticing many monks hading towards one of the monasteries. By little details in their robes and gear you can tell if they belong to Greek, Serbian, Romanian or some other Orthodox church. All this is taking place under huge Byzantine tower. The village of Ouranopolis has all the tourist could need but still you can feel "something different" close by.
The ferry ride was also interesting since we could see shores of Mt. Athos and also there were these sigils that followed the ferry and were eating from the peoples hands while making almost complete stops in the mid air!
We arrived to the little port which belongs to the Bulgarian monastery (I think) were a mini van waited for us. It took us on the dirt road for some 30 minutes and we could see Chilandaris from the distance. The monastery is on the foot of the mountains and it is few kilometers away from the coast on the opposite side from where we landed. First that I noticed were remains of the fire that happened in the monetary few years back. It was much worst than what I was expecting. Also visible were two cranes working on rebuilding the monastery. We were greeted by a monk who told us about daily routine, we were offered Greek coffee, Turkish delight and water. We were than given rooms in the guest house which is outside monastery walls, the rooms were simple but the whole building was very nice. Several of us took a walk around the monastery and up to the see. We saw several interesting places like giant guard tower build by one of the Serbian kings, several road chapels and another spots that are very interesting to our history.
I am not the artistic type, but the colors and the nature all around us was amazing.
I like history and was astonished by the details that were all around us. For example there was an original crest from one of our famous kings, king Lazar who died in Kosovo battle some 600 yrs ago.
But the spiritual experience was even more impressing. Monks did not talk too much, just a few simple words if they had to. They were going on their daily business and it was like we don't exist. Except for few monks who did spent some time talking to us. But that silence was more than any conversation in my case. During the prayer that started at 3:30 am and lasted to almost 8 am the whole reason that this place existed was more than obvious. 800 hundred years of constant prayer, prayer for the entire world! I noticed steps into the church which were large marble stones with caving in the middle made by centuries of people walking in and out from the prayer. For me this whole experience was so impressive that I could write a book.
My second visit to Mt. Athos was totally unplanned. I was on vacation with my family on Holiday when I ran into a college friend of mine who helped me and another friend get visa (in short time) for a Russian monastery of St. Panteleimon. I was very happy to go back to Athos.
St. Pantheleimon is further than my last visit so I got to see several other monasteries. This monastery is huge and as a reply to the previous message it is very much alive today. There were over fifty monks of all ages, but mostly younger. There were cranes and many workers rebuilding the whole place. This visit was also very impressive and with many stories.
For the two days that I was there it was very memorable!
Another interesting thing is that during both of these visits I met many different people and impression that this monastic community left on them was also visible.
---
It seems that it hasn't become much easier to visit Mount Athos than it was decades ago, and if you happen to be female, it's evidently impossible. But there is a way to see Athos from the sea, which should be enough for most people who aren't obsessed about Byzantine history and Orthodox monasteries (although these are very interesting), and that is to take a cruise alongside the Athos peninsula, making many monasteries perfectly visible from the ship. These cruises can be easily arranged in the tourist areas of the Chalkidiki Peninsula, and usually take in a break in the pretty port of Ouranopolis.
I don't really understand why the area was also inscribed as a natural site, since I didn't notice any particularly noteworthy natural monuments, but Athos' importance from a historical, political (an autonomous community for almost a thousand years!), religious, and cultural perspective is undeniable.
Nevertheless, I hope to be able to see Athos from the "inside" sometime in the future when they relax the rules. Until then I think I won't count it as a fully visited WH site.
---
If you want to visit Mt Athos have a look at the following site http://abacus.bates.edu/~rallison/friends/
You need a permit and visitors are limited to 100 bona fide pilgrims a day – and there a hundreds of monks from Russia waiting to visit some of them! You also need to reserve accommodation at many of them – there are even telephone numbers on the site to do so!
I visited Mt Athos in 1965. Fresh out of university I had reached Thessalonika clutching a letter of introduction from my university professor (although my subject had nothing to do with religion or Greece!). This had to be taken to the British Consul. There I had to fill in a form saying why I wanted to visit Mt Athos and what I wanted to see – I "winged" the replies with the confidence of youth! They then gave me a sealed envelope containing their "support" to take to the Greek Ministry of Northern Departments (I think it was). They in turn gave me 3 sealed letters - 2 to hand in at the capital of Mt Athos, Karyes, and 1 to take to the police (on the other side of Thessalonika of course!). The police took this letter, filled in another form and gave it to me. Next day by bus to Tripiti and, after sleeping on the beach, on by early morning boat to Daphni - the harbour for Mt Athos (I remember I had to change out of shorts on the boat - uncovered arms or legs were not allowed on Mt Athos even for men!) I walked up to the "capital" Karyes where another visit to police was required followed by a visit to the "Ecclesiastical authorities" - who relieved me of 50 drachma and gave me a lovely coloured certificate of authorisation with an Athos "postage stamp" - which I still have. The 50 drachma was a lot to a student travelling on very little but it did provide entrance to the monasteries for my 5 day stay and all food and lodging which was given "free".
I was then able to walk wherever I wanted on the mountain. In the evening I would turn up at a monastery and would be given either place in a dormitory or occasionally a room with a simple bed (no reservations in those days!). At some monasteries meals were taken with the monks and were accompanied by prayers and bible reading throughout! The coastal scenery on the walks was very fine. Occasionally one would pass an anchorite's hut or meet monks walking between monasteries. I remember that some friends I had joined up with and I were "caught" by a passing monk as we were "naked bathing" in one of the bays – so much for the "bare leg" taboo - but he didn't seem to mind!
Among the monasteries visited were Iveron, Grand Lavra, Dionysus (by boat) and finally Pantelemion. This latter a Russian Orthodox monastery staffed in those days by just 23 ageing Russian monks whereas it had originally held 4000 (the arrival of further monks from Russia was prevented by the politics of the day). At each we visited the chapel and were shown the relics. At some we attended the service. The library at Grand Lavra was particularly fine. The refectories were usually among the most finely decorated rooms in order to remind the monks whilst they ate – I remember in 1 each monk crossed himself towards 1 of the paintings after each mouthful.
So, 40 years on I wonder if it is much different? Can anyone tell me? 40 years is not long after all in the history of Mt Athos! But the web site talks of roads and taxis which doesn't sound good. The pressures of outside life and of the growth of travel must be having some influence. The end of the Cold War at least sounds to have impacted the Russian Orthodox monasteries. And the pathways sound to be as idyllic as they were for me in that long past summer of 1965!
---
Site Info
Site Links
Unesco Website
Official Website
Related
In the News
Visitors
90 Community Members have visited.