Haeinsa Temple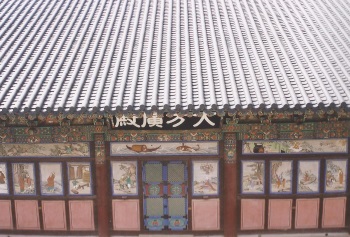 The Haein-sa (temple) is one of the three main temples in South-Korea. Its name means "Reflection on a calm sea". It belongs to the Chogye Order, a Zen school of Buddhism.
Haein-sa houses all the Buddhist texts carved on wooden blocks, symbols of the teachings. The blocks, known as Tripitaka Koreana, number 81.340 in total. Inscribed are the rules for monks, the teachings of the Buddha and the commentaries added down the ages.
The entire Tripitaka has been carved twice. The first one was completed in 1087, but it was burnt in the invasion of the Mongolians. So the monks started carving again, and that one (that now can be seen) dates from 1251.
Map of Haeinsa Temple
Legend
Visit September 2001
This is probably the best sight I have seen in Korea. Beautifully located in the mountains (in a national park actually), miles from everywhere. Haeinsa is a big and colourful templecomplex. There is a lot to see and to do in the area.
The wooden bloks are of course the main point of interest. They are housed in 4 buildings behind the main temple. You can look at them via the windows.
Remarkably, the blocks are still in their original housing, and due to the way of construction they are well preserved. A few years ago a new building was erected for them, but the condition of the carved blocks started deteriorating quickly. So they moved them back, in their original places.
Community Reviews
---
---
---
---
---
---
---
---
---
Community Rating
Community Rating 3.54. Based on 14 votes.
Site Info
Full name: Haeinsa Temple Janggyeong Panjeon, the Depositories for the Tripitaka Koreana Woodblocks
Unesco ID: 737
Inscribed: 1995
Type: Cultural
Criteria: 4 6
Site Links
Unesco Website
Official Website
In the News
Connections
The site has 13 connections. Show all
Visitors
77 community members have visited Haeinsa Temple. Show all