Messel Pit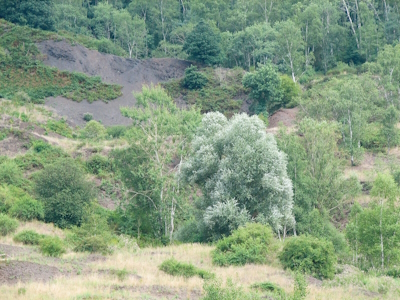 The Messel Pit Fossil contains unique fossils from the Eocene dating back 50 million years. The Messel Pit is a disused quarry, in an ancient lake bed, in which bituminous shale was mined.
The first animal fossil remains discovered were that of a crocodile found in 1875. Subsequent excavations have led to the identification of 40 species, including mammals, birds, reptiles, fish and insects.
The pit first became known for its wealth of fossils around 1900, but serious scientific excavation only started around the 1970s, when falling oil prices made the quarry uneconomical. Commercial oil shale mining ceased in 1971, and a cement factory built in the quarry failed the following year. The land was slotted for use as a landfill, but the plans came to nought, and the Hessian state bought the site in 1991 to secure scientific access.
Visit August 2006
A proper visit to this WHS should consist of two parts: to the Messel Pit itself and to a museum where the fossils discovered there can be seen. So my day started in Darmstadt, at the Landesmuseum. There they have two (small) exhibitions on the Messel fossils. One with the bigger animals (like a crocodile) and one with the insects and other tiny animals. Especially on these you can still see the colouring which is so remarkable about the Messel findings.
After lunch, I drove to the Pit itself. There are signs to Messel from (parts of) Darmstadt: it's about 10 kms. For the guided tour about 50 to 60 people had gathered at the small infocenter. We even had to be split into groups: a remarkable large crowd for such an inconspicuous place. I had thought that only the WHS-addicts would make it here (a bit like the Neolithic Flint Mines in Belgium).
The story of the guides absolutely makes a visit worthwhile: without it I wouldn't advise going (the viewing platform doesn't tell you much about what has happened here). Only that way you can imagine the lake, its volcanic origins, the wild animals (even including a tapir) swimming or drinking, the rain forest, the mediterranean climate. And the special condition of the oil-shale lake bed, which made it possible to conserve the fossils so well.
The Pit's more recent history, from not-too-productive mine to (proposed) garbage dump to WHS and recovering biosphere, is an interesting story also.
Community Reviews
---
---
---
---
---
---
---
---
---
Community Rating
Community Rating 1.89. Based on 22 votes.
Site Info
Full name: Messel Pit Fossil site
Unesco ID: 720
Inscribed: 1995
Type: Natural
Criteria: 8
Site Links
Unesco Website
Official Website
Related
In the News
Connections
The site has 13 connections. Show all
Visitors
136 community members have visited Messel Pit. Show all