Dougga/Thugga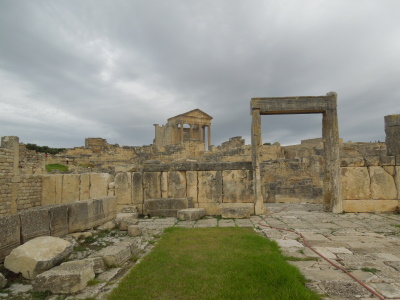 Dougga/Thugga includes the archeological site of a small Roman provincial town and what was, probably, the first capital of the Numidian kingdom.
The Roman public and religious buildings were integrated with the old Numidian city. They deviated from the classic "blueprints" to take account of the local uneven terrain. Due to its remoteness and diminished importance since Byzantine times, the city is very well preserved. Epigraphs found at the site have made a decisive contribution to the decipherment of the Libyan language.
Community Perspective: it's a vast site (allow 3 hours) with a number of almost entirely intact buildings, which has resulted in glowing reviews.
Community Reviews
---
4.00 Chinese-Canadian - 06-Apr-22 -
To repeat the previous reviewers opening remarks: this is one of THE best world heritage sites. Why only 4 stars? Because there are so many Roman ruins on the list already! You see one amphitheater you've seen them all, of sorts.
The site is so vast it will take you 3 hours to explore and to think they haven't excavated many sections including the stadium. It's so well preserved as it never had any wars and the people lived peaceful in Dougga until the 1960s(!) building new houses within the ancient walls. At that point the culture minister finally stepped in and asked to move their shit out and you only see the ruins now. There is no money for further excavations at this point but often the gardens are restored for visitors.
The most unique thing about the site is the use of a weather compass, showing the climate depending on the wind direction. It doesn't look clear on pictures so I didn't include one. Also the site shows that stones with donation inscription for temples (they were apparently not always provided by the Empire) were reused as other walls as needed, as part of a refurbishment of town I suppose.
Overall the well maintained buildings and historical significance of having survived so long is definitely worthy of inscription.
Two things you should note:
* There are TWO entrances and the southern one doesn't open until 10am. You can still arrive here and a caretaker will take you to the northern gate to pay the entrance ticket. If you are coming from Tunis then this doesn't apply to you.
* You should to use a guide. You will miss soooo many details about the place otherwise. I think that's maybe why one would rate it a bit lower as "just some more Roman ruins". For this reason I recommend a guide AND for females I have the best guide suggestion: a lady called Bejaoui, of course you can still hire her as a male traveler but for me it's so much more relaxing to have a women guiding me which is why I mention it. As soon as you arrive some guide will approach you nicely so if you don't care who guides you then just show up. Bejaoui is super knowledgeable about Dougga, her specialty, speaks fluent English, French, Italian and Arabic, and can tell you exactly how much you need time tailored to what you want to see, as the site is super big. She can also meet you at the south gate if you are coming from there. Reach her at Whatsapp +216 97 871 887 or +216 28 248 352 or imed0021@hotmail.fr Satisfaction guaranteed :) after 3 hours I can say I was surprised how much I can learn for something I only expected to take 1 hour looking around.
---
This is one of the best UNESCO sites I have visited, it is on a huge scale and very well preserved. The theatre and Capitol are almost entirely intact! And the size is so impressive. The remote location really adds to the appeal as well set on the side of a hill overlooking mountains and cornfields. If you are in Northern Tunisia this is a site really not to be missed.
To get there catch a bus or Loauge from Tunis to Terbosouq (these normally carry on through to Le Kef) from here the locals can help you to get to the site, but chances of bartering may be low as there seems to only be a few taxis around for tourists, so expect to pay about 15TD (€9) for a taxi/ caminette so the more people going the cheaper it will be! It is about 15km away and pretty remote so it is money well spent, you may be able to get it cheaper if you go in summer and try a bit of bartering!
---
André Dique
Getting to Dougga from Tunis was a bit of a trek considering the lack of transport, this may have been due to the religious holidays during Ramadan. The cheapest and quickest way of getting there is to go to the louage (shared taxi) station for Teboursouk and waiting for the taxi to fill up. Driving to Teboursouk took just over an hour (cost less than ten dinars) and a friendly local taxi driver was willing to take me the additional 10 kilometres for another 10 dinars.
The ruins at Dougga are magnificent! I was the only tourist there and explored the ruined city at my leisure. The capitol and many of the temple building are still relatively intact making for some very impressive views. Many of the homes still have much of their beautiful mosaic floors visible as well. It rained the day before so the mosaic tiles in the baths were wet bringing out the beautiful colours and shapes.
This is a truly impressive site well worth the visit. It is much better preserved than many similar sites in Europe. I also felt that it was much less touristy being furhter away from the coast. Its remoteness makes it difficult to reach but it is well worth a visit.
---
Site Info
Full Name

Dougga/Thugga

Unesco ID

Country

Inscribed

Type

Cultural

Criteria

2

3

Categories

Link
Site Links
Unesco Website
Official Website
Related
Visitors
109 Community Members have visited.