Aleppo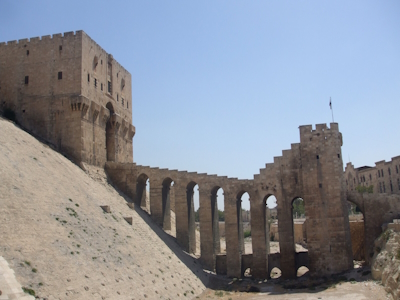 .
The Ancient City of Aleppo has been ruled, among the other, by Romans, Byzantines, Seljuqs, Mamluks and Ottomans. It is one of the oldest inhabited cities in history.
It knew human settlement since the eleventh millennium B.C. through the residential houses which were discovered in Al-Qaramel Hill. It occupies a strategic trading point midway between the sea and the Euphrates. The main role of the city was as a trading place.
The historic buildings that remain include the Citadel and several medrassahs dating from the 12th and 13th centuries, and numerous mansions, palaces, churches and mosques that were added until the 19th century.
Community Reviews
---
Tom Allen, England 14-Dec-08
There has always been a strong rivalry between Aleppo and Damascus. For me though, Aleppo (based on my visit in 2004) has more charm and is more relaxing. It's less touristy and has some amazing restaurants in its ancient quarter. The day trip from Aleppo to Latakia on the coast was a bit of an anticlimax... better to stay in Aleppo if you have the time.
---
Aleppo is well worth a day of anyone's time. With a range of buildings both monumental and everyday from between the 12th and 17th centuries it has been inscribed for its "its cohesive unique urban fabric". Well, I don't know about that but it did feel quite "Middle Eastern" and "Arabic" to me. The highlights are the citadel (photo) and the covered souqs. The museum has some superb Hittite statues. Although it has a population of almost 2 million the main sights are within reasonable walking distance of each other. We thought the "famed" Baron Hotel with its "period" (some would say "grotty" –though it may have been renovated since we were there a few years ago!) furnishings and the signature of Lawrence of Arabia in the visitor's book somewhat overpriced – worth having a look round but there are plenty of other hotels in the area (which is certainly convenient for the historic sights).
---
Community Rating
Community Rating 3.83. Based on 3 votes.
Your Rating
Site Info
Full name: Ancient City of Aleppo
Unesco ID: 21
Inscribed: 1986 In Danger
Type: Cultural
Criteria: 3 4
Site History
2013 - In Danger

Together with all 5 other Syrian WHS, due to Civil War

1986 - Inscribed

1983 - Deferred

Deferred as conditions under which recommendation made not yet fulfilled

1982 - Deferred

Syria asked to provide more info and a better Urbanization policy

1980 - Deferred

1979 - Deferred

Bureau - lack of documentation or Info

1978 - Deferred
Site Links
Unesco Website
Official Website
Related
In the News
Connections
The site has 48 connections. Show all
Visitors
69 community members have visited Aleppo. Show all