Nasca Lines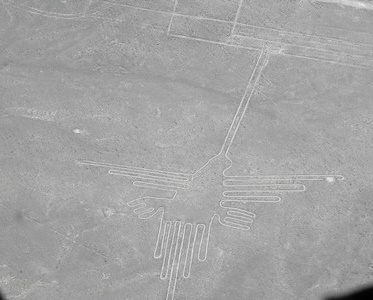 The Lines and Geoglyphs of Nasca and Pampas de Jumana are the most outstanding geoglyphs in the world due to their size, number, diversity and long period of development.
They are considered a magnificent artistic achievement of pre-Hispanic South America.
The lines are located in the arid coastal plain of Peru. The hundreds of individual figures range in complexity from simple lines to stylized hummingbirds, spiders, monkeys, fish, sharks, orcas, llamas, and lizards. Their development spans 3 chronological phases between 500 BC and 500 AD. Many have been superimposed on older ones, with erasures and overwritings complicating their interpretation.
For the most part, the technique used to create the lines was the removal of the gravel from the figure, providing a solid figure that contrasts with its surroundings. The geoglyphs were supposedly used as pathways for ceremonial processions.
Map of Nasca Lines
Legend
Visit May 2011
This is one of the few truly unique sights in the world. And also a place I have dreamt of visiting since I was young. As it turned out, viewing the Nazca Lines is more of a total experience than just the visit of a sight. It's the town of Nazca, quite touristy as it caters to the hundreds that pass by every day "just" to see the Lines. It's the airport, where a dozen of companies offer nothing else than the same flight all day. It is the anticipation, waiting in the departure hall (Will my plane crash?, Will I be sick, Is it worth the hype?). It is the attitude of the large number of pilots walking around, even more showy and flirting than pilots in general.
In the end, I did enjoy my flight. I had booked it the night before via the hostel that I was staying after having arrived in Nasca by bus from Lima at 21.30. My flight was with Aeroparacas, but I don't think it matters that much which company you choose. I was put into a plane with 3 Koreans, one of which got all white and sick early into the trip. There's one pilot that navigates the plane, and a co-pilot that yells the name of the geoglyph you can see on the ground outside of your window.
It takes one or two geoglyphs before it becomes easy to spot them and even have time left to try to take photos. They all pass pretty quick, I would have liked another round. I especially like the Whale and the Colibri.
Click
here
to see more of my photos of Nasca Lines
Community Reviews
---
---
---
---
---
Community Rating
Community Rating 4.15. Based on 10 votes.
Site Info
Full name: Lines and Geoglyphs of Nasca and Palpa
Unesco ID: 700
Inscribed: 1994
Type: Cultural
Criteria: 1 3 4
Site History
2016 - Name change

from 'Lines and Geoglyphs of Nasca and Pampas de Jumana' to 'Lines and Geoglyphs of Nasca and Palpa'

1994 - Inscribed
Site Links
Unesco Website
Official Website
Related
In the News
Connections
The site has 17 connections. Show all
Visitors
136 community members have visited Nasca Lines. Show all