Luis Barragán House and Studio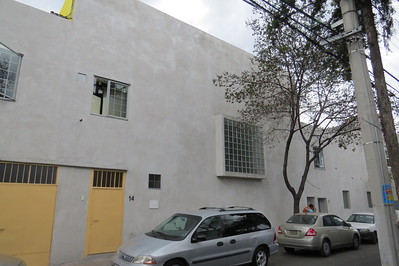 The Luis Barragán House and Studio is considered a magnum opus in the world of modern architecture.
It represents the late phase of the International Modern Movement in architecture, where these ideas were applied regionally. The house and studio were built in 1948 in Mexico City.
Luis Barragán created an innovative architectural style that combined Modernism with the colonial and prehispanic architecture of Mexico and with that of the Mediterranean. His work has influenced the design of gardens and urban architecture in the Americas in the 20th century.
Map of Luis Barragán House and Studio
Load map
Community Reviews
---
I visited this WHS in December 2021. I had been chasing tickets online for months before my planned trip to Mexico, checking every week for availabilities as bookings are only possible for the upcoming 4-5 weeks, but to no avail. Lately, due to COVID restrictions and several functions at the Luis Barragan House, only about 3 or 4 daily tours are conducted, each with a maximum number of 6 visitors so tours tend to fill up very quick. Most tours are conducted in Spanish and usually one is done in English (usually in the afternoon).
When I had almost lost all hope, two free spots became visible on the official Luis Barragan House website, and I managed to book our visit not without any major hiccups encountered while browsing their rather unfriendly booking system. Make sure to have all your details ready and ideally more than one type of credit card as I only managed to settle the 400 pesos per ticket prepayment on the third attempt. When I finally managed to secure our booking, I received the entrance tickets by email, and I set a reminder on my mobile phone with the booked time as only 10 minutes are allowed as a grace period if you're late. I also decided to pay the extra 500 pesos on the spot to be able to take photos.
After ringing the bell at the entrance, we were asked to wait in the Jardin Barragan 17 just opposite till the remaining visitors of our group arrived. The young guide did a really good job to give interesting information and to show us the highlights inside this WHS. In the second room after entering the house proper (14), I immediately spotted the UNESCO WHS inscription certificate, after having spotted the white marble UNESCO WHS plaque outside which is almost impossible to read.
The first thing you'll notice upon entering the former residence of Luis Barragan is that there are no visible artificial lights illuminating the interior. All are cleverly hidden in the walls and there is a precise interplay between geometrical lines and different shades of colour and light. Moreover, the house retains the original furniture and Barragan's personal objects and collection of different works of art. The house was built in 1948 and the architect lived in it up until his death in 1988. It was opened to the public by guided tours only in 1994 and 10 years later it was inscribed on the WH list. There are quite a lot of similarities with other modern architecture WHS, especially Le Corbusier and Rietveld Schroderhuis, although I still felt that the latter offered much more incredible surprises inside overall. The definite highlight of the Luis Barragan House interior for me was the splendid living room/library with huge windows overlooking the inner garden. The whole interior design is top notch and still seems perfectly modern and liveable, especially when considering that it is situated almost at the heart of one of the biggest and busiest metropolitan cities in the world!
The Pritzker Prize Luis Barragan received in 1980 is on display inside the house as are several works of art inspired by the house itself. The main characteristic features of Barragan's work can be observed all at once mostly in the vestibule and in the reading room where you can easily appreciate his use of natural light, geometric forms, pure bright colors and staircases without railings. The house is purposely built with high walls and only a few small windows so the facade is rather plain and flat, with no way to guess the layout inside. Instead, the house focuses inward, and is centered on a garden surrounded by high walls. In fact, the house has been compared to an oasis with high walls to keep out the "urban chaos" outside as much as possible. The patio on the roof of the residence is highly evocative with bright colours and is assembled by geometric walls that rise above the roof level.
Even though I'm not a modern architecture enthusiast, I really enjoyed the guided visit inside this WHS and whenever I'll revisit Mexico City, I would love to visit other places related to Luis Barragan such as the Casa Prieto Lopez. Named World Design Capital by the World Design Organization in 2018, the first city in the Americas to receive such an honour, Mexico City is steeped in Barragan's influence. Even his signature shade of deep pink is now the city's official color, splashed across taxis and metro stations.
---
I visited Casa Luis Barragán during my stay in Mexico City in March 2019. Since my day-to-day itinerary was not planned long in advance, I only tried to buy my ticket online a few days before my visit. To my surprise, there were no tickets available for several weeks. I therefore went to the house at the scheduled time for the visit in English. I was able to buy a last-minute ticket at the exorbitant price of 400 pesos (I didn't agree to double that amount in order to take pictures, you'll have to deal with the horrible façade of the house). I don't know if they keep some tickets to sell them the same day or if some ticket holders didn't show up.
The interior of the house is characterised by a unique use of colour and light. The walls are painted in bright colours, mainly yellow, orange and pink. Luis Barragán avoided shades of green and blue, with the exterior bringing these colours into the house through the large windows overlooking the courtyard. The use of only indirect light sources contributes to the atmosphere of the house.
However, what struck me most was the fortress-like aspect of the house and the deep uneasiness that Luis Barragán seemed to be experiencing. All the more private rooms (bedrooms, bathrooms) overlook the courtyard, while the public rooms overlook the street and the horrible concrete façade. Luis Barragán was practically paranoid about his privacy. Even his house has many peculiar details that reflect his mania and fears. For example, the mezzanine was designed in such a way that he could look into the library without being seen. In addition, the height of the half wall between the library and the living room corresponds to the height of the architect to the nearest centimetre, allowing him to move around without being seen. The metal spheres he placed at the various corners of his property allowed him to see in all directions, like mirrors.
This site is certainly the most unusual and nested site I have visited so far. Is the house unique? I think so. Did I enjoy my visit? Yes, I did, too. The guide was relevant and interesting and all the slightly freaky aspects of the house make it fascinating. Is it of outstanding universal value? I still doubt it and hesitate to give it less stars. An OUV that is largely due to the colour of the walls and the curvature of a tree seems to me to be quite tenuous. However, I am not sufficiently connoisseur to assess the influence of the Casa Luis Barragán in the world of architecture, so I could be wrong.
I visited the house during a day spent surveying the Bosque de Chapultepec and its surroundings. The house can be reached on foot by walking past Los Pinos, the former official residence of the Mexican presidents.
---
It's a bit of an education incorporating World Heritage Sites into travel. When I took a trip to Mexico City in January 2017, I knew I'd be viewing several sites dedicated to meso-American civilizations, some dedicated to Spanish colonialism, and hopefully a natural site dedicated to the monarch butterfly migration. I also included a visit to a 20th century site honoring a Mexican architect obscure to me, even through he was the second architect to receive the prestigious Pritzker Architecture Prize: The Luis Barragán House and Studio.
I made my reservations for the visit in advance, and joined a small group of international visitors for the tour of the home and studio. I had chosen to pay the fee to bring a camera, and I found there were a lot of clean lines and bright contrasting colors to photograph as we walked through the house. The wooden staircase in the library was probably the highlight for me inside, though I also appreciated the simplicity of Barragán's bedroom. The rooftop terrace was memorable, with its bold orange and fuchsia walls, but I preferred the green oases of the backyard garden and the courtyard with the jars. After touring the house, the studio seemed a bit plain, though functional.
Overall I'm glad I visited the site, but I'm not certain Barragán would have been one of my first choices to add to the list for modern architecture. Still, I can understand Mexico's pride in celebrating one of their own.
Logistics: As others have mentioned, Constituyentes Metro station on Line 7 is the closest metro station to Barragan's home and studio, and is only a short walk away.
---
3.50 Switzerland - 26-Jan-18 -
I am usually not a big fan of modern architecture, but somehow really enjoyed this site. Like Frederik I left the Metro station on the wrong side of the street and my first challenge was to cross the street. The house itself is rather ugly from the outside (as you can see on the pictures of the other reviews). The entry ticket and especially the photo permit are ridiculously expensive. On the other hand it would have been completely unsatisfying to leave the house with only pictures from the (boring) façade and due to the small rooms and group size it would be hard to take pictures without a permit. The tour was interesting. The guide spoke fast and with strong accent, but as I am used to Spanglish, unlike most of the group, I had no problems to follow. What I enjoyed about the visit were the many small details, between genius and freaky, that were hidden between these walls. Not a place that I intend to revisit, but definitely not the worst place I visited.
---
1.50 Switzerland - 09-Jan-17 -
I visited this house during my one day in Mexico City flying home from Yucatán. The required reservation over the website did not work, therefore I just went there and was lucky to get a spot in a tour if though in Spanish.
The house is interesting: very clear but still full of asymmetries and surprises. Very modern but full of crosses as architectural elements and in old paintings. Very bright and open, but still protected from the outside world by high walls. It has many brightly painted walls and the predominant color is pink. It came to my mind I f Barragán was gay. A short glance in his biography seems rather to support this. Though the house is a museum you cannot enter all the rooms and it seems Barragán gave it in his will to his last architect partner. Perhaps it is him who still lives there.
The price for the visit is high with 300 Pesos. Our guide was ok but not great. He was not too happy to answer questions and looked from time to time into his chat messages...
While an interesting visit I am not sure if it is unique enough to justify the inscription and based on my internet search I am not even sure if it is his best work. The Cuadra San Cristobal in Mexico City seems a strong competition
Neighbouring to the museum in Nr. 20 is another house by Barragán that you can enter from 10-13.30h for 200 Pesos if somebody is there to open the door. You can see a big garden and glance quite easily into the rooms designed by Barragán. But the garden is not well cared for. There are non of the strong colours of his own house or they have disappeared over time. While it is certainly a treat for great fans coming from the Museum it may be a disappointment for the average WHS-hunter.
---
Colour, light and space. These are the elements of this house that make it exceptional, and unfortunately I don't think I have the ability to convey their qualities in writing.
The thing that really stayed with me was how Barragán used and manipulated "the places in between" the main rooms of the house. The most prominent was the reception room, having come through a low and dark corridor you arrive into a multi level space, with huge windows up high. The main purpose of these was to let in light and offer glimpses of nature outside, but they were positioned like the majority of the windows in the house to make seeing in very difficult. There are multiple art works that help channel light around the space, a large gold painting and the famous mirrored spheres reflecting the light and offering new perspectives. It was amazing how these clever tools enabled Barragán to use such a small amount of artificial light in the house. Barragán's use of light and colour aimed to give an almost spiritual response to them, bypassing reason and appealing to a more intuitive reaction, and to my eye this was where the quality of the house really lay. Sadly this is something that really has to be seen on a visit, as it is a hard thing to describe (especially with my non-specialist descriptions).
Initially, I will admit, I was left with a feeling that it was nice, but I wasn't sure of why it was justified as being a world heritage site. Struggling like Solivagant below to see where its influence stretched beyond some impressive but niche aspects of contemporary art and architecture. However, there are plenty of other sites on the list that are there because they look nice but have had limited external influence (endless stream of Central European palaces I'm looking at you). If we accept that some world heritage sites are only of niche interest then this house is precisely the sort of site I would like to see on the list, so I have rather changed my mind on its inscription.
On reflection I really liked this house, Barragán may not be the defining architect of his generation but here he has created a wonderful modernist construction. His master stroke though is softening its impact through his use of light and colour. This means it isn't a museum piece or idol to be looked at and admired, rather it is a masterpiece that seems comfortable to actually inhabit, a rare feat and one worthy of applause and exploration.
[Site 7: Experience 7]
If anyone works out the book homage in this review, get in contact and I will buy you a beer :)
---
2.50 Netherlands - 18-Nov-14 -
One of the most memorable thing of my visit to Luis Barragan House is how to get there, from Tacubaya station, I changed the metro and arrived Constituyentes Station, I followed other passenger to the metro exit, but when I got out the station I knew immediately that I used the wrong one, and need to find the way to cross the road. At first I walked along the highway and found small stairs to the pedestrian tunnel, since I was not sure I decided to ask two police officers who were smoking the way to Casa Luis Barragan. The policemen told me to follow the arrow sign nearby which totally opposite the direction, but well I had to trust officers and the sign. That sign took me to the small way along the highway and then I turned right until I reached a large junction. This time I gave up to ask direction anymore and decide to open my mobile phone for map. I crossed the junction and found small alley and then climbed the stairs to another small dirty road that full with mechanical shops. Then I reached another junction and turned right and that I found a quite clean road and Casa Luis Barragan is on the left!
At that time I was very tired and soaked with sweat. From 5 minutes I planned to reach the house turned out to be 35 minutes. Thanks god that I was still on time for the tour, and I have to say the frustration of direction really ruined my visit. My idea on the house is hard to say, it was a nice furnished house that look like in the home magazine, but I could not find any impact on modern architecture like I saw in Rietveld Schroder House or Villa Savoye or even Berlin Modernism. One of the thing I surprised is that the house is cozy than my original thought. Another interesting maybe the colour, but if you travelled in Mexico for more than a week, any colour on house could be possible which in my opinion a charm of Mexican arts. After I finished the tour I walked toward the highway and turn right to small alley and within less than 2 minutes I was at the entrance of Constituyentes Station! Inside the station I found out the reason why I used the wrong entrance. If you come from Tocubaya direction when exit you need to use tunnel under (or above?) the rail track to another side of metro station for the train from Auditario direction and the exit sign to Casa Luis Barragan will be there.
Since I combined Casa Luis Barragan and UNAM in the same day tour, I was quite overwhelmed by Mexican modernist works, but in the different feelings, I was disappointed from Casa Luis Barragan, but got a nicer time from UNAM. Anyway I was happy that I visited the house, the visit gave me much knowledge on Mexican arts and the first time I learned about modern architecture in Latin America which has unique idea apart from main school in Europe and North America. Also it would be a shame for World Heritage Site enthusiast for not collects all 5 sites in this World Heritage Hot Spot city.
---
2.50 The Netherlands - 06-Jan-14 -
It has been 6 years since the previous review of this WHS, and some things indeed have changed. The entrance fee now is a steep (from a Mexican perspective) 210 pesos, which equals 12 EUR. For a further contribution of 500 pesos, you're also allowed to take pictures inside the house, something that has been strictly forbidden for a long time and has added to the site's mystery. I forgot to bring extra money (500 pesos is much more than what you need on an average day in Mexico), so the visitors of this website will have to make do with the ugly exterior views of the house.
The entrance still is on appointment and with a guide only. I joined an English-speaking tour at 12.30. Another tour in Spanish had just ended when we started. There were about 12 people on that tour, and 5 on mine. It's quite a miracle that these tours are so popular: the Casa Luis Barragan is a secret that is well-hidden from the general tourist public. Lonely Planet does not mention it, and the Michelin Green Guide has only a small entry in its Mexico guidebook. Most of the other visitors seemed to be architects or modern architecture buffs.
My tour around the house and the studio took about an hour. The complex has many doors, and we entered all the rooms except for the bathrooms and kitchen. Barragán's private quarters appealed the most to me - I could see myself living there, a cozy room that like most of the other rooms still holds the original furniture and carpets. When you've visited a number of these modernist structures on the WH list, you'll notice a lot of familiar things such as the large windows to connect the outdoor and the inside. Unfortunately for me, this building did not live up to its hype, I prefer for example the Paimio Sanatorium by Aalto or any structure by Frank Lloyd Wright.
---
Occasionally, when visiting WHS, one comes across a wonderful surprise and this was such a visit. I had been feeling slightly negatively towards it – why should THIS house, designed by a guy I personally hadn't heard of, have been inscribed when other, to my knowledge/belief, more significant modern buildings in Mexico and elsewhere in the world, had not!? 2 hours later we emerged, entranced by what we had seen, but still not entirely convinced of its WHS merits!
I was aware of the house as it had been featured in a recent (Jan 2008) BBC series "Around the World in 80 Gardens". The main surprise then was that we saw very little of it or its garden – in fact little more than an interview with the curator on a terrace before moving on to another of Barragan's buildings elsewhere in Mexico City. So I was aware that Barragan was more than "Architect" – he called himself a "Landscape designer" but I was not aware of what his own house was like.
Thanks to the previous reviewer (tips on this site can be useful!) I knew that reservation was "required" to visit this site (though, a minor point, Constituyentes Metro is on line 7). I did this easily 4 weeks beforehand by e-mail. We didn't get our requested time but this may have been to put us on an "English speaking" tour. In fact, however, of the 7 in our group, 3 turned up "on spec" and were allowed to join those of us who had prearranged.
The house is set in a working class district of Mexico DF and, externally, looks rather like a factory (photo 1) – indeed part of it was the Barragan architectural practice "workshop". You have to knock to get in (and wait some time for someone's arrival!). Immediately you are regaled with prescriptive instructions – including "No photography" except from the outside or on the terrace. So that explains the TV program - even the BBC can't have got permission! The tour costs 100 pesos (c US$10). Our guide is himself a recently qualified architect working off the 480 hours "community work" which state-assisted Mexican graduates apparently have to do. I don't know if all the guides are as qualified but his knowledge and enthusiasm is going to be major part of the visit.
We are taken outside to a door down the street and ushered in to a pokey "Entrance Vestibule" with just enough room for a wooden bench protruding from the wall. But this isn't just ANY wooden bench – don't even think of sitting upon its hallowed planks! A reverential atmosphere is created and we move through a door to the "Overwhelmingly beautiful Main Vestibule……..". At this point you realise that you are going to see something rather special. The architectural scene is set for the other rooms we will see – light bathes the area from a high point, an un-banistered dark volcanic stone stairway invites you upwards to it, brightly coloured walls with multiple, differently sized, doors lead off into other rooms, minimal furniture and striking paintings, never centrally placed, create style and atmosphere. And always colour, variety with continuity, light and serenity….
The tour lasts for 2 hours and visits some 12 rooms, the terrace and the garden. We learn Barragan's language – the symbols of horses, death, women and religion carefully introduced into each room; the mathematically determined proportions, even though every door is a different size and every ceiling a different height; the non use of the colours blue and green – these are always provided externally by nature through windows (indeed the main purpose of the overgrown garden seems to be to provide "greenness"); the significance of vestibules to manage the contrasts between rooms etc etc ….. Some of the visual coups are stunning – a statue of an angel glowing from light shining through a yellow glass ceiling window, a cross of white light created by 4 shutters….Every room is a delight. Finally we reach the Terrace where we are allowed photos (photo 2) and the tour ends. (You can find a pretty full set of "photos" of the house, starting with the "Entrance Vestibule" and "that" bench - go to "La Casa" and follow the arrows)
Post Script.
Despite the fine visiting experience and the beauty of the building I still wonder whether it should be inscribed as "World Heritage". I have 3 areas of concern.
1. Doubtful "Universal Value".
The previous reviewer called Barragan a "disciple" of Le Corbusier – however, we were told that, whilst Barragan attended a couple of conferences which Le Corbusier ran/attended, he was in no way a close associate. Barragan's other influences can be traced inter alia to Van de Rohe, Rietveld, and Lloyd Wright. He was clearly (a peripheral?) part of the Twentieth Century's "Modern Movement" and a recipient of influences from significant international architects as well as from Mexico and from stays/visits in France/Morocco – but how "universally" significant has been his use and development of those influences and how influential has HE been on others (surely the more important direction in order to merit WHS inscription?) He has no buildings outside Mexico – and very few inside. I note that 3 of the 7 in our group were architects and it does appear that Barragan is part of the curriculum of US architecture courses at least. He also received the prestigious Pritzker Prize only awarded to living architects – among whose other luminary recipients have been Utzen (architect for the Sydney Opera House) so his standing among architects has been high. I asked our architect guide what Barragan's influence had been worldwide – the "light cross" in the Osaka "Church of Light" was quoted. We were also pointed to the Mexican Camino Real Hotel Group and the widespread use of "pink" in Mexican houses (sure enough when we returned to our guest house in Coyoacan one wall was painted in "Barragan Pink"!). Yet, to date, the UNESCO list contains NO buildings by Le Corbusier or Frank Lloyd Wright. Now it is hardly Mexico's fault that others have been tardy in getting the work of these 2 seminal architects inscribed (Tentative Lists from Japan and India contain Le Corbusier works and that from USA contains a serial Frank Lloyd Wight proposal). But I wonder really whether Barragan's architectural language is adequately "universal" either in application or in acceptance? Getting (part of) the world to use pink paint hardly seems enough and surely the WHS list doesn't have room for a work of every medium ranking architect? Is Barragan really "the very best of the best"? (Interestingly the ICOMOS commissioned 1997 evaluation "The Modern Movement and the World Heritage List" didn't identify ANY Barragan buildings among those it suggested for future inscription to represent the "Modern Movement")
2 – Weak Protection.
UNESCO seems determined to make an example of Dresden for its infamous bridge proposal but demonstrates considerable inconsistency in application of its principles. As you look out of the Casa Barragan rear windows what do you see – not just the pure natural Green and Blue which Barragan had intended but also a rather ugly multi-story new block of flats which seems to have been designed to allow as many tenants/owners as possible to overlook the Casa Barragan! Similarly, one view from the Terrace looks at an unsightly new floor built on top of an old building. Yet, to quote the 2004 evaluation, "it is recommended that the planning control within the proposed buffer zone be formally enforced and that steps be taken to remove any infringements that could disturb the visual integrity of the nominated property"!
3. Divided "Ownership".
When Barragan died, the building was left to a partner who ran into financial difficulties and committed suicide. His widow auctioned it but, to Mexico's shame, no-one from that country would buy it and, as I understand it, after various sales, the building finished up with State of Jalisco and the "Fundacion de Arquitectura Tapatia Luis Barragan" which now runs it as a museum whilst the copyright of all his works (inclduing photos of the house - hence the strict photography control) became linked with Vitra – the Swiss (formerly German) manufacturer of designer furniture through the "The Barragan Foundation". Now, Vitra emphasises its artistic credentials worldwide via its prestigious "Vitra design Museum" situated in a fabulous building designed by Frank Gehry and has been reported in the NYT as having "paid $2.5 million (..to keep)this important archive in single ownership". But Vitra's interest in Barragan is not of course entirely artistic or altruistic - apart from the PR aspects you will find it selling "Barragan Furniture"! So the value of Vitra's product range is enhanced via the inscription of his house on the UNESCO list and the copyright restrictions on photography of that house. I know of no other WHS whose "ownership" is similarly split and which imposes this sort of limitation on those visiting a part of our world wide "Patrimony".
---
Site Info
Site Links
Unesco Website
Official Website
Related
Visitors
109 Community Members have visited.