Chapultepec Woods, Hill and Castle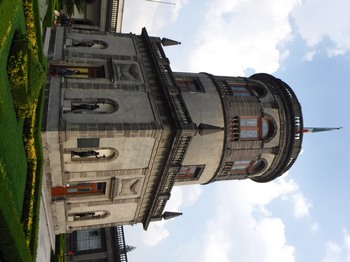 Chapultepec Woods, Hill and Castle is part of the Tentative list of Mexico in order to qualify for inclusion in the World Heritage List.
Chapultepec is a hill and a park in the southwest of Mexico City. It is a central place in the social history of Mexico since the 12th century when the Aztecs settled here. It includes many monuments, public buildings and recreational areas including the National Museum of Anthropology, the Tamayo Museum, but most notably the Chapultepec Castle. This 18th century neoclassical palace served as a military academy, an imperial residence, a presidential residence, an observatory, and an history museum.
Map of Chapultepec Woods, Hill and Castle
Load map
The coordinates shown for all tentative sites were produced as a community effort. They are not official and may change on inscription.
Community Reviews
---
Chapultepec Woods, Hill and Castle has featured on Mexico's Tentative List for almost 20 years now. Most people visiting Mexico City will have been there in some way or another. However, mentioning 'Chapultepec' often leads to "mèh" reactions. The 9 voters on this website so far gave it a 22% thumbs up rating, which is pretty awful. Personally I find Mexico City one of the most interesting cities in the world and I'd be happy to go there again. The Chapultepec area also really has some great aspects.
The negative associations may come from the Castle – the 19th century construction is not especially pretty and you need to be a Mexican modern history buff to find it interesting. The Zoo can easily be skipped (although it is famous for its success in giant panda breeding!). The city park itself also is not as lush as those in other capital cities. But there is a lot of history to be found on these 600 hectares. They comprise 3 'green lungs' which are nowadays mostly used for recreational and educational activities by Mexico City's nearly 9 million citizens.
On my second visit to Mexico City in 2014 I explored Chapultepec by bike. I had joined a bicycle tour which I would not especially recommend, but at least we ticked off some of the sights near the Reforma avenue and in the Park. We visited on a Sunday, that's when the main Reforma road is closed to car traffic. I believe Mexico City was the first city to do so each Sunday, a great initiative I think. Several other Latin American cities have followed its example. We must have encountered hundreds of cyclists and skaters – from beginners to athletes.
In the park we stopped at the Botanical Garden. You can see from the plants here that the climate in Mexico City is very special: it is a city in the tropics, but also at an altitude of 2,400 meters. The vegetation is therefore a mix of tropical plants and plants brought by Europeans. A natural monument of interest deeper into the park is this notable tree: the Ahuehuete "El Sargento". It is a Mexican cypress tree planted by the pre-Columbian ruler Nezahualcoyotl around 1460. It is now reduced to its dead trunk.
After the tour I went to the no.1 highlight of Chapultepec: the Museum of Anthropology. Together with the Gold Museum in Bogota this is right at the top of the best museums across Latin America. Sunday is an extra busy day here, because the Mexicans can enter for free. One can spend hours here, but I stuck to a selection of works from Teotihuacan, Mexica and the coast of Mexico. It was busy, but the museum is so spacious that you can still see the most beautiful things at your leisure.
Finally: the voladores. I had watched them before in 1997 and wanted to relive the experience. The voladores comprise a native Mexican tradition and are part of UNESCO's intangible cultural heritage list. 5 men climb into a 30 meter high pole and then 4 of them circle around downwards at the same time on a rope tied around one foot. A group of Totonac voladores always performs next to the Anthropological Museum, somewhat hidden behind the hamburger and ice cream stands on a lawn.
I found them with an audience of about 50 people. The men had already climbed to the top of the pole. Some fireworks and music followed, and they started spinning down. Within a few minutes they were back with both feet on the ground. Originally this was a spiritual ceremony, "a fertility dance", but now it is performed for donations.
Read more from Els Slots here.
---
myster_on
Been here many times! In "historic" terms, when has a castle in the Latin American region been inscribed in the list? Let's remember the scope of European influence during the 19th century in Mexico, 'cause only so will we understand the real value of this site. ;)
---
California - United States of America - 02-Jan-15 -
There are four sections to this park, and I am unsure what sections would be included in a world heritage bid. If you are a visitor to Mexico City you are unlikely to visit any section beyond the 1st. My visit included a relaxing walk through the park starting from Metro Constituyentes and ending with a visit to the Castillo.
As far as palaces go, I'm sure this particular palace shares many similar merits with already inscribed palaces. The most unique features are the excellent views of the surrounding vast park and cityscape, the stained glass hallway, and some of the grand murals. I enjoyed my time, but I have doubts about this TWHS every becoming a world heritage site. Nevertheless I had a pleasant time walking through this pleasant park and seeing masterful use of stained glass.
Read more from Kyle Magnuson here.
---
Site Info
Site History
2001

Added to Tentative List
Visitors
49 Community Members have visited.