Falun Great Copper Mountain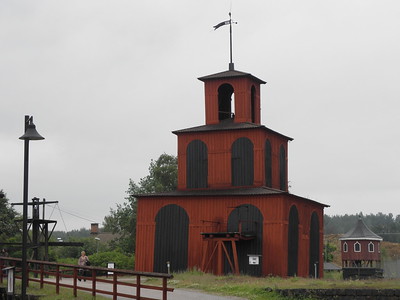 The Mining Area of the Great Copper Mountain in Falun is one of the most enduring and complete monuments of the world's industrial heritage.
Mining for copper had been a local business since the mid-1200s, and lasted until the 20th century.
The core area is the historic mine at Falun with associated facilities above and below ground. The other areas contain many furnace sites, waterways, ponds, canals, and ancient mining settlements and the town of Falun with its 1646 gridiron street plan and wooden houses.
Map of Falun Great Copper Mountain
Legend
Visit July 2012
There are so many mining landscapes on the List now, last week even 2 more were added. But I was still pleasantly surprised when I arrived at Falun. The big pit indeed is an impressive sight, although it is a totally ruined landscape of course. Sweden has a number of fairly underwhelming WHS, but I definitely rank Falun as the best Swedish site that I have visited so far.
I did the full hike around the pit, where you can see it from different perspectives. You also pass several very cute wooden red buildings, constructed for various uses during the mining periods. Unfortunately it started to rain when I was half-way, so I made a brisk walk back to the entrance.
Near the entrance lies the big mining museum. A good place to hide from the rain of course, though I did not spent long inside. In my opinion it focuses too much on tools and other technicalities, and too little on the circumstances and stories of those that worked here or how the mine was run. But that could just be my preference for social history.
In general Falun is a sight not to be missed when you're in Central Sweden.
Click
here
to see more of my photos of Falun Great Copper Mountain
Community Reviews
---
---
---
---
---
---
---
---
Community Rating
Community Rating 2.93. Based on 15 votes.
Site Info
Full name: Mining Area of the Great Copper Mountain in Falun
Unesco ID: 1027
Inscribed: 2001
Type: Cultural
Criteria: 2 3 5
Site Links
Unesco Website
Official Website
Connections
The site has 11 connections. Show all
Visitors
95 community members have visited Falun Great Copper Mountain. Show all