Colonia del Sacramento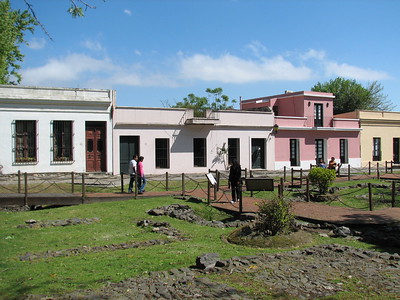 The Historic Quarter of the City of Colonia del Sacramento comprises a colonial urban landscape where Portuguese and Spanish traditions are combined.
Colonia lies in a strategic position at the tip of a peninsula in the Río de la Plata. It changed hands between the two European powers a couple of times between the 17th and 19th centuries. The townscape is characterized by its organic street plan, cobbled streets and low, modest buildings.
Community Perspective: Easily accessible by hydrofoil from Buenos Aires; expect a laid-back atmosphere and a lack of noteworthy sights.
Community Reviews
---
There are no impressive sights or first-class attractions in Colonia del Sacramento. There are no large convents, nor cathedrals. There are no old mansions or prominent civil buildings to keep in mind before traveling. I would even say that there is not a single building that reflects a distinctive urban, architectural or artistic identity. Almost any Latin American colonial city has more things to see and do than this picturesque little Uruguayan town.
However, Colonia is a charming city. Its location on the banks of the Río de la Plata, the quietness of its cobbled streets and the friendliness of the locals make the visit worthwhile. The atmosphere is laid back and there are plenty of good restaurants and high-end souvenir shops. The famous Calle de los Suspiros is indeed very photogenic; like the whole city, which is always impeccable.
Colonia is a historical crossroads, a changing frontier. First, between the Spanish and Portuguese empires; then, between Brazil and Uruguay. This is evident in the presence of some Portuguese and Spanish colonial style houses. However, the vast majority of the city's architecture belongs to the independent period (19th and 20th centuries), although it is harmoniously integrated into the original colonial landscape.
There are many museums in Colonia, but most only have a couple of rooms and very small collections. I recommend visiting the Museo Casa de Nacarello, the Museo de los Azulejos and the Museo Municipal. Altogether, they add up to two hours of visit and are enough to understand the nature and character of this site. At the tourist office, you can buy a pass that includes admission to most of the city's cultural spaces.
Colonia can be visited as a day trip from Buenos Aires, as it is an hour away by ferry. It is very easy to get Uruguayan currency in the main plaza and some places even accept Argentine pesos. It is worth bearing in mind that all prices are significantly higher in Uruguay than in Argentina.
---
I arrived at night in the very cheap but nice Toca Madera Hostel close to the Bus Terminal and the Barrio Historico which is the WHS on a small peninsula. The rest of Colonia lies aside the peninsula, but I didn't visit. The Barrio Historico is really full of nice looking restaurants and cafés which lie below the many poplars all around the place. In the Deli de las Rosas I ate a really nice yoghurt with muesli and fruits for low price. Really recommendable. In the evening I also had a nice but expensive dinner in a beautiful patio in the nice summer air. But enough of the food ads- I of course had a walk around the Barrio also. However I did not take use of the two tourist information centres. A small one is on the south side of the peninsula and a larger one just at the Ferry Terminal. The are some signs spread around the city explaining some things about the original settlement. At the Plaza Manuel Lobo there is the church and the foundation walls of a Portugease Government Building. After visiting the church I went to the yacht harbour and had a look around. Then I walked all the way along the water to the ferry terminal, which is nice and a few historic remains can be seen like the old defensive building of San Miguel. On the way back from the terminal I went through a re-built town gate with a draw bridge and a protugease coat of arms at the top. After going through you inevitably stand on Plaza Mayor where a lot of museums can be found which I however did not visit either. Instead I went up the lighthouse closeby which gives you a nice view around the Barrio Historico and even of the Río de la Plata all the way to Buenos Aires. At least I was able to see some skyscrapers in a lucky moment. Also closeby is the "street of sighs" which has still the original cobble stone streets that are really uneven. Also some original colonial houses you can find in this street.
As a lot of tourists from Buenos Aires I think it´s really nice to pay Colonia a visit as it´s picturesque and tranquil and has some really nice cafés and restaurants as well as beaches. The actual WHS is nice to walk or bike around but nothing breathtaking. However I liked the atmosphere a lot.
Read more from Timonator here.
---
What Colonia del Sacramento lacks in single sights it makes up for atmosphere. You can climb the lighthouse, visit a small Basílica and walk along the Muelle de Puerto de Yates but what will remain are general memories of a picturesque, laid back and ageing townscape.
Overall well worth the detour from Buenos Aires (with the Buquebus ferry) or Montevideo.
---
The Historic Center of the City of Colonia del Sacramento in Uruguay is a perfectly adequate World Heritage Site, but, as has been intimated by other reviewers here, it would likely not fall in the top tier for many WHS travelers. Like others, I visited the town as a day trip by ferry from Buenos Aires in March 2016. The weather was warm, which made the stroll around the historic cobblestone streets of the historic quarter rather pleasant. I appreciated the tile maps of the city found throughout the historic quarter, and also enjoyed the overhead views of the city from atop the lighthouse. Scattered around the quarter were several old cars that had been turned into artwork, and antique lamps were hung from the sides of many of the buildings. Before returning to Buenos Aires, my friends and I enjoyed a relaxing late lunch at a cafe overlooking the Rio de la Plata and some of the old city walls on the south side of the historic quarter. Although my visit to Colonia del Sacramento gave me an opportunity to see Uruguay for the first time, I think I'll have to return for a longer visit some day to get a better feel for the rest of the country.
Logistics: Colonia del Sacramento is accessible by ferry from Buenos Aires; the historic quarter is a short walk from the ferry terminal in Uruguay. Be sure to plan time to go through customs in both countries.
---
I am a bit torn about my view on the town. It is quaint and cute but I also found it a little boring. Maybe I was missing something but it wasn't as photogenic as I was hoping and there weren't a lot of things to do. I only stayed one night and felt like that was long enough.
It certainly was not a bad experience - just not particularly memorable.
Read more from Michael Turtle here.
---
I went to Colonia del Sacramento in March 2013, arriving - unusually - by air. Once our Cub had landed at Colonia's airfield we had to call customs and wait for them to drive over from the town's port in order to stamp our passports. They even gave us a lift into town!
Colonia is a small, low-key affair - not the most interesting WHS in the world. Nevertheless it is a pleasant enough place, and is interesting for its history of contested control by the Spanish and Portuguese colonialists. This is manifested in the different cambers you can see on various streets - here a normal camber with the hump in the middle of the road, there a reverse camber with a dip in the middle of the road!
Uruguay has since been joined on the list by the Fray Bentos Industrial Landscape, which I'd guess might be a bit bleak. But I'll be interested to read the first review when someone on this site visits it.
---
3.00 The Netherlands - 12-Oct-08 -
Colonia is the antithesis of Buenos Aires (BA): while the Argentinian capital has grown into a modern city of millions, its Rio de la Plata neighbour has turned into a quiet backwater. BA looks to have taken the better road economically, but Colonia has beaten them at least on one aspect: it has gained world heritage status, something BA still only can hope for.
I 'did' Colonia the way most people do - by ferry from BA. This is a very easy way to pick up a new country also, although I can't really say that I've learned to know the soul of Uruguay after a one-day visit. I didn't even touch Uruguayan pesos: I tried to get hold of them but all the banks were closed and the only ATM I could find didn't like my card. So I just paid in Argentinian pesos and even got the change back in that currency. One thing is different though: there's a one-hour time difference between Uruguay and Argentina (although that's only temporary)!
So what's to see? The main thing that struck me was the general laid-back atmosphere, softened even more by the leafy streets and abundance of flowers. One just has to walk around slowly, admire the nice little old buildings and have a meal or a drink. A couple of houses are turned into little museums, which are worth a look. In one of those I encountered a fossilized Glyptodon - that's a very big and scary-looking cross between a turtle and an armadillo ("about the same general size and weight as a Volkswagen Beetle", according to Wikipedia).
Colonia in general is a nice little town, very well suited for a leisurely Sunday outing. Similar sites would be Macao (also a WHS) and Paraty (hoping to become one soon), although I rate these two higher than Colonia.
---
Maarten Vermeulen
Just surfing through the site, while working in Indonesia, I see another review of Paul Tanner. Again he wonders if inscription is justified just like the one of Caves of the Aggtelek and Slovak Karst. Maybe Paul is a bit too critical, I've been in Colonia del Sacramento as well and must say the atmosphere felt just good, very good, feeling back in time even when life was more relaxed. Good memories I have of CdS.
---
After the noise and pollution of Buenos Aires across the river, Colonia was a breath of fresh air. So laid back and relaxing. On the wide, tree-lined streets even the motor vehicles were in keeping with the surrounding buildings; not a car to be seen built after 1950!
We went across the river on an early ferry, and it was like entering a ghost town. But around 11am the locals began to appear, and very friendly they were too.
We loved the colourful old Portuguese cottages around the Plaza Mayor, and the pinted blue tiles that appeared everywhere.
---
Colonia was WONDERFUL. Eating outside in the quaint, warm and friendly cafes was an experience we shall never forget. Our children (ages 6 & 12) loved Colonia as much as we did and they're used to Disney World-type trips. What a beautiful part of the world! We will someday return for a much longer visit. Thank you for your webpage and all the photos.
---
Uruguay possesses but a single WHS :- at Colonia Del Sacramento on the banks of the River Plate. We were journeying from Buenos Aires to Iguassu and didn't want to miss such a close new (for us) country and another WHS so took an indirect route by hydrofoil across the Plate and then by bus through the rolling pastures of Uruguay to cross back into Argentina at the Salto-Concordia frontier.
On arriving at Colonia the vast majority of hydrofoil passengers jumped onto waiting busses and continued to Montevideo. We found ourselves in a small town with plenty of hotels and restaurants and obviously heavily dependent on serving Porteno tourists.
The town is pleasant enough with a number of cobbled streets bounded by low houses in colonial style together with a few ruins in the form of town walls/gates overlooking the River Plate (it is said that the lighthouse is the only "high building" -photo). The town is supposed to reflect in its layout and architecture its origins as the most southerly Portuguese colonial settlement but I can't say that this aspect was particularly noticeable to us. It was originally founded in 1680 and changed hands a few times before its final incorporation into the Spanish empire in 1777.
It was a pleasant stop-over but whether the town really justifies inscription is another matter. I personally wasn't aware of the extent to which the Portuguese attempted to activate the Treaty of Tordesillas and grasp land that far south. I guess to Uruguayans the place has a far greater importance than to us Anglo Saxons relatively ignorant of Latin American history! As the location where a part of the physical and cultural boundary between the 2 Iberian colonial powers was worked out I suppose it has a historical significance which should be recognised.
---
Site Info
Site Links
Unesco Website
Official Website
Visitors
183 Community Members have visited.