Colonia del Sacramento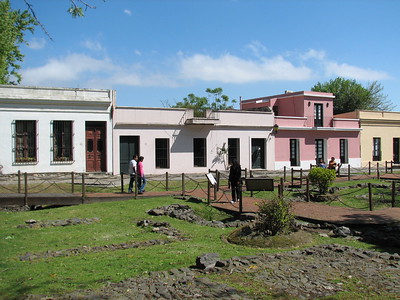 The Historic Quarter of the City of Colonia del Sacramento is a fusion of Portuguese, Spanish and post-colonial styles.
The buildings date from the 17th, 18th and 19th centuries. Its street plan is organic, contrary to the general checkerboard layout used elsewhere in colonial Latin America.
Colonia, situated on a peninsula, was first settled by the Portuguese in 1680. Portuguese sovereignity was much disputed by the Spanish during the first decennia. They besieged the town and control changed hands several times. The Spanish empire finally took hold of this strategic post on the Río de la Plata in 1777.
Map of Colonia del Sacramento
Legend
Visit October 2008
Colonia is the antithesis of Buenos Aires (BA): while the Argentinian capital has grown into a modern city of millions, its Rio de la Plata neighbour has turned into a quiet backwater. BA looks to have taken the better road economically, but Colonia has beaten them at least on one aspect: it has gained world heritage status, something BA still only can hope for.
I 'did' Colonia the way most of the people do - by ferry from BA. This is a very easy way to pick up a new country also, although I can't really say that I've learned to know the soul of Uruguay after a one-day visit. I didn't even touch Uruguayan pesos: I tried to get hold of them but all the banks were closed and the only ATM I could find didn't like my card. So I just paid in Argentinian pesos, and even got the change back in that currency. One thing is different though: there's a one hour time difference between Uruguay and Argentina (although that's only temporary)!
So what's to see? The main thing that struck me was the general laid back atmosphere, softened even more by the leafy streets and abundance of flowers. One just has to walk around slowly, admire the nice little old buildings and have a meal or a drink. A couple of houses are turned into little museums, which are worth a look. In one of those I encountered a fossilized Glyptodon - that's a very big and scary looking cross between a turtle and a armadillo ("about the same general size and weight as a Volkswagen Beetle", according to Wikipedia).
Colonia in general is a nice little town, very well suited for a leisurely Sunday outing. Similar sites would be Macao (also a WHS) and Paraty (hoping to become one soon), although I rate these two higher than Colonia.
Community Reviews
---
---
---
---
---
---
---
---
---
Community Rating
Community Rating 2.14. Based on 7 votes.
Your Rating
Site Info
Full name: Historic Quarter of the City of Colonia del Sacramento
Unesco ID: 747
Inscribed: 1995
Type: Cultural
Criteria: 4
Site Links
Unesco Website
Official Website
Related
Connections
The site has 16 connections. Show all
Visitors
107 community members have visited Colonia del Sacramento. Show all