Tarnowskie Góry Lead-Silver-Zinc Mine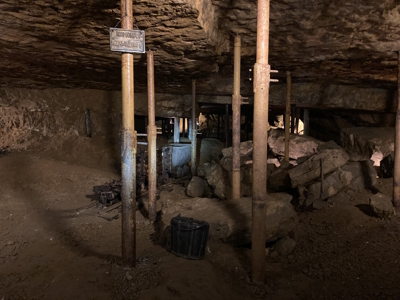 Tarnowskie Góry Lead-Silver-Zinc Mine and its Underground Water Management System is a historic mining landscape with mostly underground parts. Its hydraulic system for water supply is seen as innovative for its time.
Tarnowskie Góry's lead-silver deposits were discovered in the late 15th century. Its lead was used in the smelting of silver gathered from sites in Europe and New Spain. A second phase of production started in the late 18th century during the process of industrialization of Prussia. Then it produced mainly zinc. The mine closed in 1933.
Its ore lodes extended horizontally rather than vertically and were relatively superficial. This geological setting included underground aquifers and had a tendency to retain water. To be able to get to the ore deposits, the water had to be pumped away and redistributed via an extensive drainage network.
Map of Tarnowskie Góry Lead-Silver-Zinc Mine
Load map
Community Reviews
---
1.50 The Netherlands - 07-Apr-23 -
** Important public transport info at the end of this review **
The Tarnowskie mines (Góry means mines) are labelled as 'Lead-Silver-Zinc' – but what they actually produced was Galena, a lead ore that is one of the earliest minerals used by humans (as it is very easy to smelt) and has been mined and processed since ancient times including in pre-Columbian North America. The Romans already used it for their indoor plumbing. Galena can contain tiny grains of silver (0.2 – 1.2% in the case of Tarnowskie) and sometimes is used for its silver as the silver is worth 300 times more than an equal weight of lead. This rarely was the case at Tarnowskie however – it mainly played a supporting role in delivering the lead that was needed for smelting and refining silver that was found elsewhere (Carpathians, Ore Mountains).
The focus of this WHS is on the underground mine and its hydraulic engineering, and you have to join a tour to see it. From waiting around before the tour was to start and 'studying' the information panels, I learned from an extended version of this timeline that Goethe visited the site as well (in 1790). He wouldn't have any language issues then as the region was Prussian at the time. I had to take a tour in Polish. Make sure to learn the contents of the printouts in English they give you by heart, as it is too dark inside to read it on the tour.
In April 2023, the visitor experience hasn't changed a bit since the earliest reviews on this website. They could make it so much better with just a few improvements. The museum on the second floor for example is nice enough, but you're only allowed in with the guide. The explanations take too long for small children and foreign visitors captured on a Polish-speaking tour. Why not just place a few information panels in Polish and English, and let the visitors look around at their own pace? They also didn't do anything with Solivagant's advice from 2017 to add subtitles to the videos.
Overall it seems they spiced all that's available up to extend a visit to 90+ minutes, possibly to warrant the ticket cost which is relatively high for Polish standards: tours in Polish now cost 65 zł, those in foreign languages 90 zł. They also cater mostly to families with small children and school groups, probably a wiser choice than allocating for 'highbrow' WH collectors looking for OUV and doing their own comparative analysis.
Getting there on public transport:
Visiting the mine is doable on a day trip from Krakow, but it takes quite a lot of time. Be aware that at least until January 2024, the private rail Katowice-Tarnowskie Gory isn't running and is being replaced by a bus. The revised itinerary is:
Take the train to Katowice. The fastest trains take about 50 minutes. My trains were delayed both ways, so I missed out on my intended bus connection and tour slot.
From Katowice train station, walk to the bus station which is located about 10 minutes to the left from the main city exit.
The replacement buses to Tarnowksie Gory leave hourly from Platform 17.
If possible, take the express bus (S8, 50 mins) instead of the slow bus (S80, 1h20). At certain hours they confusingly depart at the same time.
From Tarnowskie Gory station, you can walk to the mine (all pavement, about 3.5km) or take a taxi (23zł on the meter). The site is called 'Zabytkowa Kopalnia Srebra' in Polish. I didn't have time to check out the local buses as indicated by Tsunami.
The train-bus combination can be pre-booked at https://bilkom.pl/. The bus ticket was still valid when I had to take a later bus due to the delayed train.
Read more from Els Slots here.
---
July 2021 - we decided to visit family in South Poland and combine it with visiting the remaining WHS sites in Poland.after having spend half a day in Wroclaw and the Night. We drove straight to Tarnowskie Góry taking the road via Opole.
Arriving at the shaft we were lucky that a next tour would start in 15 min. Our 2 year old daughter was very excited but the unnecessary movie as well as the Long explanations in the museum were not child friendly and also for us not really necessary. Finally we got our helmets and descended  to -40m. For the rather long hike we had to rush through the corridors. Every few seconds someone hit its head or helmet at the caves ceiling to the amusement of others. We took a few photos here and there but spotted nothing really interesting. The gamechanger was the boat ride, which added a bit of a thrill to the visit. For children certainly a small adventure for Whs enthusiast rather disappointing. Back on earth we still visited the Skansen and took a fun trainride🚂. For visiting other components above ground there was just too much traffic, so we decided to sleep in nearby Chorzow and enjoy the Silesia Park to continue to krakow next morning.
---
I visited this WHS in Summer 2019 as a stopover between Wroclaw and Czechia. The main highlights of this industrial heritage are the Historic Silver Mine or Zabytkowa Kopalnia Srebra (photo) and the Black Trout Adit or Sztolnia Czarnego Pstrąga.
I agree with Nan's review that although the boat trip between the Ewa and Sylvester shafts is pleasant enough (if you're not claustrophobic!), there are other far more pleasant underground waterways on the WH list which possess OUV. So even if it might be a unique touristy experience, that surely doesn't mean it deserves inscription!
Silver and lead mining in the Silesia area of Tarnowskie Gory was recorded as early as the 13th century, yet the first mines on this territory were established after 1490. The 18th century was the time of the renaissance of the ore mining industry whose remnant is the network of several kilometers of underground excavations, a fragment of which were opened for tourists to visit together with gangways and drain adits as well as the lead, silver and ore mines. The underground tourist route at a depth of 40 metres is 1700 metres long, including the popular 270 metre boat ride from Sylvester shaft. Make sure to arrive early (last tour is usually at 3pm!) and if possible book ahead.
The historic silver mine and outdoor mining machinery give you a good overview of the importance of this site for the region but it really is a drop in the ocean next to other mining museums of inscribed mining sites (for example in Germany or even in France or Belgium). Next to the museum entrance you will find a marble UNESCO WHS inscription plaque.
---
0.50 Chinese-Canadian - 14-Mar-19 -
Without thinking much about it this is the WORST site in Poland at the moment, and they are trying to add ANOTHER mine to the world heritage this year! (and not just Poland but Indonesia, Germany/Czechia with the Ore Mountain Range...when are we done inscribing all the mines!) Again this is one of those that sneaked through the review process and was overruled by the state parties - basically wasting the consulting process from the start. Maybe at one point in the future they can just sit together and decide which sites they LIKE and then we don't need a lengthy expensive process for reviewing them. Having said that, when I rate a site low the review becomes more of an old cat lady rant so I will try to keep it to a minimum:
So I arrived here just after it was inscribed. I would probably not have taken the extra few hours from my Czechia trip to reach it. There was no "UNESCO" sign anywhere but that was the only word I understood from the Polish guide. I saw an English tour inside but they were a larger group and the museum wouldn't start one just for me an hour earlier when I arrived. There is actually little history about the mine you need to know. The first part of the tour just tells you about how the mines work, equipment, steam power, yes I admit for someone who doesn't visit many this can be delightful - but it's generic mining stuff, plus the info about the town surrounding it is just extra padding. The second part is an annoying hike through corridors and that gimmick of a boat ride.
What is supposed to be unique is the lengthy use of hydraulic water management system, the only thing special here. If you have been to a mine before then this is just a repeat again and again, plus the little "gondola" ride. I'm thinking there is more to the site than what you see on the tour else it's shockingly boring.
---
Visited the Historic Silver Mine in December 2017 and I have to say it was worthwhile. If you plan to visit it, I would recommend you to make a reservation, it made our situation easier. I can confirm that the minimum number of people is 4, we were 3 but as I agreed to pay for 4 we were allowed to visit, for which I am very thankful to the personnel.
The tour start by watching a movie about history and the site in a small cinema. Later it continues in a multimedia museum with interesting details about history, tools and machinery. After that follows the visit of the site itself.
Our guide was a very good and her enthusiasm was a big part of the overall positive experience.
---
Our original, already ambitious, objective was to "sweep up" all 18 of our unvisited WHS (plus selected T List and some "revisits") in Pol/Cz/Sk/Hun in 15 days - and then the 2017 WHC inscribed Tarnowskie Gory (TG)!! We added it of course, but, on what was a trip of "Mines", I must admit it wasn't approached with great enthusiasm. We had already visited Banska Stiavnica with a visit into the Bartolomej Pit and found that reasonably interesting, but did we really need yet another Mine?
There is very little to see above ground in this WHS but there are 2 underground "trips" for which we had only the inclination, time and money to take 1. In the end we decided NOT to do the "Black Trout Adit" boat trip and opted instead for the "Historic Silver Mine" (These are signed locally and documented in Polish as, respectively – "Stolinia Czarnego Pstraga" and "Zabytkowa Kopalnia Srebra"). Our reasoning was that the Mine visit included a boat trip as well (albeit not as long), that it sounded more interesting than just sitting in a boat being lectured to in Polish and that it would be good to compare the underground experience there with that at Banska.
We arrived at the visitor centre at opening time to discover what was possible that morning. A large party of Polish school children was milling around ready for its tour but we were not allocated to them! Instead there was to be a Polish tour at 10.00 and we could join that. We were given a 6 page resumee of the tour in English and told to go away and sit until later. I offered to pay but this was declined – the reason, it turned out, was that they couldn't be sure how much it would cost until they knew the numbers coming for the tour! So it is 35 ZLN pp if there are 19 or more PAX, 37 ZLN for 13-18, down to 43 ZLN for 4-6. Fewer than 4 don't seem to get a trip! A foreign language tour costs 37, 39 and 50 ZLN respectively pp.
We filled our time by having a look at the Industrial Skansen at the back of the Centre – this had a number of old locomotives/steam engines and apparently ran a little "toy train" at busy times, but none of this had anything to do with the mine we were about to descend into. It also turned out that the visitor centre which looked like a mine shaft complex from around the 1950s/60s with its hyperboloid roof and winding gear tower was in fact completely "mock", having been built from scratch as a Visitor Centre in 1956. The mine had actually ceased operation in 1913 and all the original above ground aspects had disappeared. Indeed it wasn't that deep and the miners would have descended by ladders.
We were then told by an English speaking guide who, unfortunately, was taking the kids' group, that we could now pay the 35 ZLN! At that point a small "bundle of energy" in the form of a lady who I assume to have been the director came up to speak to the guide and we were introduced to her as "2 English visitors" – she beamed with delight on being told that we were only there because of the inscription - "The Certificate is expected to arrive any day now – possibly tomorrow" she enthused. She also mentioned that it was taking a long time to agree with UNESCO the exact design of the signs which were to be put on view to commemorate the inscription which is why nothing yet was on show. I thought of all those "unofficial" hand painted signs we had seen at WHS around the World in e.g Bangladesh and Ethiopia which UNESCO seemed to know or care nothing about! TG is managed by the "Tarnowskie Gory Land Lovers Association" (TGLLA) - indeed they get a special section in the Nomination File and received a special mention in the Polish "thank you" speech at the WHC in July for having looked after the place for 60 years. Our conversation broached the subject of other UNESCO mines such as Banska Stivianca. I gathered that money was a bit short for the TGLLA - We made ourselves really popular by pointing out that the video at Banska had differing language voice and subtitles so it could cover 2 languages in 1 showing whereas the TG Video was only in either Polish or English (and we obviously were to get the former!). It turned out to have been produced for the Nomination and they didn't have the money to produce subtitled versions. And yes it was unfortunate that they were not able to offer reductions for seniors like other musea in Poland….. However it does seem that TG's existence as a visitor attraction, and now as a "WHS", owes a lot to dedicated enthusiasts like her and others in the TGLLA!
And what of the visit itself? It takes around 90 minutes including the video and an exhibition across 3 rooms in the visitor centre which finishes with another video of happy smiling inhabitants of TG enjoying their idyllic country surroundings and playing at being mediaeval miners in the local "Gwarki Tarnogórskie" festival ("Gwarkami" was the name for the Galena ore. The mine guides wear the same "traditional" brown jackets as on show at the festival). You then pick up a helmet and descend just 40m in a modern Thyssen Krupp elevator. There follows a 1.74kms underground trail of which 270m is by boat. The Polish "hen party" we had been teamed up was kept happy by the guide and they gave a fine rendition of a Polish folk song during the boat trip! We obviously "missed out" on the detailed explanations (as well as the jokes!), but got the general idea. We had taken in the hand-out in English before hand but largely you are just seeing 3 mined "chambers", a series of tunnels between them and a couple of underground drainage streams - 1 of which you travel along on a rather tame boat ride. The whole experience is more "sanitised" than that at Banska Stiavnica. The TG paths are concreted rather than along rail tracks and on rough rock, and the water is well under control - whereas Banska fully requires those raincoats! On both, the helmets are needed - certainly for those of us who are 1.83m tall! Banska is entered via a drift and has no boat trip but the on-show remains of its mining activities seemed more realistic. TG just has a few strategically placed human models, pick axes and mine carts - parts of the Banska underground display could easily have ceased mining as recently as yesterday. It also shows a range of mining periods from the 18th - 20th C whereas TG claims to cover a much wider period - although, in fact, the "visit" seems to relate largely to the 18th/19th C, which covers the arrival of steam power from UK (first in 1787) enabling the existing mining activity to control the water far more widely and efficiently ("50km of main drainage tunnels and 150km of secondary drainage system, developed in the 15-16th centuries and further extended in the 18th-19th centuries"). It is worth mentioning that, although TG was originally about "silver" mining, the extraction of Lead and Zinc later became far more significant and it is badged as "non ferrous mining".
There would seem to be 2 issues about a visit to TG
a. Is it an interesting/worthwhile trip?
b. Does it capture/explain the site's OUV?
With regards to the first - well, as a trip out, especially if you had never been down a mine, it is an interesting enough experience. Perhaps, using what is claimed to be the "world's oldest continuously operating narrow gauge railway" to get out there in summer it could be a pleasant, even memorable, family day out. But we found the visit at Banska more interesting/worthwhile and it has the fine town as well. As regards the second – well that takes us to the whole issue of the site's OUV. The ICOMOS evaluation reads as if it was written by someone on a "bad mood" day. Everything is wrong or is damned with faint praise. E.g - "The State Party provided some hand-drawn tri-dimensional sketches that allowed for some (sic) visualisation of the underground system." (and, later, "ICOMOS considers that a systematic campaign of 3D documentation of the underground system is needed for scientific but also conservation purposes.") . Comparative Analysis, Integrity and Authenticity - all lacking. Monitoring - needs improvement. Proposed OUV criteria i, ii, iii and iv - all unjustified. How did it get inscribed?? Well, ICOMOS left a little loophole about the vague possibility of demonstrating the value of the mine's water management with more investigation and also made some "errors" which Poland and the WHC were able to pounce upon. Thus, ALL WHC members (led by Turkey) unanimously voted in favour of immediate inscription with the only argument being on which Criteria - i, ii and iv were chosen, with Poland even swinging "a masterpiece of human creative genius" for all those kms of tunnel and the use of the water for the town's public water system! (A viewing of the WHC discussions on 9 July 2017 starting at 3hrs 19 mins provides an interesting example of how ICOMOS can be ignored and some sites get inscribed!).
So - as a "WHS traveller", you are left with a somewhat problematical and esoteric OUV to try to appreciate. There is nothing much above ground to see and indeed, most of what is claimed to be "special" about the site, is underground and not included in the tours or, as ICOMOS picked up in the case of many of the workings, not even documented (though there is a 1926 water tower which we didn't see which was discussed at the WHC!). Really you have no choice but to do at least 1 of the underground trips, do a bit of extra reading/investigation, tick off the site as "seen" and move on.
---
Japan / USA / Europe - 03-Sep-17 -
I visited the Historic Silver Mine and the Black Trout Adit in August 2017.
There is a private train line between Katowice and Tarnowskie Gory, which is much cheaper than the Polish National Rail.
At 9:30 I took a bus from the bus station by the TG train station, which dropped me off right in front of the Historic Silver Mine Visitor Center / museum. It opened at 10:00 and my tour started at about 10:30.
I was told that the English tour is only at 12:00 and was given a few pages of the site description in English. But soon after the tour started, I gave up on reading it up because it was difficult to read it in the darkness of the mine.
After the tour ended at about 12:00, I decided on how to get to the Black Trout Adit by looking at the bus routes and time tables at the bus stop in front of the Visitor Center and by Google Mapping the names of various bus stop names along the routes to find the nearest bus stop to the Adit.
I took a bus, which came at about 12:30, from the Visitor center at 50°25'30.4"N 18°51'01.3"E to this bus stop 50°25'07.1"N 18°49'40.5"E and walked the rest of the way to the Black Trout Adit at 50°25'38.2"N 18°48'26.1"E.
The 600 m boat ride in the underground canal at the Adit, which is to show us the Underground Water Management System, was the longest underground boat ride I have taken, in which sense it was somewhat interesting.
On the way back I took a bus from 50°25'14.6"N 18°49'04.5"E directly to the train station where I arrived by 15:30.
I visited the largest salt mine in Poland at Klodawa several days later, and this one where I went down to the depth of 600 m, was, although not a WHS or TWHS, not only more interesting than TG, but also was one of the most intriguing mines I've ever visited. The photos from this mine can also been seen at the link below.
Read more from Tsunami here.
---
After a stop over in Wroclaw at a friend's I was stuck with the question, what to visit on my trip towards Cracow. Seeing Tarnowskie was on the way and scheduled for the WHC 2017 I figured, I may as well go and see it.
Frankly, what I got to see didn't really impress me at the time. I didn't even bother to write up a review, feeling this would be in vain. Yeah, yet another mine! The only unique feature I found was the boat ride they have on a canal deep in the mine which makes for a pleasant excursion. The picture is rather dark, but that's what it looks like. Still, pleasant does not indicate OUV.
Getting There
Tarnowskie can be reached by train from Wroclaw and Krakow. It is also connected via bus to Katowice. Bear in mind, though, that the mining museum is still quite a long walk away from the town center and train station. On the other hand, the town center has some historic buildings worthwhile visiting, emphasis being on some. Best transport information (as for all of Poland) are found at e-podroznik.pl.
At the museum there are regular tours that you can join, mostly in Polish, though. Check the schedule on their website.
While You Are There
You are in the Silesia and Cracow hotspots. For nearby Katowice two prospective sites are mentioned in our forum: the Cathedral of Christ the King and Nikiszowiec, a coal miner city. Katowice itself isn't all that nice.
---
Some basic information and hints how to visit the site - possible inscription of 2017.
Whatever the final inscription will be the most impressing sites are the Historic Silver Mine (Zabytkowa Kopalnia Srebra) and Black Trout Adit (Sztolnia Czarnego Pstrąga) both located south of Tarnowskie Góry town in Silesia Voivodship (Southern Poland).
Due to working hours it is better to start visit form Historic Silver Mine (there are guided tours in English, German, Russian or Czech - at least in theory) ask at the main office. The whole trip takes around 1,5 - 2 hours. After visiting the mine you can also visit the nearby open-air museum of old mining machinery.
The trip to Black Trout Adi requires some kind of transportation as it is located around 5 km from the Mine (there is a good marked bicycle trail). There is an underground water tunnel with boat service (separate ticket is required, unfortunately there are no combined tickets). You can start your boat trip from any of two mining shafts (szyb Sylwester or szyb Ewa) - if the boats are not there you can walk in the park to the other side or wait until the boats arrive. The whole trip takes around 40 minutes including walking down and out the mine.
More info on website http://www.kopalniasrebra.pl/EN/kopalnia/zwiedzanie.htm
Depending on what finally will be inscribed there are many other places in Tarnowskie Góry connected with mining - the whole Old Town (with many old houses - some of them belonging to old miners), old church, mining monuments, belfry. Other mining monuments are preserved in close vicinity of Historic Silver Mine - old mining shafts, huge slag heap (Hałda Popłuczkowa), former narrow-gauge railway.
For visiting all those sites propably one day will not be sufficient. If you want to see the most important sites opt for the mine itself and the Black Trout Adit - those two are must-see.
---
Site Info
Site History
2017

Advisory Body overruled

ICOMOS had advised Deferral to "Re-scope the nomination by focussing on the underground mining and water management system" and deepen the description and comparative analysis.
Site Links
Unesco Website
Official Website
Visitors
95 Community Members have visited.