Mehmed Paša Sokolović Bridge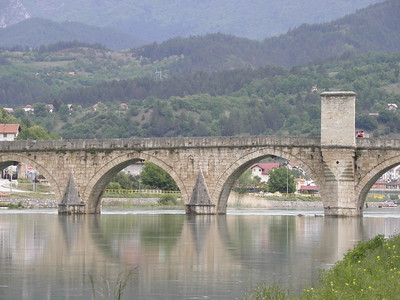 The Mehmed Paša Sokolovic Bridge in Višegrad is one of the best remaining examples of Ottoman architecture and civil engineering.
It is almost 180m long and has 11 arches. It spans the Drina River in the Republic of Srpska.
The bridge was built at the end of the 16th century by the Ottoman court architect Sinan. He was one of the greatest architects and engineers of the classical Ottoman period and a contemporary of the Italian Renaissance, with which his work can be compared.
The Grand Vizier Mehmed Paša Sokolovic, who was born in this area, ordered the construction.
Map of Mehmed Paša Sokolović Bridge
Legend
Visit May 2013
This seldom visited WHS lies hidden in the far east corner of Bosnia Herzegovina. I visited it on a day trip from Sarajevo: 3 hours to get there, 75 minutes in Visegrad, and then 3 hours in the bus back. It's a sacrifice one sometimes has to make in pursuit of visiting as many WHS as possible. The fun thing was: I wasn't the only one who had chosen to spent the day like this. An elder Japanese couple did exactly the same outing, just for taking some pictures of the bridge and then turn back to Sarajevo.
The bridge is closed to traffic nowadays, but pedestrians can cross. A large group of local youth was singing and drinking beer near the mihrab at the center of the bridge - a celebration of the end of the school year I believe. Otherwise it is just used as a shortcut between Visegrad city and the houses on the other side of the river. There's a new bridge 1km upstream where motorized traffic is directed to.
I wasn't really perplexed by the bridge at first sight. It's a rather sober construction, obviously a grand piece of work in its time but a bit underwhelming in 2013. Due to human impact, the water level has risen over the years so the bridge looks different now then when Sinan designed it. The pillars almost aren't visible anymore.
Getting to Visegrad means that you enter the Republika Srpska, the autonomous part of Bosnia Herzegovina edged out for the Bosnian Serbs in the Dayton Agreement. For me it felt like I was back in Serbia, mainly due to its Cyrillic signage.
P.S.: According to the Visegrad Tourism website, reconstruction of the bridge has started in April 2013. It will last more than 2 years, and the bridge will be closed off for pedestrians too, starting in Summer 2013. I did not see any reconstruction activity going on when I visited on May 16th, so maybe there's a delay.
Community Reviews
---
---
---
---
---
---
Community Rating
Community Rating 1.91. Based on 11 votes.
Site Info
Full name: Mehmed Paša Sokolović Bridge in Višegrad
Unesco ID: 1260
Inscribed: 2007
Type: Cultural
Criteria: 2 4
Site Links
Unesco Website
Official Website
Related
In the News
Connections
The site has 13 connections. Show all
Visitors
69 community members have visited Mehmed Paša Sokolović Bridge. Show all