Mammoth Cave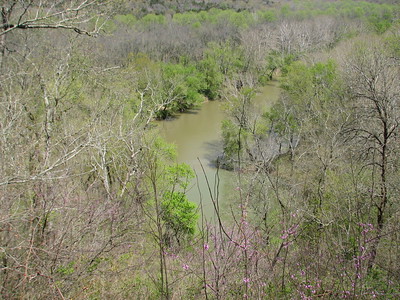 Mammoth Cave National Park holds the longest cave system in the world. Its known passages extend to 365 miles. The limestone caves were carved by the Green River and its tributaries.
The caves were formed over 100 million years ago and the geological process is still continuing. Most types of cave formation can be found here. Some dripstone is present, notably at a site called "Frozen Niagara". Fossils are also distributed throughout the rocks. The endangered Kentucky cave shrimp, a sightless albino shrimp, lives in the caves.
The park derives its name "Mammoth" from its gigantic size, not because mammoths ever lived there.
Map of Mammoth Cave
Legend
Visit April 2009
I had stayed overnight in a Bed&Breakfast in nearby Brownsville, so I could have an early start visiting the park. Arriving at 9 am at the visitor center, there still were plenty of tours to choose from. I picked the New Entrance tour, a 2 hour tour that uses a man made entrance from the 1920s to get into the caves. The fee is 12 US dollar.
Getting in this way is quite strenuous, and not for the faint hearted or those with a fear of heights. The passages are narrow and of course it's often dark and slippery. I found much of the talk of the ranger geared to children, of which there were many on the tour, and only mildly interesting.
As I have said in other reviews: I'm not a fan of dripstone, but there a so many sites displaying dripstone on the List that I just have to see them again and again. The most interesting thing I heard or saw on this tour is the story of George Morrison, a local entrepreneur who in the 1920s had blown his own way into the cave system and conducted tours from there. He also built a hotel near this "New Entrance" and posted roadside signs to lure visitors away from the main entrance.
Later that day I did a short hike on the Turnhole Bend Trail. The National Park above ground is a pleasure to be in, certainly on a warm day. This walk took me to an overview of the Green River. Green it looks indeed, a mighty river that was responsible for carving out the cave system millions of years ago.
Community Reviews
---
---
---
---
---
---
---
---
Community Rating
Community Rating 2.63. Based on 8 votes.
Site Info
Full name: Mammoth Cave National Park
Unesco ID: 150
Inscribed: 1981
Type: Natural
Criteria: 7 8 10
Site Links
Unesco Website
Official Website
Connections
The site has 12 connections. Show all
Visitors
106 community members have visited Mammoth Cave. Show all