Mammoth Cave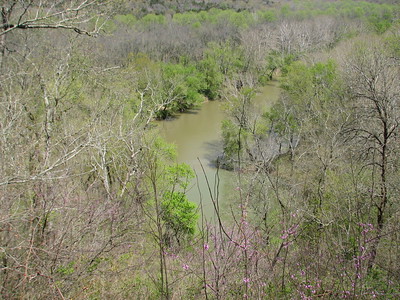 Mammoth Cave National Park covers a karst landscape that holds the longest cave system in the world.
The explored cave passageways inside the park stretch for 458km. They were carved by the Green River and its tributaries. Nearly every cave formation is visible here and the flora and fauna are the richest cave-dwelling wildlife known.
Community Perspective: There are various cave tours to choose from, though the underground scenery will not overwhelm you with natural beauty (the Frozen Niagara section being an exception) and the tour narratives are dumbed down. Do not skip the karst features above the surface, which you can explore via short trails. Els and Kyle have described both ways of access.

Community Reviews
---
I visited Mammoth Cave in June of 2021, it was a fantastic visit. I did the historic tour which took about two hours. The inside of the cave was the perfect amount of humidity and the perfect temperature. It wasn't too hot nor too cold on a nice summer day. I highly recommend getting reservations for your tour ahead of time. It surpassed my expectations and I will definitely be back for perhaps a longer tour.
---
Michael Anderson
The caves were beautiful and the park rangers were nice, funny, informative, and very helpful. I took the historical tour and the tour guide knew very much about the history of the caves and was very willing to answer any and all of my questions (no matter how probing.) The caves themselves were phenomenal and I would very happily go back several times again, because there is always more to see in the park.
---
3.50 California - United States of America - 06-Apr-10 -
As of September 2022, Mammoth Cave includes a total of 426 miles (685 km). In the IUCN evaluation (1981) the total cave system was listed at 190 miles (306 km). Today, 50 years after being designated the longest cave system in the world, Mammoth continues to expand with new discoveries (annually additional mileage of cave explored is published in September). This means the known cave system at Mammoth has more than doubled since inscription.
My first visit was in the Spring of 2009. We camped, we crossed the Green River via ferry, and we took the Historic Cave Tour. This Fall (October 2022), I re-visited the park for a couple reasons. Firstly, I found myself irresistibly close by for a conference in Nashville (1.5 hrs drive). Secondly, my pictures from the first time were not great (some were even lost). Lastly, with so much tours (reserve on recreation.gov), I felt the caves deserved at least one more tour (Domes and Dripstones).
Now Kentucky is considered #1 in America in physical inactivity. Perhaps this is why the park rangers have the stair count memorized for specific caves, for optional sections, and they repeat this information often. A two-hour tour is not especially strenuous, unless you have lung issues, knee issues, or rarely take modest walks or hikes. Anyone between 10 and 50 generally should not have issues and those ages are by no means benchmarks, a reasonably fit retiree should have no issues, but they should be cautious on the wet surfaces and stairs. As Els has pointed out, there is a bit of "hokeyness" to these tours, which fits with the audience they are catering to.
Do NOT skip the above surface, because as IUCN notes its very much part of the OUV.
"Outside the cave, the karst topography is superb, with fascinating landscapes, luxuriant vegetation, and abundant wildlife, all of the features of a karst drainage system -- vast recharge area, complex network of underground conduits, sinkholes, cracks, fissures, and surface and underground springs -- are found within the site." - IUCN July 1981
My personal favorite hike in the park is Cedar Sinks Trail (1.8 miles/2.9 km). Turnhole Bend Natural Trail (mentioned by Els) is located nearby and is worth the short excursion. There are also plenty of trails of interesting formations just behind the Visitor Center. The larger backcountry trails are on the other side of the Green River. Since the caves are the main attraction, they are busy, many of the hiking trails however are not (this is to your advantage). There are also cultural sites throughout the park, including up to 80 Christian cemeteries or burial sites (some maintained).
There are reasonable and comfortable accomodations in Bowling Green, Park City, and Cave City. The park also offers reservable campgrounds, which I utilized after a one night stay in Bowling Green in 2009. Back to 2022, I rented a car from Nashville at 4pm, drove the 1.5 (2 hours with traffic) that evening and spent the night in Cave City. I spent about 6 hours in the park the following day before returning to Nashville airport (with my car rental). Note that the park is free, but cave tours cost a fee.
Read more from Kyle Magnuson here.
---
2.50 The Netherlands - 06-Apr-09 -
I had stayed overnight in a Bed&Breakfast in nearby Brownsville, so I could have an early start visiting the park. Arriving at 9 am at the visitor center, there still were plenty of tours to choose from. I picked the New Entrance tour, a 2-hour tour that uses a man-made entrance from the 1920s to get into the caves. The fee is 12 US dollars.
Getting in this way is quite strenuous, and not for the faint-hearted or those with a fear of heights. The passages are narrow and of course, it's often dark and slippery. I found much of the talk of the ranger geared to children, of which there were many on the tour, and only mildly interesting.
As I have said in other reviews: I'm not a fan of dripstone, but there a so many sites displaying dripstone on the List that I just have to see them again and again. The most interesting thing I heard or saw on this tour is the story of George Morrison, a local entrepreneur who in the 1920s had blown his own way into the cave system and conducted tours from there. He also built a hotel near this "New Entrance" and posted roadside signs to lure visitors away from the main entrance.
Later that day I did a short hike on the Turnhole Bend Trail. The National Park above ground is a pleasure to be in, certainly on a warm day. This walk took me to an overview of the Green River. Green it looks indeed, a mighty river that was responsible for carving out the cave system millions of years ago.
---
George S. Eisele
Mammoth Cave is long, eerie, musty, and mysterious. It is not going to overwhelm you with natural beauty, as you'll find at Carlsbad Caverns. At Mammoth, you'll be amazed by the sheer length of the twisting hallways, and the human history, including people thousands of years ago who ventured many miles into the cave. Their artifacts remain as ghostly reminders. If you have a chance to take the tour including the old TB sanitarium, you'll be reminded of the nice, easy lives so many of us lead today. In the 1840's, these desparate people actually lived down there for a while, in a huge and ugly hall, blackened by candle smoke. They obviously did not find a cure. About the only truly beautiful place on the tourist routes of Mammoth is the Frozen Niagara section, far from the natural entrance but easily accessible by a tour bus ride. The park is gorgeous eastern hardwood forest with many trails. The campground is excellent, too. Mammoth is a place to marvel at nature's miles and miles and miles of tunnels in limestone, and also at the humans who have given it a fascinating recent history.
---
Site Info
Full Name

Mammoth Cave National Park

Unesco ID

Country

Inscribed

Type

Natural

Criteria

7

8

10

Categories

Link
Site Links
Unesco Website
Official Website
In the News
Visitors
209 Community Members have visited.