Hattusha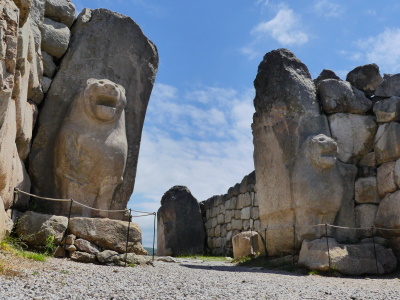 Hattusha is the old capital of the Hittites, a people that lived during the period of the Egyptian pharaohs.
Its heydays were from 1375 to 1200 BC. The WHC named as reasons for the inscription: its urban organization, the types of construction that have been preserved (temples, royal residences, fortifications), the rich ornamentation of the Lions Gate and the Royal Gate, and the ensemble of rock art of Yazilikaya.
The Hittites built their capital on a site that could be well defended. It was surrounded by a wall, to fortify it even more. The wall was decorated with two gates, the Kings Gate in the southeast and the Lions Gate in the southwest.
Visit July 1992
4.0
Hattusha only is an interesting place to visit when you know its history. The remains are really old, so not much is left. Also, the heat on this plain can be burning.
For more interesting examples of Hittite culture, visit the Anatolian Museum in Ankara.
Community Reviews
---
Sometimes this site surprises me – some sites, even remote ones from T-list, have plenty of reviews, where the others, much easier to visit, barely have any. The latter is the case of Hattusa, where until now there were only a few sentences. And the site is not remote and was visited by more than 60 travellers, which places it in upper half of most visited Turkish WHS.
Hattusa is archeological area which served as capital of Hittite empire from 15th to 11th century BC. There are many well preserved remainings, such as ruins of palaces, temples, city walls with well preserved gates and underground passages. Relative proximity of Cappadocia makes this site quite popular among tourists, including international groups. Sometimes there were even queues to the most popular parts. I had a problem with Hattusa – although most of the site is undoubtedly original, I think some of the monuments – including the most popular sculptures, are replicas (or, to be precise, modern reconstructions). Apart from this, we enjoyed our visit, even my children found it interesting, especially city walls with Yerkapi rampart. The whole site is really big and can't be reasonably done on foot – car is the most convenient, though you can do it on a bike (I did not see any bike rental though). Even with driving from one point to another visiting can take at least two hours. At the end of April it was quite warm but I cannot imagine how hot it is during summer – and there was not too much shade.
When you are there, go to another interesting site nearby. Alaca Hoyuk, a few kilometers from Hattusa, although not part of the inscription (not even on T-list) has a lot to offer, including gate with two original sphinxes (more similar to Egyptian ones than those in Hattusa) and many interesting reliefs.
---
Visited in August 2008. The Hittite building style was stone foundation topped with mid-brick walls - in 2500 years the mud-bricks have disappeared so you need a good guide book and a good imagination. But the sheer scale of the site is incredible - you can't walk round it, you drive. Make sure you visit the other Hittite sites nearby with some beautiful stone reliefs
---
Site Info
Full Name

Hattusha: the Hittite Capital

Unesco ID

Country

Inscribed

Type

Cultural

Criteria

1

2

3

4

Categories

Link
Site History
2006

Name change

From "Hattusha" to "Hattusha: the Hittite Capital"
Site Links
Unesco Website
Official Website
In the News
Visitors
68 Community Members have visited.