Glacier parks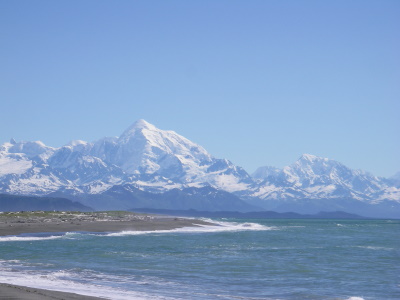 Kluane / Wrangell-St. Elias / Glacier Bay / Tatshenshini-Alsek comprises a mountain landscape shaped by geologic and glacial processes.
These four parks in the Yukon and Alaska offer combined marine, coastal, wild river and high mountain scenery with minimal extent of human modification. They hold over 200 glaciers, including some of the world's largest and longest. Wildlife is abundant too, with a healthy population of grizzly bears.
Community Perspective: Glacier Bay is regularly visited by large cruise ships and good views are had from there. Tsunami describes an unforgettable journey on smaller boats and small airplanes.


Community Reviews
---
Japan / USA / Europe - 23-Jun-20 -
Lockdown may be over, but self-isolation continues. At this time what can be more relaxing than reminiscing about one of my favorite trips of all time? (Please note: Info contained here is 14 years old.)
Upset that I was not invited to Bill Gates' 50th birthday party thrown by Paul Allen (the other founder of Microsoft) aboard his luxury yacht cruising the Glacier Bay National Park in 2005, I set out to visit the park in June 2006 by myself. It was the only year between 2000 and 2015 when I did not come to Europe and decided to finish off the continental USA. I was living in Los Angeles at that time (and moved to Europe in 2015).
The Panhandle section of Alaska is in my and many others' mind the single most beautiful area of the USA but also one of the rainiest. So I decided to make this trip in June, the least rainy month of the year in this area. It was the right decision to make, as I was totally lucked out that during the one week in the Panhandle it did not rain once. Even the locals were surprised how lucky I was.
My first visit to Alaska was to the Denali National Park back in 1991. This time I took the so-called Alaska Marine Highway, which is a ferry service running from Bellingham near Seattle through Juneau, Alaska's capital, in the Panhandle to Whittier near Anchorage, and vice-versa. AMH is similar in character to Hurtigruten in Norway, although AMH boats are somewhat smaller, allowing them to navigate through narrower fjords than large cruise ships can.
I slept 3 nights in my tent pitched on the deck of the boat from Bellingham to Juneau like many other people were doing. This way you don't need to pay for a cabin. AMH mainly navigates through channels in what they call Inland Passage, originally formed as fjords, and allowed us to get off for sightseeing for a few hours at several ports of call along the way, such as Petersburg, a so-called Norwegian town.
I spent a few nights in Juneau, which I believe is the prettiest city in the USA, with towering mountains in the background, and where I rented a car to drive up and down along the channels and fjords and to get together with my college friend for the first time in 15 years.
As the boat from Juneau to Gustavus, the base town to explore the Glacier Bay NP, was running very infrequently like once a week, I took a small airplane to Gustavus. Gustavus is a small village with less than 500 inhabitants, but believe it or not, it is known as one of the most gourmet towns in the USA and has several top notch restaurants. Organic vegetables come from the restaurants' backyards, and the staples are of course locally harvested game, Alaskan King Salmon and Alaskan King Crabs. Remind you that Alaska is the most expensive state in the USA, even more so than the state of New York.
On the second day in Gustavus I took a tour of the Glacier Bay NP on a boat, perhaps quite unlike Paul Allen's. I saw mountain goats, puffins, and whales among others from the boat. The tour lasted several hours, getting close to several glaciers. Anywhere you go in the Bay you typically see the "facade" of glaciers in the foreground and high-rise snow-capped mountains in the background. And most of the time during the tour you see several "facades" at once.
It was another sunny day, and aptly named Mt. Fairweather, the tallest mountain in the NP at 4,671 meters, was clearly visible. Remind you that you are looking at this mountain from the sea level. My friend in Juneau, who works for NOAA (National Oceanic and Atmospheric Administration), later told me that when she spent 2 months on a boat in the Glacier Bay for research work a few years back, it rained every single day, prompting her to take "shower" outside on the deck of her boat. So impressed with Glacier Bay after a fine day out on the boat that I said, "The ultra wealthy know where to go for a special occasion." I only wish Bill it was sunny during his b-day celebration in October.
The photo shows the facade of one of the glaciers, and the ice was cracking perhaps every 20 minutes.
The following day I flew back to Juneau and the next day got on another AMH boat for 2 more nights on the way to Whittier. In this section AMH mainly runs not in channels but in the Pacific Ocean, and along the way you can see Mt. Logan and Mt. St. Elias (part of this WHS), the 2nd and the 3rd tallest mountains in North America (after Mt. McKinley at the Denali NP) albeit from afar. As my boat was approaching Whittier, it finally started raining.
I love the Norwegian coast, but as far as the scenery goes, I would have to say the Alaska Panhandle is even more spectacular, simply because mountains seen from the water are much taller.
More photos are accessible from the link below, and captions can be read by clicking on each photo.
Read more from Tsunami here.
---
Cynthia Webb
Glacier Bay--pristine, vast, cold, peaceful, and amazing. The size and scale of the glaciers is astounding. I saw it on a cold, overcast May day from a cruise ship and wished I had the opportunity to see it both in (slightly) warmer weather and from the ground. Definitely worth the trip, and I'll be returning in the future.
---
These parks are, in my opinion, quite different from each other so I don't really understand why they are included together, except for the fact that they are beautiful nature areas in the Northwest.
My visit to Kluane was just very short and I've only seen a tiny bit of this huge park, but it's definitely worth the long long drive up north. It's impossible to capture the true beauty of this immense rugged landscape with high wild mountains so you have to go see for yourself.
The deep forests of the Westcoast of Alaska are worth a visit too, Wrangell-St. Elias is great, but you better make sure you take good rain gear with you because there's a reason why there is so much RAINforest…
---
This must be one of the largest sites in area in the world. Glacier Bay is best seen from a boat. Even the view from a large cruise ship is unforgettable. An echoing rifle shot crack of the glaciers calving warns you of a giant splash and sea otters and whales can be seen from the waters.
Tatshenshini-Alsek doesn't have many roads but is full of wildlife, wide open spaces without even a power line or a road to spoil the view. Wrangell St. Elias has some of the largest mountains in North America as well as a historic abandoned copper mine.
You need at least 2 weeks to see this site properly. Pack warm!
---
Site Info
Full Name

Kluane/Wrangell-St. Elias/Glacier Bay/Tatshenshini-Alsek

Unesco ID

Country

Inscribed

Type

Natural

Criteria

7

8

9

10

Categories

Link
Site History
2000

Name change

From "Tatshenshini-Alsek/Kluane National Park/Wrangell-St. Elias National Park and Reserve and Glacier Bay National Park" to "Kluane/Wrangell-St. Elias/Glacier Bay/Tatshenshini-Alsek"
1994

Extended

To include Tatshenshini-Alsek Provincial Wilderness Park
1992

Extended

Include Glacier Bay
Site Links
Unesco Website
Official Website
Related
In the News
Visitors
200 Community Members have visited.