Choirokoitia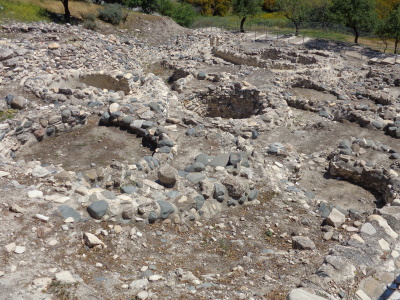 Choirokoitia (also known as Khirokitia) is one of the most important prehistorical sites in the eastern Mediterranean area.
The site is only partly recovered, and archaelogical work is still going on.
Human life in Choirokoitia started around 7000 BC, in the Neolithicum. Where the people came from is not known for sure. It is possible that the neolithic villages on Cyprus were a result of colonization from the Middle East.
What do we know about the people that lived here? The village probably had about 300 inhabitants. They practised agriculture and animal husbandry, and didn't usually live longer than 35 years. One of their most remarkable customs was to bury their dead under the floors of the houses of the living relatives. In this way the dead remained close to the living.
Map of Choirokoitia
Legend
Visit May 2001
With some of these very ancient sites your mind has to work hard to transform a bunch of stones into the great place it once was. This could also have been the case with 9000(!) year old Choirokoitia, but here they decided to rebuild a group of houses in the original style, just outside the archeological findingplace.
From this you learn that the inhabitants of the village lived in round, African-style huts. A few of them together formed an entity, and shared the same courtyard. With this picture in mind, you walk up to the main part of the site and recognize easily the round clusters of stones that used to be the houses of the ancient Choirokoitians.
Community Reviews
---
---
---
---
---
---
---
---
---
---
---
---
Community Rating
Community Rating 2.60. Based on 15 votes.
Site Info
Full name: Choirokoitia
Unesco ID: 848
Inscribed: 1998
Type: Cultural
Criteria: 2 3 4
Site History
1998 - Revision

Has been part of the former TWHS The Cyprus Prehistoric Sites: Khirokitia, Tenta, Ayios Dhimitrios at Kalavassos (1984)

1998 - Inscribed
Site Links
Unesco Website
Official Website
Related
Connections
The site has 7 connections.
Visitors
105 community members have visited Choirokoitia. Show all