Archaeological Site of Aigai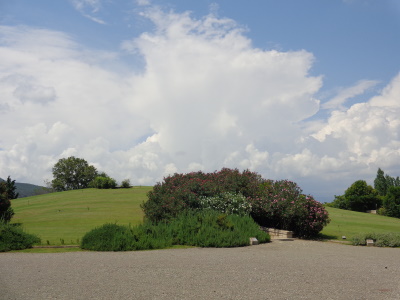 The Archaeological Site of Aigai (modern name Vergina) became famous in 1977, when the tomb of Alexander the Great's father, King Philip of Macedon, was discovered there. This proved undoubtedly that Vergina was ancient Macedonia's first capital, Aegae.
Aegae was inhabited from the early Iron Age (1000-700 BC) onwards. It was the capital of the Macedonian state until King Archelaus transferred his seat to Pella. However, also then it remained customary for Macedonia's kings to be buried in the original capital.
Aegae flourished chiefly in the second half of the 4th century B.C. To this period belong the Palace, Theatre and the Tombs. In 168 B.C. the city was seized by the Romans and burnt down.
Map of Archaeological Site of Aigai
Legend
Visit November 2003
Vergina is situated near Veroia, some 75 kilometers east of Thessaloniki. The easiest way to get there is by car. Not for the first time in my world heritage hunting-life, I had some trouble to find the site. It actually is very easy: the tumulus is like a small hill in the center of the town, with lots of souvenirshops nearby. The palace and the theatre are about 2 kilometers uphill.
The burial mound doesn't look inspiring from the outside, but when you go down inside you enter a magic scene. The place has a diameter of 110 meters, and is 12 meters high. Currently there is a fascinating combination to be seen of on site remains (tombs, columns) and museumpieces taken from the site. A lot of sublime silverware was found (enough to equip a huge kitchen), but the golden crowns made of leaves are my favourite items.
The palace is just outside town, and more like a classic Greek sight. Unfortunately the supposedly great mosaics were under cover during my visit. However, this area and the theatre below are worth strolling around.
Community Reviews
---
---
---
---
---
---
---
---
---
---
Community Rating
Community Rating 3.46. Based on 13 votes.
Site Info
Full name: Archaeological Site of Aigai (modern name Vergina)
Unesco ID: 780
Inscribed: 1996
Type: Cultural
Criteria: 1 3
Site History
2007 - Name change

From "Archaeological Site of Vergina" to "Archaeological Site of Aigai (modern name Vergina)"

1996 - Inscribed
Site Links
Unesco Website
Official Website
Related
In the News
Locations
The site has 2 locations.
Connections
The site has 18 connections. Show all
Visitors
72 community members have visited Archaeological Site of Aigai. Show all