Xochicalco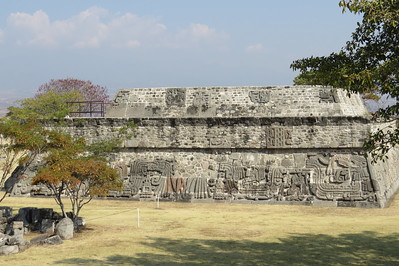 The Archaeological Monuments Zone of Xochicalco comprises a pre-Hispanic fortified city, that came into existence during the transitional Epiclassic Period (ca. 700-900 AD).
The apogee of Xochicalco came after the fall of Teotihuacán and the waning of other large empires such as Palenque and Tikal. The newer societies were much more militaristic and their cities were usually located in elevated defensive positions.
The architecture and iconography of Xochicalco shows affinities with both Teotihuacan and the Maya area and it is probable that the city of Teotihuacan was a multicultural city, although it also does seem to have had a connection to the Tlahuica culture.
The main ceremonial center is atop an artificially leveled hill, with remains of subsidiary buildings, mostly unexcavated, in the surrounding area.
Visit January 2014
I had planned to visit Xochicalco by public bus, but got discouraged after reading that the 38km trip can take up to 1.5 hours and one can only hope to be let off at the entrance gate to the site. As I had a lot of pesos left anyway, I decided to splurge on a taxi that would take me straight from the hotel to the site. So I sat first class in the back of a brand new radiotaxi, covering the distance in 40 minutes. The site lies in a barren, hilly area – actually the city was built on top of those hills.
As Paul Tanner has pointed out in his review below, the museum and the entrance to the archeological site are some distance apart. You have to go to the museum first, as that's where the tickets are sold. Entrance now costs 59 pesos (3,20 EUR). I arrived at 9.30 a.m. and was the only visitor; it would stay that way all 2 hours that I spent there. I believe this area suffers a lot from US visitors staying away because of reports of drug violence in Mexico, I was also the only visitor at my hotel in Cuernavaca – the Hotel Casa Colonial which is recommended everywhere from Lonely Planet to Michelin. The museum itself wasn't that great, it has only 2 or 3 pieces to remember. For example the "Red Man":
I then walked uphill to the site entrance, some 500 meters on a path with fine views of the site from a distance. Its location does look like Monte Alban, if I remember that well enough from a visit 17 years before. I was glad I had a site map in my guide book, as the ruined city is a bit of a maze. There's a sign here and there, but just as at all other archaeological sites I visited in Mexico during this trip they are confusing to say the least. I did manage to find all structures, but the first were disappointing. The site is mostly in ruins, so you'll see a lot of stone walls and rubble.
The only exquisite building left is the Temple/Pyramid of the Feather Serpent. It has a relief all around it, where the figures (humans and animals) are still very clear-cut. What's left of the Rampa de los Animales is now under protective covering: the stones with the animal drawings on them aren't easy to see and most of them are faded anyway. It was a great idea however, of these rulers of Xochicalco, to welcome visitors with a decorated access path like this!
I then roamed around the structures some more. Although it was relatively early in the morning, the sun is very hot up here as there is little vegetation. It's just like walking around an Ancient Roman or Greek excavation on a summer day. You really need to bring water with you, it's not available at the site.
Finally I arrived at the Observatory. It's located in a cave at the back of another ball court. It opens daily at 10 a.m., and at first I saw noone there. But when I approached a man suddenly appeared from within the cave – he's a guide, I also saw him at the entrance. You need his help to get in, as it is pitch dark inside and he has a flashlight. The cave is fairly large and has a high ceiling. At the far end, a sunbeam comes in from above. It wasn't really the right time of the year nor the day to see anything spectacular. So I looked at a small circle of light. "Please, take a picture of it," the guide said. And so I did...
Click
here
to see more of my photos of Xochicalco
Community Reviews
---
---
---
---
---
Community Rating
Community Rating 3.50. Based on 13 votes.
Site Info
Full name: Archaeological Monuments Zone of Xochicalco
Unesco ID: 939
Inscribed: 1999
Type: Cultural
Criteria: 3 4
Site Links
Unesco Website
Official Website
Related
In the News
Connections
The site has 16 connections. Show all
Visitors
65 community members have visited Xochicalco. Show all