Vall de Boi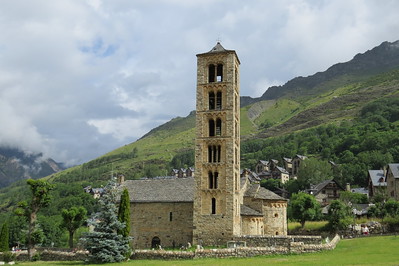 The Catalan Romanesque Churches of the Vall de Boí are nine Early Romanesque churches, making it the site of the densest concentration of Romanesque architecture in Europe.
The Vall de Boí is a narrow, steep-sided valley on the edges of the Pyrenees. The nine churches are:
- Eglésia de Sant Feliu, Barruera
- Eglésia de Sant Joan de Boí, Boí
- Eglésia de Santa Maria, Taüll
- Eglésia de Sant Climent, Taüll
- Eglésia de Santa Maria de l'Assumpció, Coll
- Eglésia de Santa Maria, Cardet
- Eglésia de la Nativitat, Durro
- Ermitage de Sant Quirc, Durro
- Eglésia de Santa Eulàlia, Erill la Vall
Map of Vall de Boi
Legend
Visit July 2014
The picturesque setting of these churches, their lean towers contrasting against the backdrop of the Pyrenees, is the strongest point of this WHS. Most of the villages they belong to have a nice medieval feel to them too. Unfortunately, the original murals have all been taken away ("preserved") to museums in bigger Catalan cities such as Barcelona.
I visited 5 churches, and after that felt I had seen enough of them. In my opinion, the two in Taüll are the most impressive. The large Sant Climent church is visually striking, it makes you want to take more and more pictures. It also is a very popular destination, my arrival coincided with a large tour bus. We all strolled on uphill through the touristy streets of Taüll, to the Santa Maria church. It lies in an enclosed area at the town's plaza, and although it doesn't look much from the outside the restored murals here are very fine.
I had stayed overnight in Erill la Vall. Here I visited the Information Center of the Boí valley. A video is shown that gives you a feel for how and why these peculiar churches came into existence, and why here. I guess these Catalan pilgrims were just jealous of the art and architecture they saw in Rome and the north of Italy, and wanted to take something of it with them home. This resulted in the "import" of Lombard builders and craftsmen.
Click
here
to see more of my photos of Vall de Boi
Community Reviews
---
---
---
---
---
---
Community Rating
Community Rating 3.45. Based on 10 votes.
Site Info
Full name: Catalan Romanesque Churches of the Vall de Boí
Unesco ID: 988
Inscribed: 2000
Type: Cultural
Criteria: 2 4
Site Links
Unesco Website
Official Website
Related
Locations
The site has 9 locations.
Connections
The site has 4 connections.
Visitors
84 community members have visited Vall de Boi. Show all