Rock Carvings in Tanum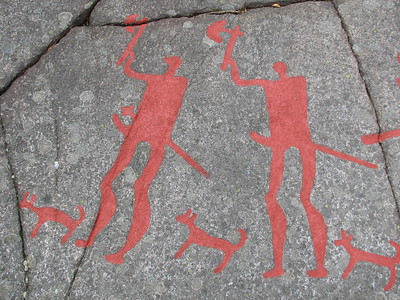 The rock carvings of Tanum are over 400 groups of Bronze Age petroglyphs located in an area of about 45 km2.
They were carved into the rocks between ca. 1700-500 BC at what at that time was the sea shore. The carvings are included in the World Heritage List because of their unique artistic quality, the depiction of aspects of life in the European Bronze Age and the continuity of local rural life they represent.
The motifs include humans, weapons, boats, fishing nets, the sun, bulls, horses, deer, birds and other scenes of daily life. The site at Litsleby includes a human figure over 2 meters tall carrying a spear. This probably is the largest petroglyph of a person in Europe. The figure has been interpreted as the God of War Odin.

Community Reviews
---
Having seen multiple rock art sites by now I am always stuck how similar early human art is. You find the same forms and patterns. On the other hand I am wondering why they couldn't do any better. Most kids nowadays have a broader artistic range using more shapes than the adult creators of rock art back then. It goes to show how far mankind has come.
In the case of Tanum, it's worthwhile pointing out that this is relatively recent rock art dating from 1000 BCE to 500 BCE, a time period where other European civilizations were starting to rise. Still, it's a fascinating look back.
The sites are dispersed in the country side. I managed to see three: Vitlykckehälllen, Aspeberget and Litsleby. While small, Litsleby felt the most precious to me. The picture is from Aspeberget.
Regarding the use of paint to highlight the rock art I think it helps. I remember staring at stones in Valcamonica trying to spot something. But the choice of red as color felt too invasive. In Litsleby one site is painted in white and this works way better for me. Finally, they didn't actually paint the icons in Falun Red, did they?
Getting There
Tanum is connected by train to Gothenburg and it is also a stop for busses connecting Gothenburg and Oslo. Both options will drop you off outside town. The busses will drop you off at the highway. There is a shopping center. The train station is further out than the shopping center, but there seem to be local busses being timed with the train's rare arrival and departure.
Personally, I would opt for the busses. They are faster, more frequent and offer wifi. Both options start at Gothenburg main station. Schedules are available in google maps, but you may have to move the destination to either the train station or the shopping center, as google maps is not that smart. For the busses, buy your tickets online in advance.
Getting Around
If you make it to Tanum, you are stuck with walking. The museum is outside of town and the individual sites dispersed across the country side. In total I walked 15km that day.
Be advised that you may have to walk on the side of the road as side walks are rather rare in the Swedish country side. However, there are paths to the shopping mall and the train station.
While you are there
I have been to the area before. A school friend of mine has a vacation home in the area and we went there twice. The coast around Fjällbacka and Hamburgsund is just very nice and I would encourage you to spend a few days here looking at the islands dotting the sea.
---
I visited this WHS in July 2016. Having visited quite a number of WH rock art sites, I must say that the scale, variety and condition of these rock art carvings in Tanumshede or Bohuslan/West Sweden make them one of the best I've seen so far. Although the rock art at Alta is much older and the environmental setting is more breathtaking, the rock art itself lacks the variety and detail of its Swedish counterpart. I drove to Tanum after visiting the Grimeton radio station and just before exiting the highway I saw the first UNESCO road signs pointing to what seemed to be a small flyover leading to a resting spot. I stopped by and it was indeed a resting spot which had been converted into a huge metal and wood structure with various information boards, a panoramic lookout point over the Tanum landscape and an enormous UNESCO symbol. Having read about the Underslos Museum exhibition managed by the Rock Art Research centre I headed there first to get a better overall understanding of the recurring motifs and interpretations. If you decide to stay longer in Tanumshede, the Rock Art Research Centre organises very interesting 'tours': one named Rock Art Experience which can be booked ahead and will give you the opportunity to rub grass on a carbon paper placed over some of the unpainted carvings; the other named Night Excursion which takes place every Wednesday night in July and August (except on the 24th of July) to be accompanied by an expert to minor sites such as Balken or Varlos (near Fossum) who will literally shed artificial light on some of the unpainted carvings which would be quite difficult to appreciate otherwise (even in the suggested afternoon light). After that I drove stright to the Vitlycke Museum and the car park there gave me a clear indication that most people visited the Vitlycke Museum and the Vitlycke Panel just opposite, probably as a worthwhile stop to/from Norway. The museum proudly displays a bronze coloured UNESCO symbol on a red background and gives a general overview of what to expect and what to look out for when visiting the rock carvings nearby. For a change, there is no entrance fee and no fence or controlled access when visiting most of the carvings. The highlight of the museum for me was a reconstruction of a Bronze Age lur, which I later spotted in several carvings, especially in Fossum. When the museum closed, the car park was almost empty which was quite surprising considering that the best light (highlighted by the museum itself) is the late afternoon light. The large Vitlycke panel is reached by crossing the main road just next to the museum. Similar to Alta, there are wooden trails to the main panel and some stairs to be able to view the panel from a higher viewpoint. There are very good information boards next to most of the major panels pointing out what to look out for (in Swedish, English, French and German). I will try to describe some of the recurring motifs I noticed here: there are several boats (around 10000 in total in Bohuslan) most of which with oarsmen on board, warriors with axes, hunters with spears and different types of shields, different types of animals (deer, reindeer, horses, dogs, whales, bulls, etc.), different types of birds (supposedly cranes, swans and ducks) and cup marks (over 30000 in Bohuslan) in which offerings to the gods were placed. I particularly liked the carving of a man wearing a horned helmet on a 2 wheeled cart drawn by a horse which is believed to be linked to Norse mythology. It was during the Bronze Age that horned helmets were fashionable and not during the Viking era. The most famous carving of the panel is the bridal couple carving although it is quite difficult to appreciate as it is found at the upper part of the panel. Away from the wooden trail are more panels which can be accessed by following a number of wooden poles over very slippery rocks. Without the poles I would have been at a loss especially to be able to spot the unpainted carvings. One of my favourite carvings here one with 6 figures crouched on a ship; 1 blowing a lurhorn and 1 waving an axe raised in greeting, while the others lift oars towards the sky. This is believed to symbolise the journey towards death as a voyage by boat. There are also a few depictions of women which are easily recognisable with a hair plait behind their neck. The Rock Art Research Centre believes that the rock surfaces are eroding much more quickly in the recent years due to sulphur and nitrogen pollutants from anthropological activities together with natural processes and weathering. That is why they decided to document the carvings, deviate the rainwater and fill some of the carvings with non-permanent red paint. The initial undercoat is white (which I saw on some of the carvings) which is then painted red. Having visited the rock carvings of Valcamonica in Italy which are unpainted, I'm still undecided which option is the best although I really enjoyed both sites. After Vitlycke I drove around 700 metres up the road to a smaller parking lot to Aspeberget. These carvings were my favourite as the rock surface is much more vertical so they are much more easy to view. My favourite carving was the sun symbol, a circular disc with forked outgrowths held by 2 female figures. Next to it are two large deeply carved bulls representing fertility, bravery and strength. Another important carving is that of a man plowing with a wooden ard, the forerunner of the plow. There are also warriors carrying axes and spears in what is interpreted as a burial ceremony. Some of the oldest carvings are those of footmarks which are believed to represent a god too exhalted to depict or whose carving was forbidden. There are some stairs to climb to the not so distant rock surfaces with unpainted carvings of hunting scenes with warriors carrying spiral shields and of lots of boats. Another carving which struck me here was that of a procession or dance with 10 men and 1 woman. After Aspeberget, I drove to Litsleby which further on up the road and immediately to the right towards a narrow road with high trees. Litsleby is in fact surrounded by trees and is the best site to be able to appreciate the carvings in a more natural environment not literally off the road. The highlight here is what is described as perhaps the largest rock carving in the world, a 2.3 metre long figure of a spear god, believed to depict Odin (picture). This carving is surrounded by many other carvings of peculiar boats and stone circles used in boat-shaped burials (similar to those which can still be seen in Southern Oland). This marked a change in religion, a shift from burial to cremation, dated around 1200-1000 BC. If you follow the forest trail you'll get to a place named Tegneby where there is a very clear mounted combat scene with 8 horsemen which are believed to have been carved by the same person at the same time which is quite unique. Moreover the horsemen depicted carry Celtic type shields which were used in 300 BC, so most probably this carving is one of the last ones to be carved at Tanum. Next, I drove all the way back past Vitlycke and Tanumshede to visit Fossum which is really hidden by the roadside. The most important figure here is that of a woman with a raised arm and a cup mark between her thighs which has been interpreted as the egg of life or the birth of a child. There are the usual boats and hunting scenes with lurblowers, several stags with antlers, archers, mirrored images in pairs and a cute depiction of 2 men with 3 dogs. Since it was starting to get dark but I was really enjoying myself I went back near Aspeberget and followed the direction towards Kville and took the first turn to the left to reach the minor sites of Lovasen, Gerum and Sotetorp. Lovasen is easily accessible and there are stairs to reach the upper part of the rock surface with clear unpainted carvings. Pointing a torch to some of the carvings at an angle revealed them better but a tripod is necessary if you'd like to take photos instead of a series of blurry pixels! The highlight here is a carving of two deeply carved ships with a horned man bigger than the rest, probably to create perspective. A few steps away is another interesting carving of a shaman with what appears to be a big nose. The elongated face has been interpreted as probably a type of bird mask which was worn with a beak. Like the rest of the carved men in Bohuslan, he is depicted with an erect penis. A short loop hike further on will get you to Gerum. Here a torch proved to be essential, especially to see the maypole or hanging rope carving. Its condition is quite similar to the carvings at Valcamonica in Italy. My last stop for the day was Sotetorp, where I could clearly see (with a torch) the carving of man doing a backward somersault over a ship. Parallels have been drawn between the Scandinavian acrobats and the depictions of bull leapers from the contemporary Minoan culture of Crete. I was happy I made the extra effort to view this carving, even though it got pretty spooky to be walking alone here after sunset. The road to Vaxjo where I had my hotel was in great condition even though I was worried I'd run over an elk or a deer when it got really dark. Luckily I made it to my hotel safely after what turned out to be quite an adventure and a very enjoyable WHS.
---
Most aspects of the site have already been covered in the reviews here, and I am in agreement that this was a really nice site to visit for my first taste of rock carvings. The red highlighting used certainly makes them easy to spot, but I am not really sure if this really is a good way of presenting them or not. As Els says the red colouring is one of the things that stays with you after visiting the site.
I would like to give a big congratulation to the tour guide who was there when I visited in August 2011. He was just standing by the Vitlycke panel and did a great job at not only describing the carvings but also putting them in context as well as describing various interpretations of them over the course of the last 150years. The talk he gave was both accessible and intelligent and it was really good to be treated with so much intellectual respect at a WHS. The museum was also interesting and had a slightly more innovative approach than many other museums that are attached to WHS. I also liked the fact that there were a big pile of bean bags to lay down on and watch the animation being projected onto the ceiling, it was a lovely reward after an early morning flight.
I found it very worthwhile to follow the trails off from the main panels to see some of the smaller rocks with carvings on them, as it helped to put the place in a little more context. I also liked just being out of the way in a small town in Sweden that I would otherwise have no business being in, and was extra delighted to see a sign for 'Drive in Bingo' as I approached the town, which has been a subject of fascination for me since I first encountered it.
All in all I thought this was a good little site that presents itself very well and doesn't dumb itself down, so it is a really good introduction to rock carvings.
[Site 5: Experience 6]
---
I had previously only seen rock art in Kakadu National Park in Australia, so I looked forward to seeing Tanum's much more recent ones. I'm not really an expert on this, and I can't say I was blown away by what I saw there, but walking through the forest to search for scattered sites was still a nice experience (the most famous paintings are just across the road from the Vitlycke Museum). The museum does a good job of showing the context of rock paintings worldwide and also serves as a visitor centre. Since I went there by public transport, I only saw the sites at Vitlycke, which seem to be the most important ones. Even though my LP guide said that going there by public transport was not feasible, it was actually possible - it just involved a walk of about 5 km from Tanumshede Train Station (direct trains from Göteborg and Uddevalla). Luckily, for the way back, I could take one of the few bus connections.
---
I reached Tanumshede by bus from Halden in Norway, changing buses in Stromstad (there are trains from Stromstad too), then took a taxi to the site.
Besides the red colouring I found similarities in style to the rock engravings in Alta, but the content was more of ships and humans than of animals.
---
2.50 The Netherlands - 29-Aug-08 -
Tanumshede, the central town, is located about halfway on the main road between Gothenburg and Oslo. Once you've left the highway, the site gets the same low-key flavour as its Finnish Bronze Age counterpart Sammalahdenmäki. I started my visit here at Vitlycke, which has a small 'museum', a shop and a cafe. Entrance is free and there are handy maps on offer to get a feel for the whole area. The story told at the exhibition is simple: about 3000 years ago this area was located at the seashore, because the sea level was about 25 meters higher then than now. The local people cut carvings into the rocks of items symbolic of their daily life and beliefs.
The first taste of the real carvings is to be had across the road, at the Vitlycke panel. The carvings have been painted red to make them stand out - I'm a bit ambivalent about that: on the plus side their forms are clearer to see and thus better appreciated, on the minus side the red colour tends to dominate the image that stays on in your mind.
From Vitlycke I drove to Aspeberget. It's only a couple of minutes away. Uphill is a large panel with a lot going on: strong bulls, hunters, a number of sun representations, and numerous ships. The best panel of them all, I think.
On the other side of the road, a bit more inland lies Litsleby. This is the site of the great Odin figure.
Finally, I went to the other side of town to the panels of Fossum. These were the least interesting ones, but there are some cute little dogs depicted.
Allow about one hour for Vitlycke and half an hour each for the other main areas that are open to visitors. These all have explanatory boards to point at what you're looking at. It can be slippery here on the rocks. The other sites are also less visited than the main site at Vitlycke. One or two sites are currently covered up to recover from erosion and pollution.
This was my first visit to a significant 'Rock Art' site. There are no less than 20 of those on the list, mainly of the petroglyph variety (carvings instead of paintings). I really wanted to know how this site compares to the others. Does it belong to the top 5? Is Tanum the biggest / most numerous / most artistic? But I haven't been able to find this kind of 'ranking' among rock art. The art essentially is viewed as reflecting local life, so it can only be compared regionally (or sometimes by age). So I guess the list of inscribed rock art sites will grow and grow ...
---
My second visit to the Bronze Age rock carvings in Tanum was in the summer of 2006 doing the photo session that I did not when I was first there some 10 years ago. The most comfortable was of getting to Vitlycke as the main place is called, is by car but you can also take the train from Gothenburg but then a 3 km walk from the station will be included in the excursion. A nice little museum and a restaurant are waiting for you so you don't have to worry about getting lost amongst forests and fields.
In the county of Bohuslan there are over 1500 known rock carvings and the ones found in Tanum show an unusually varied collection of motifs; ships, reindeers, bears, women, men hunting and many other scenes from what was likely the average life back in those days, some 1800-1500 BC.
Having visited both the rock carvings sites in Alta in Norway and Gobustan in Azerbaijan I can clearly see similarities between the carvings at all three sites, something that makes you wonder if the Bronze Age people was in some way connected. At least Thor Heyerdahl, the Norwegian explorer thought so but I would not yet go as far as he suggested - that the Scandinavians originated from Azerbaijan and the Caspian Sea.
---
Tanum is on the west coast of Sweden, I went here in the summer of 2005. The carving sites are everywhere in the area, most of them are probably undiscovered because they are overgrown with forest. The rock carvings are from the bronze age, some of them are really big and of a great artistic value, they are coloured red so they are not hard to find. It feels like walking around in a neolithic art gallery. Close to the main area there are a visitors center with amuseum but the enterance to the carving sites is free.
---
Site Info
Site Links
Unesco Website
Official Website
Visitors
134 Community Members have visited.