Ping Yao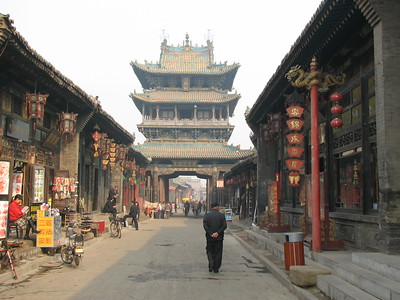 Ping Yao is an integral and well-preserved ancient Chinese city from the Ming and Qing dynasties (1368-1911). Its urban plan and defensive line have not significantly changed since.
It is now renowned for its well-preserved ancient city wall and the imposing buildings associated with banking, for which Ping Yao was the major centre for the whole of China in the 19th and early 20th centuries.
Among its monuments are:
- Ten Thousand Buddha Hall of Zhen Guo Temple
- Main Hall of the Confucian Temple
- Qing Xu Daoist Temple
- Temple of the Town God
- County Administrative Building
- City Tower
- several private residences
Visit October 2007
There are two sides to Ping Yao. I stayed there for 1.5 days and at first I noticed mainly its poor living conditions. When you look down at the town from its city walls you see a lot of dust and dirt and cramped housing. There are quite a number of public toilets, from which I deduct that many houses don't have private bathrooms. In my first half hour roaming around the city's backstreets I also came across two men peeing in the street (and they were neither drunk nor beggars).
Later on I began visiting the courtyard buildings and temples that are now in use as museums. That is where all the wealth was. Behind a simple looking entrance there are vast complexes. The bank, the service where once could hire armed bodyguards, the judicial court with its prison and torture instrumens, the chamber of commerce and the residence of the founder of the first bank, Lei Lutai. There's even a shrine where you can pray to the God of Wealth!
There are many guesthouses with a traditional courtyard setting where you can spend the night. I did so at Yide hotel, situated in the 18th century house of tradesman. This is well recommended: it's a welcome change to sleep in a bare room on the ground floor where fresh air and neighbourhood noises come in, after all those highrise Chinese business hotels that look the same. I even enjoyed the bean bag pillow and slept like a log.
Community Reviews
---
---
---
---
---
---
Community Rating
Community Rating 3.80. Based on 10 votes.
Site Info
Full name: Ancient City of Ping Yao
Unesco ID: 812
Inscribed: 1997
Type: Cultural
Criteria: 2 3 4
Site Links
Unesco Website
Official Website
In the News
Locations
The site has 3 locations.
Connections
The site has 11 connections. Show all
Visitors
100 community members have visited Ping Yao. Show all