Mountain Resort, Chengde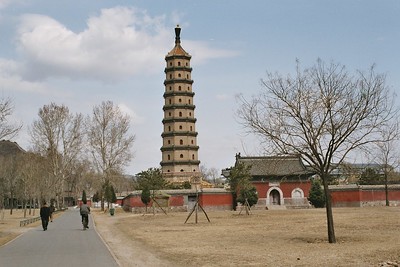 The Mountain Resort and its Outlying Temples, Chengde, is a piece of landscape design that served as the summer resort of the Qing emperors.
By the end of the 17th century, the Qing emperors began to look around for a cooler retreat than Beijing. In Chengde they created a summer residence, exploiting mountains, woods and other existing natural features to which they added contrived landscapes to make settings for innumerable pavillions, palaces and temples.
Outside the palace walls, to the north and west, a total of 11 temples were built. Many of them were built in Tibetan style. Divided into eight groups, they became known as the Eight Outer Temples. The main gates of these buildings pointed towards the palace, symbolising the unity of China's various ethnic groups under the central rule of the Qing emperors.
Map of Mountain Resort, Chengde
Load map
Community Reviews
---
This being a summer resort, should not be visited in the winter,like I did. Much of it was closed, and the alleged scenic beauty was not apparent. Do spend a little time to learn the history, and study the seven different schools of Buddasm ( Tibetan, Mongolian, etc.) that resulted in seven different temples built by the Qing emperor to unite the people, including a replica of Tibetan Patala Palace
---
Jeff Blyth
I went to Chengde on a survey trip for an update of my film on China for Disney's EPCOT Center. I wasn't able to film there for the original film ("Wonders of China") and we simply didn't have enough room to fit it into the updated film either, but that doesn't mean the locale isn't spectacular. I ran into an old man in the park who was a retired school teacher and he volunteered to be my guide. He was a wonderful source of local information and could not have been more open and friendly. I've exchanged a number of letters with him since then and hope to look him up when I return to Chengde in the autumn of 2006 for a new filming assignment.
---
Apparently the original Qing name for this site meant "The Mountain Resort for Escaping Summer Heat". You too might find it a pleasant escape from Beijing – it is only a few hours away by bus or train. Its main part consists of pavilions, temples, gardens, streams and lakes not that different (albeit writ very large!) from what you might have seen at the Old and New Summer palaces in Beijing – but attractive enough. It was constructed across the 18th century and consisted of 2 parts divided apparently by a "mini Great Wall" – inside were copies of 72 Chinese beauty spots and temples and a "Garden of 10000 trees". Outside the wall (the "Outlying Temples" of the modern title) were 12 Tibetan Buddhist temples - 8 of which remain (photo). These included "reproductions" (more or less) of the Dalai Lama's residence, the Potala and the Panchen Lama's residence at Shigatse.
However, as you wander around, you might not be aware either of the original "Political" purpose for the creation of the site nor for the possible "political" ramifications of its current restoration and elevation to UNESCO inscribed status. Was it entirely coincidental that the Potala in Lhasa was inscribed in the same year (1994)as this site? Has UNESCO allowed itself to become a pawn in China's nationalistic policy of fully incorporating Tibet within the borders of the PRC? Indeed can "Inscription" ever be purely a "neutral" or rather a "Universal" rather than a "Nationalistic" political and cultural act?
I quote from 3 different sources :-
"The resort was a summer palace built by the Qing Emperors with a political motive, to appease and unite the minority peoples living in China's border regions and to consolidate national unity. Each year the Qing Emperors spent a good deal of time at the resort handling political and military affairs and receiving foreign envoys and the chiefs of minority peoples". ("Justification by State Party" – ie the Chinese Government)
"Standing for the different architectural style of various Minorities in China, the Eight Outer Temples is the symbol of the country's unity and minorities' solidification" (China Travel Service)
"this article focuses on a particular leisure park dense with both historical and contemporary meaning: the Mountain Resort at Chengde. At this site a seemingly innocent restoration and preservation project, supported and sanctioned by the international community, produces a host of other effects. Tibet is fixed within a multicultural national heritage enterprise .... and foreign tourists are encouraged to appreciate the unity of the Han and minority populations that make up the People's Republic" ("World Heritage, National Culture, and the Restoration of Chengde" by James L Hevia – if you want to read the whole article go to http://positions.dukejournals.org/cgi/reprint/9/1/219 )
---
3.00 The Netherlands - 25-Apr-04 -
I spent two full days in this city, four hours north of Beijing by bus. Chengde itself is a nice enough encounter with Chinese city life outside the capital. No Mcdonald's or Starbucks can be found here. What it does have is steam trains - an internet search in preparation for this trip resulted in many exciting stories by trainspotters.
But I had my own spotting to do: the Chengde Imperial Resort as World Cultural Heritage. On my first day, I explored the huge park. Don't be fooled by the somewhat standard Chinese gates and buildings at the entrance: when you've passed them you enter a lovely landscape park. There are several lakes, a steppe, and a forest. In the best "natural" spots, pavilions and temples were added. For example the tall and elegant Yongyou si Pagoda.
The next day I walked to some of the outlying temples. Most prominent is the Putuozongsheng, modelled after Lhasa's Potala Palace. It's a strange sight to see it here, in northern China, as well as in the neighbouring Xumifushoumiao (a recreation of the Tashilhunpo monastery in Xigaze). Both are well looked after and brightly painted, but lack the atmosphere of an active Buddhist monastery.
---
Site Info
Site Links
Unesco Website
Official Website
Related
In the News
Visitors
97 Community Members have visited.