Kathmandu Valley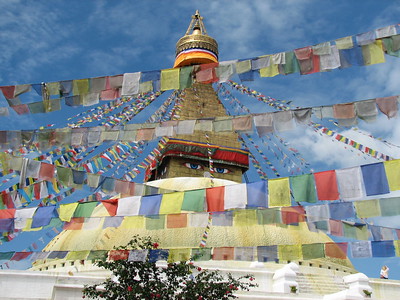 The Kathmandu Valley comprises seven groups of urban monuments that showcase the Newari culture and the coexistence of Hinduism, Buddhism and animist rituals.
Its palace complexes, temples and stupas, dating from the 16th-18th century, have been built in the typical architecture using brick, stone, timber and bronze. They include Kathmandu Durbar Square, Patan Durbar Square, Bhaktapur Durbar Square, Changu Narayan, Syambhunath Stupa, Pashupatinath and Bouddhanath Stupa.
Community Perspective: Some call it "the worst example of uncontrolled urban sprawl and air pollution that I have ever seen", while others praise the active religious use of Pashupatinath and Bouddhanath, the daily life and frequent festivals. The site is best explored on a slow pace and a visit will take multiple days.
Community Reviews
---
The opportunity of visiting a WHS made up of seven amazing locations makes the journey to Kathmandu a special treat for any WHS enthusiast. Best explored at a slow pace within a week or so, the sites can also be "ticked off" in 3 days as the following tour plan shows. Buying a self-guided tour book from some of the local shops will add more flavor to your journey.
Day 1
Make your way on foot from the tourist district of Thamel to "Kathmandu Durbar Square" in order to get used to the city vibes. Allow around 1hr to get to the square and anywhere between 2 to 4 hours to explore all its buildings and museums. End your day at some rooftop cafe overlooking the square near Freak Street.
Day 2
Hire a car with driver to make your way to the WHS more remote from the city center. First you can visit "Pashupatinah" and "Boudhanath" temples. After this, you need to pass by the town of Bhaktapur and up through some scenic rural areas to reach the country's oldest temple, "Changu Narayan", nestled atop a hill from which you can better admire the Kathmandu Valley. From here it's only a 20min drive to "Bhaktapur Durbar", but best plan at least 2 or 3 hours to wander around the town and see the other urban plazas and temples as well - even if not WHS proper, they are scenic, vibrant and filled with history.
Day 3
Hire a cab to "Patan Durbar". Just like Bhaktapur, this is another small town with many secondary plazas and temples that can easily take up half day of exploring. Take a cab to "Swayambhunath" to enjoy the sunset at this fabulous temple overlooking the city. Alternatively, you can walk the distance in around 1,5 hrs but be prepared to pass through some rougher neighbourhoods too.
---
I spent two months in Nepal, and good amount of that time was in the Kathmandu Valley volunteering in the town of Pharping and exploring the Valley outside the of the city. Kathmandu itself just oozes history and although it suffers from some serious air pollution, which leaves buildings and vibes a bit grimy at times, it's also easy to overlook that side since it holds so many historic sites. Although the earthquake damaged some of the main historic sites, they are not gone and the fact that most still stand is a testament to the city's long and rich timeline.
If you're staying in the Thamel area of the city, know that there's a lot more to the city than just that, and you should explore not just the main sites and things to do in Kathmandu, which are spread across the city, but also the neighborhoods around these other sites—that's where you'll find so many other locals and restaurants and aspects that have made Kathmandu the historic city it is.
My favorite of the key sites include:
Boudhanath Stupa (of course, this is a key site and truly beautiful to visit and walk around the circle around it, just as the local pilgrims do when they visit).
Hanuman Dhoka (Durbar Square)
The home and story of the Kumari Ghar
Swayambhunath (Monkey Temple)
Pashupatinath Temple
Beyond those things, the next best thing you can do is leave the city and go to the villages, the homestays and such that dot the Kathmandu Valley.
Read more from Shannon O'Donnell here.
---
5.00 The Netherlands - 03-May-15 -
People often ask me what my favourite WHS is. Of course, it is hard to choose – depending on my mood of the day I might say Angkor or Machu Picchu, or a lesser-known natural site such as Manu National Park where I "learned" to love nature. But generally, I opt for the Kathmandu Valley. Maybe not an obvious choice, but it's a place that I keep coming back to and where there's always something left to explore. In the aftermath of the devastating earthquake of April 25, I think it is right to put the spotlight on the Kathmandu Valley.
I have visited the Valley four times: in 1993, 2001, 2007 and 2011. The WHS covers 7 locations, spread out over 4 different towns. I've been to all separate sites, most of them more than once. During these trips, I have never skipped the short commute to the outskirts of Kathmandu for Boudhanath Stupa. This is the religious symbol of the Tibetan diaspora in Nepal and probably the greatest Tibetan Buddhist site in the world. It is surrounded nowadays by over 50 Tibetan monasteries. Can it substitute a visit to Tibet proper? Yes, I believe so. When I look at our list of Tibetan Buddhist WHS, this surely is the most active maybe only rivalled by Lhasa's Jokhang Temple.
Then there's Pashupatinath, one of the most impressive Hindu sites on the WH List. It's an active "burning" ghat, where bodies are cremated in public. You may be familiar with it from Varanasi (India), but there's no WHS similar to this.
Most of the typical Nepali / Newari charm lies within the Durbar Squares of Kathmandu, Patan and Bhaktapur. Patan has an excellent Newari art museum, rated one of the best in South Asia. It is housed in one of the old royal palaces at the square. As it is difficult to maintain a museum of this standard for a developing country, it has been supported by Austria from the start.
Wherever and whenever you go, there's always something going on. The daily life of the Nepalese incorporates visits to the small or big shrines at these squares, just a quick prayer on their way to work or school. Often a festival is in preparation, or a procession of some kind occupies the narrow streets. What I like most about the Kathmandu Valley is its liveliness. By that, it resembles a living cultural landscape and gives it an edge beyond a historic or archaeological site.
There's so much to see and experience and the quality of the sights is high enough to warrant repeat visits. Also, there are other, non-WHS sights in the Kathmandu Valley that are worthwhile to visit. Think of the unique horizontal Vishnu statue at Budhanilkantha, which is ritually washed every day by a Brahmin priest. Or the traditional Newari town of Kirtipur. After the 1934 earthquake, the Kathmandu Valley has been fully rebuilt without affecting the function of the sites. I hope they can repeat it this time.
Read more from Els Slots here.
---
Bill Duckworth
I have been to the Kathmandu Valley several times and I love it ther very much. Ir's alive with people and businesses and restaurants and historical sites of "Old Kathmandu" and love it there, like walking back in time several hundred years. The spirit of the country is reflected here an the people are very friendly and open to good conversations. I have been there on 7 fiffernt times and it is like a second home to me.
---
This must be one of the most expensive WHS but still it is well worth visiting all 7 sites. My personal favourite is Pashupatinath, a smaller version of Varanasi and the Ganges in India. Cremation goes on day and night in the filthy Bagmati river and it is always full of locals especially on Saturdays.
Boudnath is said to be the world's largest stupa complex. Many Tibetan Gompas to visit nearby the stupa and truly a spiritual place.
Swayambhunath is a similar stupa in Kathmandu also known as Monkey Temple because of the monkeys roaming freely around it.
Changu Narayan is in Bhaktapur district and is well worth the visit. Less tourists and beautiful stone sculptures.
The 3 Durbar Squares are packed with stupas, temples, carvings, stone sculptures, etc. and in order of preference are : Bhaktapur (Bhadgaon), Kathmandu and Patan (Lalitpur). All deserve at least 1-2 days each.
---
alison oliver
Its been 20 years since i visited nepal and it will truely stay in my heart forever - it was a life-changing experience for me and will never forget it. I met such lovely people and saw sites i had only dreamt of - nepal is a place close to heaven in every sense and hope that people will visit, enjoy and respect it. Kathmandu valley is the most beautiful place iv had the good fortune to travel to and is worth a visit just for its sheer magnificence.The people are inspirational and being in the mountains made me see why the nepalese are so devoutly religious - nepal brought joy into my life and that is where i go in my head when i need to - thankyou nepal and the people of nepal for making such a difference to my life :)
---
Caroline Toma
I just returned from a visit to Kathmandu this April. I was hugely disappointed to see that Kathmandu was no longer the "lush tropical paradise amidst the Himalayas" that I had pictured it to be, but rather the worst example of uncontrolled urban sprawl and air pollution that I have ever seen. When I arrived in the valley after crossing through the hills we could practically cut the air with a knife! I asked one of my tour guides about air pollution controls and was told that these were in place, but that the police who were supposed to enforce the "green sticker" policy for vehicles in Kathmandu regularly accepted bribes in exchange for the green sticker on the windshield of vehicles permitted to drive in the city.
Nevertheless, I loved the people and spirituality that permeated every street and alleyway of Kathmandu. It is practically impossible to walk anywhere without stumbling over a stupa or some kind of shrine, no matter how small, and the people were some of the kindest and gentlest people I have met on my travels.
I will definitely visit Kathmandu and other parts of Nepal again in future and can only hope that some of the conditions will have improved by then.
---
I first visited Kathmandu in 1990 and returned in the fall of 2007.
On my first visit the journey from Kathmandu to Bahktpur, was a short drive through open countryside, now the whole journey is through urban sprawl - a huge disappointment.
I was told, by our guide, that the valleys population has nearly trebled since the start of the Moaist insurgency. Due to people seeking the safety of Kathmandu. This is both a human tragedy, and a tragedy for our collective human heritage.
That said, there is still plenty to enjoy and be inspired by. Bodonath, Pashinunpronoucable, Bahktpur etc. I would also, from my first visit, recomend the intimate but enjoyable national museum - although I never made it back last November.
---
devi
I went to Nepal in June. It was always my dream destination but the main reason i wanted to go there was to see the bouddhanath stupa. This buddist temple with the eyes penetrating has always fascinated me. But what i never expected was to discover so many hindu temples in nepal. Going without expecting is always an experience. The best temple among the ones i visited is of course pasupathinath.
I missed out the shangu narayana temple and the bathrakali temple. That is why i visited this site.
Nepal is an exotic country to visit. I would want to visit again all those places that i missed out.
---
Site Info
Site History
2021

Advisory Body overruled

ICOMOS advised In Danger Listing. Overturned by an amendment lead by Thailand (needs more time).
2007

Removed from Danger list
2003

In Danger

Loss of authenticity and threat of uncontrolled development
Visitors
262 Community Members have visited.