Early Christian Necropolis of Pécs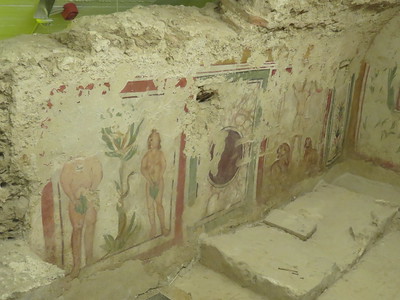 The Early Christian Necropolis of Pécs (Sopianae) comprises 16 funerary monuments with a distinctive architecture and impressive murals depicting Christian themes.
The earliest monuments date from the second half of the 4th century, when Pécs (then named Sopianae) was an important city in the Roman province of Pannonia.
Among the inscribed monuments are burial chambers, chapels and a mausoleum. Typical for the site is the two-storey building, with an above ground chapel and a subterranean burial chamber. Only some of these include mural paintings.
Map of Early Christian Necropolis of Pécs
Legend
Visit December 2017
The Early Christian Necropolis of Pécs represents a mix of three categories of sites: it's a Burial site, an Archaeological site of Ancient Rome and a Christian religious structure. Its OUV is mostly derived from its wall paintings. Pécs is a midsized city in the south of Hungary, and I went there for a weekend trip reaching it via a 2 hour flight to Budapest and then a 2 hour 50 minute direct train ride. The town was very quiet, but it had a cosy Christmas fair in front of its landmark (former) Mosque of Pasha Qasim.
The core zone of this WHS lies in front of Pécs Cathedral and mostly underneath cathedral square. On my first approach I walked across the glass ceilings from where you can look into the Roman site, but I could not find the way in! So I walked on to the mausoleum which fortunately has a clearly visible structure remaining above ground. It's all out in the open, this is the only part that you can see without paying the entrance fee. That fee by the way is 1100 forint, about 3.5 EUR, and it covers both the mausoleum and the Cella Septichora visitor center.
The mausoleum burial chamber is just a few square meters large, but has all the nice features: a sarcophagus (pieced back together again), colourful murals with recognizable biblical themes and some abstract figures such as a red disk.
Via the map on the entrance ticket I found out that the entrance to the visitor center is from the south. It is somewhat hidden as it is an underground structure as well. This entrance connects a number of burial monuments. It is named after the Cella Septichora, an unfinished chapel with 7 apses - fairly large, it can nowadays be rented for wedding ceremonies. Deeper into the complex I found the Wine pitcher burial chamber – well, I found the glass wine pitcher and an intact sarcophagus. But I believe that the chamber itself is closed at the moment (or I did not look well enough in the maze of corridors).
At the end of the circuit lies the Peter & Paul burial chamber, the one with the most elaborate murals. As with all other tombs, a glass wall has been placed in front of it for protection. Here it is done at the bottom end, so you look upwards. The glass of course causes a lot of reflection, and this is even made worse by a video screen that constantly sends out coloured flashes. I found the murals hard to see here, only Peter and Paul stand out.
Besides the monuments accessible via these two main entrances, there are another two on private property that are also included and supposedly open to the general public. They are the Painted twin grave and an Early Christian burial chapel on Apaca Street at number 8 and 14 respectively. Both are apartment blocks that have seen better times. At number 8 there is a bell marked "Early Christian Burial Chapel – press here". Strangely the burial chapel according to the nomination dossier is at #14, not at #8, but maybe the person with both keys lives at #8! I rang, but nobody answered or opened the door. At number 14 there's even no hint that something historical is behind its doors.
This site's most remarkable feature is its age. Dated at the second half of the fourth century, the Pécs necropolis just fails to make the cut for our Early Christianity connection, corresponding to the times that the new religion was still persecuted. Still it is remarkable that just a few decades after Christianity was officially allowed, a construction frenzy occurred in a Roman province town. Its murals also mostly are similar to very early Christian art. The monuments at Pécs however are no match for the much more extensive and better preserved sites in Italy, such as Aquileia (early 4th century) and the Catacombs in Rome (3rd century).
Click
here
to see more of my photos of Early Christian Necropolis of Pécs
Community Reviews
---
---
---
---
---
---
Community Rating
Community Rating 2.77. Based on 13 votes.
Site Info
Full name: Early Christian Necropolis of Pécs (Sopianae)
Unesco ID: 853
Inscribed: 2000
Type: Cultural
Criteria: 3 4
Site History
2003 - Name change

From "Pécs (Sopianae) Early Christian Cemetery" to "Early Christian Necropolis of Pécs (Sopianae)"

2000 - Revision

Was reduced from former TWHS Cultural Stratification in the Historic Centre of Pecs (1998)

2000 - Inscribed

1998 - Requested by State Party to not be examined

Bureau - ICOMOS No (later withdrawn by Hun)
Site Links
Unesco Website
Official Website
In the News
Connections
The site has 9 connections.
Visitors
104 community members have visited Early Christian Necropolis of Pécs. Show all