Dong Phayayen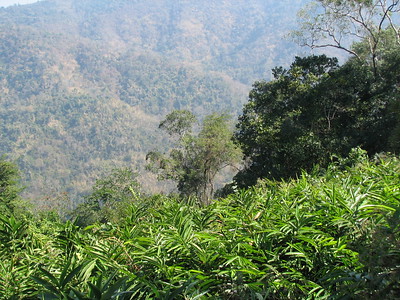 The Dong Phayayen - Khao Yai Forest Complex is known for its high number of fauna species. It is located in the mountains of northeast Thailand.
The endangered or rare fauna includes: Asian Elephant, Tiger, Leopard Cat, Pileated Gibbon, Asiatic Black Bear, Malayan Sun Bear, Smooth-coated Otter and the Siamese Crocodile.
The complex comprises five almost contiguous protected areas:
- Khao Yai NP
- Thap Lan NP
- Pang Sida NP
- Ta Phraya NP
- Dong Yai WS
Khao Yai, established in 1962, was Thailand's first national park. It now sees some 700.000 visitors a year.
Map of Dong Phayayen
Legend
Visit January 2007
Khao Yai is one of the two WHS that can be reached from Bangkok within a day trip (the other one is Ayutthaya). I hired a car with a driver for the day. From central Bangkok to the visitors center in the park it takes about 3 hours (largely spent in Bangkok's traffic jams). When you start seeing mountains and forests instead of cars and shops, you're nearly there. We entered the park from the North (Pak Chong). Here are many restaurants, hotels and resorts catering to the visitors staying overnight.
After paying a 400 Baht entry fee, we could drive into the park. We were met by a group of macaques, ostentatively trying to look inside the car to see if we had something to eat.
The visitor center is in the middle of the park. It has a small display about the park's history and nature. And two stuffed tigers.
Outside the building a short trail starts that leads you through the forest to the small Kong Kaew Falls. It's a nice and easy walk of about 45 minutes.
For more serious walking my driver left me at Pha Kluai Mai Campsite, promising to pick me up again some kilometers down the road at Haew Suwat Falls. The walking trail leading there is said to be 3 kilometers long. Although the path is quite clear, I found it rather though going because you have to climb under or over fallen trees a lot.
After about two-third of the way I took a wrong turn, that directed me along/into a small creek. The birds are brilliant here; they scream ('a big white foreigner is coming') and flee to the higher tree tops. I see bright green cockatoos and ones with long blue feathers.
As I cannot find any trace of a path anymore, I decide to retrace my steps. A good move, because suddenly I see where I've missed a turn. Instead of following the creek I had to cross it via two huge fallen trees (they're laid down like a bridge). The trail from there is easy again. It follows the main river. A large white (crane like) bird speeds past just above the water surface.
After two hours I reach the end of the walking trail, where my driver is waiting for me.
We leave Khao Yai at the south exit, passing an area with many elephants. They sometimes cross the road (warning signs tell us), but we only see their droppings.
Community Reviews
---
---
---
---
---
---
Community Rating
Community Rating 3.10. Based on 10 votes.
Your Rating
Site Info
Full name: Dong Phayayen - Khao Yai Forest Complex
Unesco ID: 590
Inscribed: 2005
Type: Natural
Criteria: 10
Site History
2005 - Inscribed

1991 - Referred

(Khao Yai) Bureau - to provide more info on protection etc
Site Links
Unesco Website
Official Website
In the News
Locations
The site has 5 locations.
Connections
The site has 22 connections. Show all
Visitors
50 community members have visited Dong Phayayen. Show all