Dong Phayayen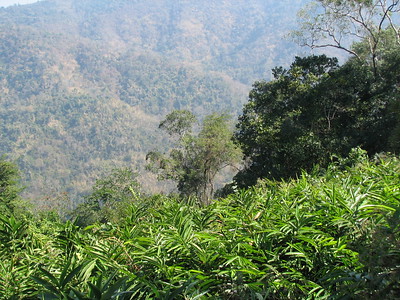 The Dong Phayayen - Khao Yai Forest Complex is known for its high number of fauna species. It is located in the mountains of northeast Thailand.
The endangered or rare fauna includes: Asian Elephant, Tiger, Leopard Cat, Pileated Gibbon, Asiatic Black Bear, Malayan Sun Bear, Smooth-coated Otter and the Siamese Crocodile.
The complex comprises five almost contiguous protected areas:
Khao Yai NP
Thap Lan NP
Pang Sida NP
Ta Phraya NP
Dong Yai WS
Khao Yai, established in 1962, was Thailand's first national park. It now sees some 700.000 visitors a year.
Community Reviews
---
3.00 Philippines | New Zealand - 11-Jan-20 -
I noticed that very few of the UNESCO WHS I have visited are natural. Hence, when I was planning my trip to Thailand almost 2 years ago, I made it a priority to visit Khao Yai National Park, the most accessible among the five protected areas that make up the Dong Phayayen-Khao Yai Forest Complex. Almost all of the other reviewers have visited Khao Yai in one way or another—as a day trip from Bangkok or as a tour from Pak Chong—so I am just going to add my review to share my experience taking a tour of the forest while staying in Pak Chong. Date of Visit: April 2018
Description:
Based on its descriptions in the UNESCO website, Dong Phayayen-Khao Yai is a huge complex of 5 protected areas east of Bangkok, boasting rich floral and faunal biodiversity. It is inscribed under criterion 10.
Experience:
I decided to spend 2 nights at the town of Pak Chong, which is typically the jump off point for tours to Khao Yai National Park, as many guidebooks and online sources would say. The plan was to take the half-day tour (3pm to 7pm) on my first night, and the full-day tour (8am to 7pm) the following day. All of these tours were offered through my guesthouse in Pak Chong, and were reasonably priced during the time of my visit—500 baht for half-day tour and 1,300 baht for full-day tour. I also thought that getting to Pak Chong was pretty straightforward—take the bus from Mo Chit bus terminal in Bangkok to Pak Chong, then wait for the guesthouse's car to pick me up. I was positive that my early morning flight from Manila to Bangkok would allow me to get to the guesthouse right before the half-day tour starts.
But boy was I wrong. I missed the start of my half-day tour by minutes! I was so disappointed I ended up eating and binge-watching Netflix on my first night. The food at the guesthouse was delicious though and the staff was wonderful, so I just decided to just forget about it.
We started the full-day tour the following day quite early. I was accompanied by 3 other guests, and we drove towards and past the checkpoint and stopped at a viewpoint. Here, our tour guide gave a short introduction of the park, and highlighted the rich biodiversity that this park possesses. We then went straight to the visitor center, which was several kilometers from the checkpoint. Here, our tour guide distributed improvised anti-leech socks for our own convenience.
We trekked for the next 3 hours and walking through the lush forest was definitely a treat. Of course, there was a slim chance of seeing most of the endangered fauna listed above, so I was already happy to see macaques, squirrels, deers, crocodiles, pit vipers, geckoes, and LOTS of butterflies. Various bracket fungi happily living off tree barks also caught my attention. In addition, it was a little bit refreshing to hear the diverse sounds, chirps and clicks the resident birds and insects were making.
We walked along a stream with lots of signage bearing the following warning: "No Swimming. Beware of Crocodile". The warnings were just perfect as you could easily see crocodiles basking and chilling around on the other side of the stream. After a hearty lunch we headed to Haew Suwat waterfall. Unfortunately, there was not much water flowing from the stream above as it was the dry season.
At around 4pm we drove down a paved road to see elephants. We didn't have to wait long before we saw one march down the road. The hulking elephant was either oblivious or pretty much used to tourist cars parked along the road, so it just went on as though we weren't there. The spectacle ended when other elephants came and tourist cars had to move to prevent traffic and agitation to the elephants. We went on and at the end of the tour, we saw a massive eagle perched on a wooden pole.
My group was pretty much satisfied with how the tour went. From what I could remember we got home just before 7pm. A cold beer or two was definitely a great way to end the hot, sweaty day.
Thoughts:
The agglomeration of several protected areas in this part of Thailand more than satisfies the lone criterion it is inscribed for. At least for Khao Yai National Park, the biodiversity it holds is undeniably astounding and as attested by UNESCO, it has a high level of integrity as a significant percentage of the national park remains to be "good quality primary forest". The park also has proper, well-maintained tourist infrastructure and facilities, making it accessible and convenient for families to visit. But as in any other site in Thailand, the effects of relatively high volume of visitors must always be checked and mitigated.
All information about the site was retrieved from the site's UNESCO webpage and nomination files written by the Royal Thai government (2004).
---
3.50 Netherlands - 08-Jun-14 -
In June 2014, exactly 10 years from my first visit, I had opportunity to revisit Dong Phayayen – Khao Yai Forest Complex in Thailand, but to be more precise, only the sections of Pang Sida and Ta Phraya National Parks as a part of my company project site visit near Cambodian-Thai border. I was quite excited about the trip as a decade ago I only focused on the popular Khao Yai and Thaplan National Parks and wrongly assumed that I went to Ta Phaya National Park. The first stop was Pang Sida National Park. Our visit coincided with the butterfly viewing season, so the park was full with butterflies. The park ranger claimed that this year harsh summer causing fewer butterflies but still more than 500 species! But even less butterflies than usual, we really impressed with the park; I also saw a unique traffic sign of beware butterfly. We had picnic at Pangsida Waterfall, because of summer there was no water at all, but we were happy to eat with hundreds of butterflies around us.
A few days later our group went to Ta Phaya National Park, this park is located along the border, we saw ancient Khmer Temples, but after saw Angkor, there was nothing I would want to mention. Our highlight turned out to be Lalu Park, a strange area but beautiful hoodoo landform. We could not enter the park by ourselves, our guide took us to a small village and we had to ride on farmer's motorized cart with local guide. The ride on farmer cart was fun but bumpy. Our trip at Lalu was fantastic by its beauty and its story was very shocking and unbelievable. According to a ranger in Ta Phaya National Park and a local guide, When Thai Government declared a national park area; Lalu was already a denuded forest by illegal logging. Since there was no forest to protect and the area was a bad land for farming, both government and villagers stayed away from Lalu. When Thailand nominated Ta Phaya National Park to UNESCO, they used the official map, so technically Lalu also become World Heritage Site. Then the tourism boomed and government wanted to get the land back. There is a loophole in Thai law that if the land owner can show that if he already used the land for certain period, no need to return the land. By this loophole, villagers invaded Lalu and destroyed hoodoo to make the land farmable hoping to own the land and sell it to investor in the future, only small area is left for tourism!
I am not sure that UNESCO know this problem or not, since Dong Phayayen is inscribed solely by the reason of animal and forest not the hoodoo landform, and Lalu's status problem happened even before the inscription. Anyway I really enjoyed the less visited eastern part of Dong Phayayen – Khao Yai Forest Complex for its enchanting butterfly forest and interesting hoodoo landform, a very good World Heritage Site indeed.
---
I only managed to visit two of the locations included in this site, Pang Sida NP and Khao Yai NP.
Pang Sida I accessed from Sa Kaeo, a station on the Eastern Line while travelling from Aranyaprathet to Bangkok. A 30 minute ride by tuktuk took me to the park where I visited the falls and the park headquarters. The road through the park was closed due to the clouds of butterflies swarming over the road and creating a hazard for motorists. But stopping to see this sight was amazing, especially the wide variety of different coloured creatures.
I spent three days at a small resort near Pak Chong and made several visits to various parts of the Khao Yai park. Apart from travelling the roads and visiting several waterfalls I also made two escorted forays into the jungle on foot. Here we found a wide vaiety of fauna and flora, especially numerous species of multicoloured birds. But I also encountered several types of snake, troops of macaques, clans of gibbons swinging high in the tree canopy, several species of deer. Also saw fresh elephant droppings, but failed to glimpse the animals themselves. One of the wierdest phenomena was at sundown, watching millions of bats emerge from underground caves and create huge clouds of the creatures as they set off for their nightly feeding frenzy.
---
I wimped out a little on this one, and took an organised day trip from Bangkok's tourist enclave of Khao San Road. However I have to say the trip was pretty worthwhile, but I would have preferred to spend more time in the Park proper and perhaps got a little more chance to hike around and try to glimpse some wildlife.
After some stops for general touristy things like visiting a market, we entered the park and headed straight for it's highest waterfall at Haew Narok which provided a nice glimpse of the environment. Our guide didn't seem to concerned on keeping noise down to allow a better glimpse of some wildlife, and when we did finally see a chameleon up close the other members of the group seemed a little disinterested.
We then drove through the park and spotted some deer by the road side before stopping at a view point where there was a large group of macaques.
I was impressed by the infrastructure of the park, I really reminded me of the national parks in US that I have visited, except the food stalls sold eminently more tasty looking food. This reflected a lot of what I found in Thailand, it is a rapidly developing country and amenities for tourists are very impressive.
After we left the park we went for a meal at a 'Jungle Lodge' just outside the park proper. We then got to ride Elephants, I must admit I was not really holding out much hope of it being anything more than time filling, however I really enjoyed my brief half hour trip, and it added something extra to the day.
All together this was a nice and easy trip to make from Bangkok. If I was to do it again I would certainly try and spend a little more time in the park, and especially do a more substantial hike. However what I saw of then park was impressive; and I guess that the diversity of wildlife would be very rewarding for those with a keen interest in it.
[Site:5 Experience 5]
---
Rowan
We visited in July 2008 on a staff retreat with all the Lao WCS protected area staff. We were in meetings all day so just did walks 7-9am and two spotlighting trips (one in the rain). We saw lots of gibbons and hornbills and sambar deer, muntjac, civet (small indian and common palm), slow loris, otters, blue-bearded bee-eater, flying lizards, pig-tailed macaque, black giant squirrel, ground and arborial squirrel. We also walked in fresh elephant tracks and saw a large cat scratch on a sambar (probably tiger - no definite record of leopard as far as I know).
So it was great to see, but a pity about the insensitive nature of development in the park. Huge cleared areas around infrastructure. Great for breeding up deer, but in a national park? And also the river was very polluted with sewage, plastic bags, etc.. And the tiger die-off from introduced domestic pig disease...
If you're stopping over in Thailand it's well worth a visit. Much nicer than Bangkok!
---
2.00 The Netherlands - 17-Jan-07 -
Khao Yai is one of the two WHS that can be reached from Bangkok within a day trip (the other one is Ayutthaya). I hired a car with a driver for the day. From central Bangkok to the visitors center in the park it takes about 3 hours (largely spent in Bangkok's traffic jams). When you start seeing mountains and forests instead of cars and shops, you're nearly there. We entered the park from the North (Pak Chong). Here are many restaurants, hotels and resorts catering to the visitors staying overnight.
After paying a 400 Baht entry fee, we could drive into the park. We were met by a group of macaques, ostentatiously trying to look inside the car to see if we had something to eat.
The visitor center is in the middle of the park. It has a small display of the park's history and nature. And two stuffed tigers.
Outside the building, a short trail starts that leads you through the forest to the small Kong Kaew Falls. It's a nice and easy walk of about 45 minutes.
For more serious walking my driver left me at Pha Kluai Mai Campsite, promising to pick me up again some kilometers down the road at Haew Suwat Falls. The walking trail leading there is said to be 3 kilometers long. Although the path is quite clear, I found it rather tough going because you have to climb under or over fallen trees a lot.
After about two-thirds of the way I took a wrong turn, that directed me along/into a small creek. The birds are brilliant here; they scream ('a big white foreigner is coming') and flee to the higher treetops. I see bright green cockatoos and ones with long blue feathers.
As I cannot find any trace of a path anymore, I decide to retrace my steps. A good move, because suddenly I see where I've missed a turn. Instead of following the creek, I had to cross it via two huge fallen trees (they're laid down like a bridge). The trail from there is easy again. It follows the main river. A large white (crane-like) bird speeds past just above the water surface.
After two hours I reach the end of the walking trail, where my driver is waiting for me.
We leave Khao Yai at the south exit, passing an area with many elephants. They sometimes cross the road (warning signs tell us), but we only see their droppings.
---
3.50 Netherlands - 08-Sep-06 -
Dong Phayayen – Khao Yai is a collection of many national parks and wildlife sanctuaries in eastern Thailand not far from Bangkok. From all national parks, Khao Yai is the most famous as the first national park in Thailand and many experts consider Khao Yai as one of the best national park in the world. I was quite lucky to have opportunity to see 3 national parks in this complex before Unesco declared them as a WHS. (Entrance fee is about 4 euro for each national park)
Khao Yai has many amazing species of fauna and flora, during I visited Khao Yai, I had opportunity to see famous hornbills, wild elephants, millions of bats and deer. Khao Yai also famous for its many waterfalls, the most famous is the one that was appeared in Leonardo's film "The beach". Khao Yai draws a lot of tourists, so this park has a lot of information for natural study as well as tourist related stuffs. In my opinion Khao Yai is a perfect example for tropical forest in Southeast Asia mainland.
I also visited Thap Lan National Park which is the largest national park in this WHS; Thap Lan has a very beautiful bamboo forest and unique palm trees that Thais used these special palm leaves as paper for Buddhist texts. My guide explained how to use these palm leaves so the trip to Thap Lan is not just a natural tour but also a cultural trip.
Ta Phraya National Park, the last one I visited is famous for its wild butterflies and many insects; although its quite lack of natural beauties compared to Khao Yai and Thap Lan, but it is a nice place with lots of wide flowers that attracted many beautiful butterflies.
Khao Yai is very easy to visit compared to other national parks. From Bangkok, there has many buses go to Pak-Chong; a nearest town to Khao Yai, then in Pak-Chong takes a local bus to the national park entrance. As my local friends took me to Thap Lan and Ta Phraya by their car, I really don't know how to go to these two national parks by local transportation.
---
Site Info
Full Name

Dong Phayayen - Khao Yai Forest Complex

Unesco ID

Country

Inscribed

Type

Natural

Criteria

10

Categories

Link
Site History
1991

Referred

(Khao Yai) Bureau - to provide more info on protection etc
Site Links
Unesco Website
Official Website
Related
In the News
Visitors
93 Community Members have visited.