Delos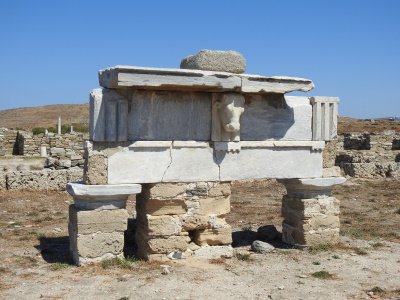 .
Delos is a small island and archaelogical site that is part of the Cyclades island group. It has been made a WHS because of:
- its role in early archaeology,
- its part in Aegean history,
- its important role as cosmopolitan Mediterranean port from the 4th to the 1st century BC,
- it being the mythological birthplace of Apollo and Artemis.
Community Reviews
---
John booth New Zealand - 05-Oct-15
Delos Island is accessible by daily ferries from Mykonos. The WHS takes up half of the area of the island, so to see it all means a lot of walking. In the middle of the island is a museum containing statues and artifacts found on the island, one of the bvest in Greece.
In antiquity Delos was a consular city, where governments around the Mediterranean, and as far away as Syria, sent representatives to resolve disputes, arrange trade etc.
The residents obviously enjoyed a high degree of comfort, judging from the size of their houses, the amenities and entertainment available.
---
Mith Australia - 17-Mar-06
Abseloutley an amazing experience of a life time with so much to see with so much history and meaning. there's passion through every temple, statue or monument.
Truly Fantastic
---
Community Rating
Community Rating 2.81. Based on 8 votes.
Site Info
Full name: Delos
Unesco ID: 530
Inscribed: 1990
Type: Cultural
Criteria: 2 3 4 6
Site Links
Unesco Website
Official Website
Related
In the News
Connections
The site has 17 connections. Show all
Visitors
74 community members have visited Delos. Show all