Cuenca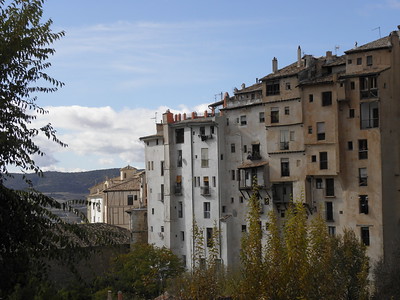 The Historic Walled Town of Cuenca is a medieval fortified city built on a limestone ridge.
It has Moorish origins, and was conquered by the Christians in the 12th century. The new Christian town was built over the Moorish one. It was subsequently transformed into an episcopal see and Royal Town.
Cuenca flowered mainly in the 16th century because of its textile industry and trade.
The Upper Town is Cuenca's historic heart, with the cathedral, aristrocatic houses, monasteries, churches and the remarkable "Hanging Houses". The lower town that is also included consists of the medieval working-class suburbs of San Anton and Los Tiradores.
Visit November 2011
Cuenca is the most touristy town that I have encountered so far on this trip. Its forte is 'location, location, location' – even the AB evaluation couldn't get much further than appraising the synergy of the man-made constructions with the natural landscape. The rocky hill on which it is located has very steep slopes, so even in the old city center you keep on climbing.
There's not a whole lot more to see than views on the houses that cling to the rocks or over the surrounding countryside. I had to wait 30 minutes before my hotel room was ready, and in the mean time I managed to take in all major viewpoints including the one from the large bridge that crosses the ravine. Some groups of houses are painted in various bright colours, which is definitely picturesque.
The surprising highlight of Cuenca for me was the Cathedral. Its façade dates from the early 20th century and is a weird kind of Neo-Gothic: it looks like part of it has blown away. Its interior is a whole different story. They charge a 3.80 EUR entrance fee which includes an audioguide. Both are quite unusual for a religious building, but as you step in further it immediately becomes clear that behind the entrance lies a wealth of medieval and renasissance art. The decoration is very exuberant, both in colours and in ornamentation. The audiotour has no less than 37 stops, and doesn't even cover all chapels. Its showpiece is number 33, the Jamete Arch, an enormous 16th century sculptured doorway that leads to the cloister.
Click
here
to see more of my photos of Cuenca
Community Reviews
---
---
---
---
---
---
---
Community Rating
Community Rating 2.81. Based on 16 votes.
Site Info
Full name: Historic Walled Town of Cuenca
Unesco ID: 781
Inscribed: 1996
Type: Cultural
Criteria: 2 5
Site Links
Unesco Website
Official Website
Locations
The site has 4 locations.
Connections
The site has 14 connections. Show all
Visitors
133 community members have visited Cuenca. Show all