Asturian Monuments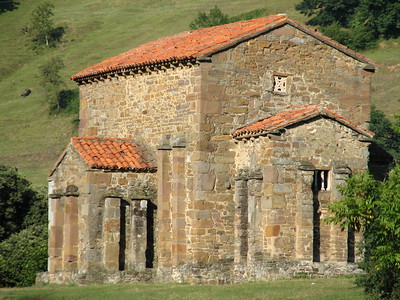 The Monuments of Oviedo and the Kingdom of the Asturias are six pre-Romanesque constructions all dating from the 9th century.
At that time, Asturias was a stronghold of Christianity. A distinctive and innovative pre-Romanesque architectural style developed in this isolated region north of the Cantabrian mountains.
The 6 included locations are:
- Church of Santa María del Naranco (a former palace)
- Church of San Miguel de Lillo
- Church of Santa Cristina de Lena
- The Cámara Santa
- Basilica of San Julián de los Prados
- La Foncalada, a hydraulic engineering structure
Map of Asturian Monuments
Legend
Visit August 2009
I had chosen "Oviedo" as the short title for this WHS, but digging more into the subject of this nomination I realized that that is misleading. The City of Oviedo isn't on the World Heritage List, although Spain tried it in 1998. It got rejected: ICOMOS does not consider the historic centre of Oviedo per se to be of World Heritage quality. This WHS is all about a few surviving 9th century monuments, the best examples of the Asturian pre-Romanesque architecture.
The original nomination (dating from 1985) highlighted 3 churches: Santa María del Naranco, San Miguel de Lillo and Santa Cristina de Lena. The first two are located in Naranco, a few kms north of Oviedo, while the latter is in Lena (about 35km south). Lena is where I started my rounds. It's a tiny, poor looking village in the middle of the quintessential Asturian landscape with mountain peaks all around and lots of trees. The church is signposted from the main road, and there are 2 parking lots.
I first tried an approach from parking lot #1, but that's a very steep climb. The second way of access was more to my liking: a wonderful path through the fields. Locals use it to walk their dogs or jog.
The church has a great location on top of the hill. It is open to visitors for a small fee, except on Mondays. And I was visiting on a Monday -- so I just admired its robust exterior, took a lot of photos and tried to block out the noise from the Leon-Oviedo highway below.
Via the same highway I then drove about half an hour north, to Naranco. A large parking lot and signposts suggest that this place sees quite a number of visitors. More climbing was involved here: first from the parking lot to the visitor center. The center has a couple of displays (in Spanish, English and French) that detail the history of Asturian architecture. This is where you normally pay the entrance fee too, but there is no cost for visiting on Mondays.
I first went up to San Miguel de Lillo (yes, another climb of about one km). It has a similar, bulky layout as the church in Lena. Fortunately I did get inside here. The ceilings have some remnants of frescoes. The rest just looks very old! To think that this group of churches is of the same age (or even a bit later) as the splendid Byzantine Churches in Ravenna (which I visited earlier this year).
The Santa María del Naranco is on the other side of the vistor center. It was built as a residential palace, and later turned into a church. It still does look more like a palace. Here it's also possible to go inside. Especially the second floor is worth seeing, with its balconies with decorated columns and exterior stairway. This was the busiest site of the three to visit, with about 40 people present. Most of them Spanish, but also a group of Japanese.
The WHS got extended in 1998 with 3 monuments in Oviedo itself. I did visit Oviedo and had lunch in the city center, but my energy to track down these sites ran out. I was content with my memories of the 3 churches that I had visited in the morning, and probably even more with their wonderful locations.
Community Reviews
---
---
---
---
---
Community Rating
Community Rating 2.77. Based on 11 votes.
Your Rating
Site Info
Full name: Monuments of Oviedo and the Kingdom of the Asturias
Unesco ID: 312
Inscribed: 1985
Type: Cultural
Criteria: 1 2 4
Site History
1998 - Extended

Camara Santa, the Basilica of San Julian de los Prados, and La Foncalada

1985 - Inscribed
Site Links
Unesco Website
Official Website
Related
Locations
The site has 6 locations.
Connections
The site has 10 connections.
Visitors
107 community members have visited Asturian Monuments. Show all