Tasmanian Wilderness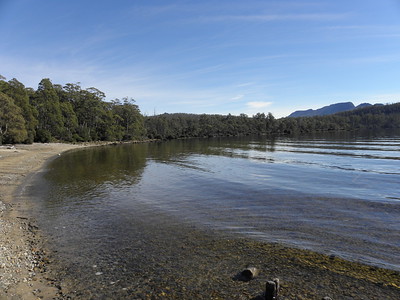 The Tasmanian Wilderness area constitutes one of the last expanses of temperate wilderness in the world, including the renowned South West Wilderness. Also, important prehistoric aboriginal sites were discovered here.
The following National Parks and reserves make up the Tasmanian Wilderness World Heritage Area:
- Cradle Mountain-Lake St Clair National Park
- Franklin-Gordon Wild Rivers National Park
- Hartz Mountains National Park
- Mole Creek Karst National Park
- Southwest National Park
- Walls of Jerusalem National Park
- Central Plateau Conservation and Protected Areas
- Devils Gullet State Reserve
The sites's natural features have been compared to Fiordland, part of Te Wahipounamu (New Zealand) and Los Glaciares (Argentina).
Map of Tasmanian Wilderness
Legend
Visit April 2011
The Tasmanian Wilderniss WHS occupies a large part of Tasmania. For a daytrip from the Tasman capital of Hobart, Lake St. Clair (part of the Cradle Mountain/Lake St. Clair National Park) is the most accessible option. I rented a car and drove out there in 2.5 hours. It's a fine drive through the island's hilly landscape, with plenty of sheep along the road as well as signboards to watch out for kangooroos, wombats or Tasmanian devils.
I arrived at the visitor center at about 11 a.m. There's a 24 AUS dollar entrance fee (per car) that you have to pay there. And you can take your pick among the many walking tracks in the area. I was looking for a hike of about 3 to 4 hours. The one to Shadow Lake fitted nicely, so it seemed. So after having a quick look at the vast Lake St. Claire, I got going. The track is signposted very well. I did not encounter any other travellers, though there were about 10 cars in the car park. You can do hikes that vary in length from half an hour to 5 days, so it will not get crowded easily in a track.
After walking for about 45 minutes on a small path through the forest, I suddenly realized that I was not enjoying it. There were trees, trees and more trees around me. Most of them Eucalyptus, common in Australia. No colourful birds, no birds at all except for black crowes. And no mammals either. So I easily convinced myself to turn back and go find something else to do here.
On the way out I was already attracted by the sign "Platypus Bay" - the Platypus an animal that I would really like to see. There's a short circular walk that you can do that brings you to the bay where they are often seen. You just have to sit still and be very quiet, the instruction boards told me. Platypus Bay turned out to be a very fine beach at Lake St. Claire. So I sat down at a dead tree trunk, ate my lunch and stared at the water. Supposedly you have to look for a crocodile kind of movement in the water. Unfortunately, I saw nothing move in the half hour that I sat there.
At the visitor centre of Lake St. Claire they have journals where each visitor can write down his sightings of wildlife. People had seen wallibies, Tasmanian devils, wombats and echidna. And almost every day a Platypus or two at the Bay. I was not so lucky, and returned back to Hobart with only memories of dark forests. You definitely need more time on the ground and an overnight stay to see any wildlife here.
Click
here
to see more of my photos of Tasmanian Wilderness
Community Reviews
---
---
---
---
---
---
---
---
Community Rating
Community Rating 3.75. Based on 4 votes.
Site Info
Full name: Tasmanian Wilderness
Unesco ID: 181
Inscribed: 1982
Type: Mixed
Criteria: 3 4 6 7 8 9 10
Site History
1989 - Name change

From "Western Tasmania Wilderness National Parks" to "Tasmanian Wilderness"

1989 - Extended

To include 2 more national parks (Walls of Jerusalem, Hartz Mountains) and additional areas

1982 - Inscribed
Site Links
Unesco Website
Official Website
In the News
Connections
The site has 27 connections. Show all
Visitors
78 community members have visited Tasmanian Wilderness. Show all