San Miguel de Allende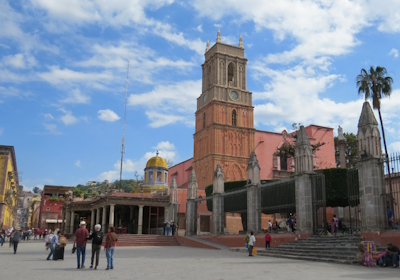 The Protective town of San Miguel and the Sanctuary of Jesús de Nazareno de Atotonilco represent the cultural exchange between European and Latin American cultures in a specific regional context.
San Miguel de Allende is a historic town founded in 1542. It was an important stopover on the Antiguo Camino Real, part of the silver route from Zacatecas.
The Sanctuary of Jesús de Nazareno de Atotonilco is a Jesuit sanctuary located 14 km from San Miguel. It is renowned for its Baroque art and architecture.
Map of San Miguel de Allende
Legend
Visit January 2014
I arrived at San Miguel by car, and left it at the parking lot of a row of megastores on the outside of the city center. Easy to park and free. I then took a collectivo into town, whose driver was clearly used to navigating the narrow cobblestone streets. These streets together with San Miguel's hillside location just gives it an edge beyond other Spanish-colonial cities.
No wonder that American and Canadian "snowbirds" have found this place to seek shelter during the winter. I saw many of them sitting at the central square, reading a newspaper or doing a crossword puzzle. They were joined by several less fortunate looking indigenous people, selling trinkets or begging.
I started with checking out the "Former Royal Hospital of San Juan de Dios", part of the Camino Real WHS. I then walked around the small town for an hour or 2 without seeing anything very remarkable. Had a good lunch though consisting of fish taco's.
From San Miguel I drove the short stretch north to the Sanctuary in Atotonilico. It lies in a sleepy and dusty village, such a change from the vibrant Mexican cities I had seen so far. The sanctuary is right at the heart of town and can't be missed. It has a fairytale castle-like exterior (see large photo above). Inside it is fully covered with kind of crude religious drawings. It's a bit of a stretch to call this the "Sistine Chapel of Mexico": folk art such as in the wooden churches in Europe more came to my mind. The most ornate chapel is to the right when you leave. I was prepared to look for "the lady with the key" to open it for me for a tip, but noone was around. But you can look inside anyway through the iron raster.
Community Reviews
---
---
---
---
---
Community Rating
Community Rating 3.27. Based on 13 votes.
Site Info
Full name: Protective town of San Miguel and the Sanctuary of Jesus de Nazareno de Atotonilco
Unesco ID: 1274
Inscribed: 2008
Type: Cultural
Criteria: 2 4
Site Links
Unesco Website
Official Website
Related
Locations
The site has 2 locations.
Connections
The site has 14 connections. Show all
Visitors
82 community members have visited San Miguel de Allende. Show all