Old Town Lunenburg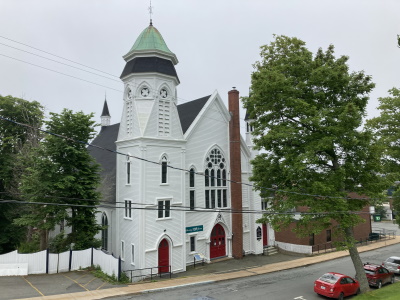 Old Town Lunenburg, founded in 1753, is the best remaining example of planned British colonial settlement in North America.
Lunenburg was developed as a model town, with a rigid grid and wooden houses. Its vernacular architecture has been well-preserved. The town grew into an important seaport, shipbuilding centre and base for the offshore Atlantic fishery.
Community Perspective: It's a very small town and you can easily walk through it within an hour or two. Many of the homes have little signs telling the name and job of their historical owners. Don't miss the former Academy on the outskirts of town. The shipyards and fish plants (including the fisheries museum) are also worth seeing.
Community Reviews
---
3.00 The Netherlands - 29-Jun-22 -
Lunenburg owes its existence to offshore cod fishery, but now seems to mostly focus on tourism because of its perfect British colonial grid plan and fine collection of wooden houses from the 19th century. It was my last WHS to visit on my Eastern Canada trip in 2022.
Nice weather was predicted, but a thick fog lay over the town when I got there at half-past nine. The large fisheries museum had just opened its doors. Attributes from the Atlantic fishing history are displayed on three floors. It is more like a warehouse than a museum that tells a specific story. In 1992, cod fishing from Lunenburg and the surrounding area was stopped by the Canadian government due to overfishing. A part of the exhibits is shown in the former icehouse.
Then I walked uphill to see some streets with original houses. Most are from the late 19th century – previous buildings have been destroyed by fire. Almost all of them have a sign with the date of construction and the history of the building. Each house is slightly different in color and architecture, it is nice to see the variation. Only the low-hanging electricity cables are not so attractive.
I believe I walked all the streets. There's a considerable number of churches, of different Protestant denominations. The center also has a small park with several monuments and a bandstand. One commemorates the Norwegian training presence in World War II. Sailors who were stranded here received military training in Lunenburg. And the World Heritage plaque has also been given its own corner, with some information panels around it about Canadian World Heritage.
The former Academy is located on the edge of the town. Still, it turned out to be only 800 meters from the center, which shows how small Lunenburg is (2000 people now live there). This school building from 1895 is the most impressive surviving building from the history of Lunenburg. Now it houses the local library and music school and is undergoing further restoration.
On a practical note: parking is payable at the harbour and lower town, but free in the upper streets and at the Academy. It's a fairly touristy place, but there's not a lot to see or do (I gave it 1.5 hours) and the core zone is very small.
Read more from Els Slots here.
---
5.00 Vancouver Canada - 05-Aug-18 -
Visited 20JUL 2018
This lovely town is exemplary of how good planning can create beauty.  There are so many great old buildings that have been preserved in this fishing village. 
In 1753, the British founded Lunenburg as their first colonial outpost in Nova Scotia beyond Halifax. The first settlers arrived in June 1753. Mostly Protestant German, Swiss and French colonists, the settlers participated in a formal lottery, choosing cards to determine the plots of land upon which they would settle and build.
The settlers soon discovered that the land was poorly suited to farming. European farmers, faced with rocks, stumps and stubborn soil, became rugged North Atlantic seafarers within two generations.
Through the nineteenth and well into the twentieth centuries, Lunenburg became famous for the quality of its schooners, which fishermen sailed to the fish-rich Grand Banks off Newfoundland and the Western Bank off Sable Island.
The queen of the schooner era was the famous Bluenose, launched at Lunenburg in 1921, and it is still displayed prominently on the Canadian 10 cent coin!
It is a pleasure to see the different styles and colours and a photographer's wonderland.  Many of the homes have little signs telling the name and job of its historical owners.  This is a relaxing and easy site to do, with the hills giving a good chance for exercise, and good restaurants, shops and hotels in close proximity, making it a traveller's delight.  It was difficult to leave this area.
---
Old Town Lunenburg is a fantastic representative of Atlantic Canadian fishing villages on the World Heritage Site list. Buildings in the town date back to the 1700s, when Britain established the village. Lunenburg's fortunes were directly tied to its role in shipbuilding for the cod-rich fisheries of the Grand Banks, offshore from Nova Scotia and Newfoundland. Among the ships built in Lunenburg was one of the most famous racing schooners in Canada, the "Bluenose", immortalized on the Canadian dime. I visited the town of Lunenburg in summer 2006, and enjoyed walking past the shipyards and fish plants, as well as the brightly painted historic buildings. Lunenburg still serves as a fishing and shipbuilding town, and is known for building replicas of sailing ships. While in town, I went for a sail on the "Bluenose II", a replica of the famed schooner built in Lunenburg; the view of the harbor from offshore was extremely memorable. I really enjoyed my time in Lunenburg, and if the "Bluenose II" happens to be in town during a visit, I highly recommend going for a sail to gain a greater appreciation of the seafaring heritage of Lunenburg.
Logistics: Old Town Lunenburg is about one hour south of Halifax, and can be visited by car or by private tour.
---
Lunenburg is a small town known as one of the most known tourist spots in Nova Scotia. It is famous from town planning, picturesque buildings and maritime connections. In fact, the inscribed centre is very small and you can easily walk through it within hour or two. The town is proud of its UNESCO inscription and informing plaques are visible in almost every corner. We visited maritime museum, which was very interesting, especially in terms of local tradition. The old buildings were really nice but I was disappointed with ugly old-fashioned electric lines that in my opinion destroyed the beauty of this place. I wish UNESCO asked the respective officials to hide it underground before inscription. Now, it is impossible to take a photo of Lunenburg's centre, on which those lines are not visible.
---
Cynthia Webb
We visited Lunenburg in June 2010. Beautiful weather, beautiful town. We stayed in a bed and breakfast overlooking the harbor. Lots of lovely old buildings and atmosphere, with lots of little shops. The town is very accessible to walking, although it is built on a bit of a hill. For the inside scoop on the town, with lots of details about the history of the buildings and houses, take the horse-drawn carriage ride from the wharf. We also visited the fisheries museum and learned a lot about whales and fishing there!
---
I must say that I'm usually pleased with how Canadians take pride in their World Heritage Sites. Old Lunenburg is no exception. A lovely area in the old town (to the right of the town's bandstand) is dedicated to the site's inscription as a WHS, which includes the WHS plaque, the UN flag, and information about other WHS in Canada. A bonus is the playground next to this area. My kids played while I took pictures! Although hilly, it's easy to walk around the town. I saw many people mowing their lawns or just relaxing on the front porches. Enjoy looking at old homes with beautiful exterior colours!
---
Connie Hake
Dissappointing? No way! We happened to be there when the Blue Nose II came "home" for repairs- what a show! The whole town (locals and tourists) was on the dock waiting for her to arrive at dusk to cheering and applause! The locals are very proud of their schooner! And she is beautiful! Next day, we boarded for a tour- free of charge! The town of Lunenburg is beautiful, peaceful and gracious. Will definitely visit again!
---
Site Info
Site History
2000

Name change

From "Lunenburg Old Town" to "Old Town Lunenburg"
1995

Deferred

Bureau - ICOMOS recommended awaiting a comparative study into colonial planned settlements. Some bureau members query value of these. Agreed to leave it to WHC!
Site Links
Unesco Website
Official Website
Related
In the News
Visitors
132 Community Members have visited.