Kulangsu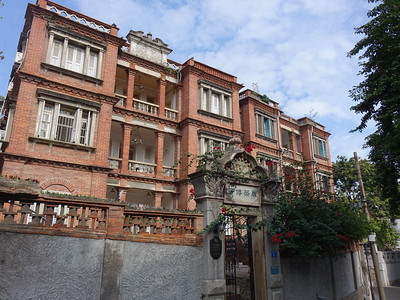 Kulangsu: A historic international settlement covers an island where interchange of Chinese, South East Asian and European architectural and cultural values occurred since the opening of a commercial port at Xiamen in 1843.
Foreign missionairies, diplomats and workers lived on Kulangsu while working in the larger city Xiamen across the strait. They were instrumental in introducing modern western culture and technology to China. The historic urban settlement consists of 931 structures (residences, schools, hospitals, gardens). The fusion of cultures resulted in a new architectural style: the Amoy Deco Style, which originated on Kulangsu and this is where the best representations of it can be found such as the Hongning Hospital and the Yanping Complex.
Community Reviews
---
Khuft Germany - 10-Jul-17 -
I visited Gulangyu (Kulangsu) in 2010, during a weekend trip to Xiamen (and the Fujian tulou), flying in from Hong Kong, where I was staying for a few months. In a sense, Gulangyu delivers what Hong Kong or Shanghai only promise: the fusion of West and East in a late 19th century / early 20th century international settlement established to trade with China. Gulangyu is surprisingly big and quite well-preserved (though when I visited in 2010, a few of the mansions were in the process of being "spruced up"). Its architecture has a distinctive Western flair to it, but Chinese elements also appear here and there (and it includes at least one fully-fledged Chinese garden). A few parts, such as the giant statue of Koxinga, are of a younger age, and it's a bit strange that they have been inscribed too. As should be expected of most tourist sites in China (in particular those in the middle of a city), it is quite touristy, but (at least in 2010) still bearable. The lack of traffic is definitely a plus - one can just stroll aimlessly around the island to discover its various corners. Overall, it was a very pleasant visit, and a break from the general hubbub of modern Chinese city life.
---
I visited the island in August 2016. It is a delightful oasis of calm, with no cars permitted. The early C20th colonial architecture is abundant and spread across the island, which is fun to explore. There were few western visitors like myself, but it is a very popular domestic tourism site and ferry numbers are limited. I wish the authorities well in the 2017 World Heritage inscription and hope the impact of tourism will be controlled.
---
Visited Kulangsu in 2009. This island not far away from modern China City Xiamen (Amoy). The island is full of tourists by the time I visited and I believe the island itself became more and more heated over the years.
Away from the crowds you may find some peaceful beaches, architectures with obvious western influence. In general this is a popular place in China local love to travel.
Read more from wang zhong here.
---
Community Rating
Community Rating 2.69. Based on 8 votes.
Site Info
Full name: Kulangsu: A historic international settlement
Unesco ID: 1541
Inscribed: 2017
Type: Cultural
Criteria: 2 4
Site Links
Unesco Website
Official Website
Connections
The site has 12 connections. Show all
Visitors
63 community members have visited Kulangsu. Show all