Island of Saint-Louis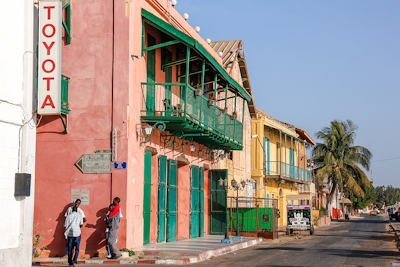 Saint-Louis' characteristic colonial architecture along with its regular town plan, its location on an island at the mouth of the Senegal River and the system of quays, gives Saint-Louis the distinctive appearance and identity that have raised the Island to the rank of world heritage.
Saint-Louis was the capital of the French colony of Senegal from 1673 until independence in 1960. From 1920 to 1957 it also served as capital of the neighboring colony of Mauritania.
Community Reviews
---
Site visited in April, 2018. Located some 300 km from Dakar to the north, close to Mauritanian border. From Dakar Gare Routiere there are mini buses (stand is located in the middle of bus station) but despite good asphalted road it took full day to reach Saint-Louis, including waiting time in Dakar (in most cases the cars leave when full, leaving hours are not specified). So when you start the journey in the morning it is possible to get to the place late in the afternoon or in the evening the same day.
While approaching Saint-Louis you will encounter huge garbage dump (some 10 km before the town). It is just for you to be prepared what you can expect in the town. And that is terrifying. Rubbish are everywhere, the streets are dirty but more appalling is what you see in the water and areas nearby (have in mind that this is an island). Of course not everywhere. Some streets in the center are more clean but overall first impression is somehow discouraging.
Historic centre of Saint-Louis is located on the island, within the estuary of Senegal river, linked with the land by Faidherbe Bridge (interesting landmark, metallic, from the end of XIX century). It has regular rectangle shape and adapted streets layout. Apart from the bridge other important places are former catholic church (closed), Grande Mosquée de Saint-Louis, Faidherbe square, post office, building of Office Du Tourisme-Syndicat D'initiative de Saint-Louis. If you forget the rubbish nice photos may be taken with boats around Quai Giraud. All places are accessible on foot within few hours and one day is pretty sufficient to see everything, another one is necessary if you plan to go to Djoudj.
Some practicalities: there are many hotels (different standard) on Saint-Louis Island. I stayed at Café Des Arts (in northern part of the island, Quai Giraud) but it is rather budget accommodation. There are a lot of restaurants (most of them are located in central part). For located nearby Djoudj National Bird Sanctuary try to organize a trip (there are several agencies in the town – most of them are located in the center; other option is to use Office Du Tourisme).
---
I visited Ile St Louis in Dec 2003. Ile St Louis can be reached by a short ferry ride from Dakar. The ferry is a bit of a challenge as you'll be constantly harassed to hire a guide or visit a souvenir shop. The slave fort itself is open for visits and although colorful in pink plaster and brilliant flowering shrubs, it has a sour aura of sadness about it. We were lucky to have a tourguide give a 20 minute soliliquy (in French) on life at the fort. His dramatic and authentic presentation was worth the trip alone. The island remains inhabited with friendly french speaking Senegalese and the colorful french style colonial houses and beautiful children love to be photographed. (Ask first). There are a few pensions on the island but plenty of hotels in Dakar. Although we were constantly harassed, we never felt unsafe.
---
Site Info
Site Links
Unesco Website
Official Website
Visitors
60 Community Members have visited.