Guanajuato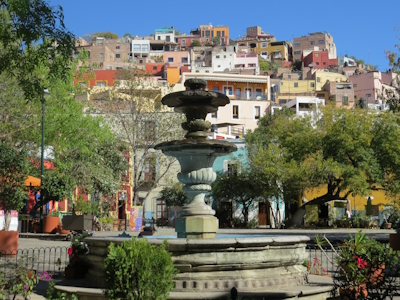 The Historic Town of Guanajuato and Adjacent Mines are an example of an influential Mining Town, with its technological innovations and Baroque architecture.
It became the world's leading silver-extraction centre in the 18th century after the decline of Potosi.
The wealth that resulted from this can be seen in monuments like the church La Valenciana (1765-1788). This church, built near the entrance of the eponymous mine, has a Churrigueresque portal, a number of gilded altarpieces and a pulpit that is incrusted with ivory and precious hardwoods.

Community Reviews
---
I visited this WHS in December 2021 and January 2022. I must confess that it was the most pleasant surprise during my Mexico road trip. While Mexico City has already exceeded all my expectations, Guanajuato was really mind-boggling in every aspect: first of all its underground labyrinth of roads, intersections, stairs, etc. on different levels, its coherence and top-notch ensemble of historic sites, its university, its mines, and its fun yet also romantic nightlife in a way (it reminded me a lot of Coimbra, Portugal) - Guanajuato is a real melting pot of traditions and culture.
Guanajuato is situated in a narrow valley, which makes its streets narrow and winding. Most are alleys that cars cannot pass through, and some are long sets of stairs up the mountainsides. Many of the city's crossroads are partially or fully underground. Some of the bridges also have hanging wooden or stone houses built over them. I think that this feature alone of Guanajuato and how well it has been preserved already possesses enough OUV to justify its inscription on the WH list. It's incredible that still today the river continues to flow under the streets of Guanajuato. I spent hours exploring the different tunnels and in a way studying my way out since I had managed to immediately find my hotel in the very centre without any mistakes (pure luck!).
The "estudiantinas" (student music groups) with traditional "callejoneadas" (alleyway strolls), which we enjoyed almost every night we spent here, transport all participants to a different era, that of serenades and celebrations, while dressed in their capes and attire of the 16th century. They really reminded us of the fado nights experienced in Coimbra, Portugal. Apart from this, practically at every corner, by the squares, throughout the alleys, the unmistakable figure of Don Quixote reminds of the deeds and craziness of the "caballero de la triste figura" (the knight of the sad countenance), so much so that Guanajuato is known as the "Capital Cervantina de America".
Guanajuato owes its rich historic centre to its mining past flourishing mostly in silver extraction in the 18th century after the decline of Potosi. The mines were so rich that the city was one of the most influential during the colonial period. One of the mines, La Valenciana, accounted for two-thirds of the world's silver production at the height of its production. The several mines of Guanajuato alone would also warrant inscription on their own and are much better than others on the list although most can get very touristy. Knowing that the official title of this WHS is the "Historic Town of Guanajuato and Adjacent Mines", I diligently visited most of the mines, or what's left of them, without necessarily doing all their tours by using the excuse of being interested to visit their gift shop (and buying something to eat from each (excellent dulche de leche): the Mine of San Juan de Rayas (looks like a fortification or castle from the city's panoramic view), the Valenciana Mine, the El Nopal Mine, the Guadalupe Mine and the Rocamina San Ramon.
The best place to admire a magnificent view over the city is definitely by riding the Panoramico Funicular to the El Pipila Monument (morning light is best for photography). The highlight buildings of Guanajuato are the university building and the Juarez Theatre just in front of the pruned trees of the Jardin de la Union (open to visitors when there aren't performances scheduled). The many fountains, alleys, colourful churches and chapels require at least 2-3 days to appreciate well how they come to life at different times of the day and night. A real gem!
---
4.50 United States - 24-Nov-21 -
Time of visit: November 2021
Duration of visit: 8 hours
Mode of transportation: rental car, day trip from San Miguel de Allende
Guanajuato is beautiful, colorful, and eclectic. Tourists were a-plenty in the historic center, but for a reason - it is such a captivating place, and frankly perhaps slightly underrated relative to the more frequented attractions in San Miguel de Allende and the pueblo magicos near Queretaro.
The day started with a half hour drive from SMA for short visit at Sanctuary of Jesús Nazareno de Atotonilco (part of the San Miguel de Allende WHS, but more on that separately), and then another 1.5 hr drive from there to Guanajuato. Our first stop within Guanajuato was the Museo Ex-Hacienda San Gabriel de Barrera, which featured a beautiful set of gardens and a historic 17th-century hacienda residence. This was our first hacienda in Central Mexico, and somewhat to our surprise, the architecture was so similar to the several haciendas that we had previous visited in Yucatan. Absolutely beautiful and worth the ~15 minute de-tour to the western edge of town.
We spent the rest of our day in the historic center. There is something about the consistent architecture of homes all around town that instantly called attention to Guanajuato's history as a mining town - likely a combination of the hilly environs, rectangular buildings, and the bright, eclectic colors.
Highlights within the WHS zone included:
Monumental al Pipila - beautiful viewpoint from high up of the entire town, and a great way to get a lay of the land. Accessible via funicular close to the town square. Don't make the mistake I did by climbing up without doing the research - oops, no wonder the road up there was devoid of visitors. Slightly strenuous, and the warning signs about potential criminal activities were a little concerning, but generally felt safe enough to walk up during day time.
Teatro Juarez - exterior was pretty, but the real gem is the interior. Beautiful Moorish design all around in the main theater - reminiscent of times spent in Seville and Granada. One of the most beautiful theaters I've been to, and definitely one where I had the lowest expectation.
Basílica Colegiata de Nuestra Señora de Guanajuato - the central cathedral was classically gorgeous, but interior and exterior were similar to those that we've recently visited across CDMX, Cuernavaca, and SMA. That said, the alter and dome did jump out, and I stared at them for a good five minutes. There is a small museum to the side of the main basilica focusing on religious art and artifacts - worth the visit and a "private" walk through from the museum curator!
Universidad de Guanajuato - not totally sure what architectural style is (perhaps Venetian, with a twist of Gaudi?), but it was so humorously out of place but also so beautiful. Unfortunately the stairs and entry into the university main building was closed to visitors.
Most overrated spot: Callejón del Beso. Narrow enough where to people can kiss from opposing balconies. Brought me back to bad memories of the very narrow alleys in Fez (attempted theft) and Jodhpur (rabid dog bite), but fortunately this was just a very short alley. Still kind of gross given COVID, but never-the-less took a few selfies.
We also spent some time at the Diego Rivera Museum, Regional Museum (neat architecture as a former grain exchange), and Mercado Hidalgo, but no standouts, and frankly, we're not huge museum people, and the market was very similar to others we've been to in Central Mexico.
We skipped the Mummy Museum - seemed too creepy and disrespectful, and the fact that some of these people died during a cholera break was enough of a turn-off. Apparently there is also a strange smell in the museum because of the mummies. No thanks, hard pass! :)
All said, Guanajuato made a lovely day trip from SMA, and frankly I wish we had more time to enjoy the city - perhaps a dinner or even a two day stay. Unfortunately our underground tunnel tour was canceled last minutely, otherwise likely would've been a highlight too given its history and uniqueness. Hope to be back one day!
---
Side remark 1 - the WHS map zone is quite strange and almost seems to be arbitrarily set with a few specific coordinates and lines connecting them. Perhaps a function of how long ago Guanajuato was first listed, but I founded a little funny and unusual to the more recent listings.
Side remark 2 - learned that "alhondiga" means a grain exchange. Saw this word several times in Guanajuato, SMA, and CDMX, and finally decided to look it up. I knew it was an Arabic influenced word given the "al" prefix, but it was neat to learn about its origin. My wife and I jokingly called these "albondiga", which means meatballs :)
---
Guanajuato is a fascinating city. I stopped there for three days during my Mexican trip in 2019. I was charmed by its eclectic architecture, narrow, steeply sloping streets and breathtaking views. The most remarkable buildings are la Basílica Colegiata de Nuestra Señora de Guanajuato, el Teatro Juárez and la Universidad de Guanajuato. After arriving late from Guadalajara the day before, I spent my second day in Guanajuato walking around the city from west to east, from the fascinating and very creepy Museo de las Momias de Guanajuato (I love creepy attractions, I'm quite the target audience for this museum, but I was still a bit disturbed) to the relaxing Presa De La Olla. As specified by other visitors, the view from the Monumento Al Pipila is well worth the climb. Your calves may resent it, but your eyes and heart will be delighted! I feel like I'm repeating myself in each of my reviews, but you have to get lost in this city, admire its colourful houses at random and face all its hills to grasp its charm and enjoy it to the fullest.
On my third and last day, I went to the heights of La Valenciana. As extraordinary as the heart of Guanajuato is, I was slightly disappointed by this area. It is true that the Templo de San Cayetano Confesor (La Valenciana Church) has richly gilded and decorated altars and its façade is pretty.However, I wanted to learn more about the mining history of the town while visiting this area. I started quite (too?) early at the Bocamina San Ramón. A confused old man seemed to guard the entrance but he didn't seem to be able to give me any information about how to visit the place. I went down a staircase into what seemed to be a mine shaft. It really didn't go very deep though and I left as confused as the guard. I ended up finding an interesting guided tour of a mine shaft at the Bocamina de San Cayetano. This visit offered by a former miner was very informative and was the highlight of the day. My last stop in La Valenciana was the tourist trap Museo Casa El Purgatorio.
Along with Puebla, Guanajuato is the most beautiful colonial city in Mexico. And to fully appreciate it, you have to know how to climb to its highest lookouts to embrace the landscape, but also descend into its tunnels and mineshafts to plunge into its history.
---
This is the reason I travel! The full day we spent here was one of the best days on the road we have had.
To kick things off there was our journey into the centre, this normally rudimentary aspect of travel was unexpectedly elevated to a unique experience. Our taxi screamed through endless tunnels under the city centre, before depositing us, grinning like Cheshire cats, at a tree lined piazza. Whilst not quite as picturesque, this unique arrival drew to mind our first trip down Venice's Grand Canal and let us know we were in for something a bit special.
A wonderful breakfast on the tree lined central square set us up for a day of sightseeing. The highlights were the theatre and the viewpoint from the Pipil, including a trip on a funicular railway, something that almost always brings a smile to my face. Just wandering through the mostly traffic free centre was thoroughly enjoyable.
We decided to head up the road to see the church and mines at Valenciana, which really should not be missed. The mines were fairly interesting and give an idea of how the wealth of the city was accumulated, whilst the magnificent baroque church showed how that wealth was displayed.
Left at this point Guanajuato would have been a very noteworthy city, however our return in the evening elevated it to something truly world class. On top of a centre thronging with bars, restaurants, students and families out enjoying the wonderful atmosphere - things that win me over in even the most banal place - were the Callejoneada. These are bands of locals dressed as medieval troubadours, who gather and lead guided tours as they sing dance and tell stories to their gathered crowd. It was an unforgettably joyous couple of hours spent following them around, struggling against our limited grip of Spanish to follow what was happening, but just rejoicing in being free from cynicism and enjoying the sheer fun of it all.
Guanajuato was the standout city on or trip around central Mexico. The impressive setting, industrial heritage and glorious buildings tell a wonderful story. However the sheer joyous atmosphere, especially with the callejoneada elevated it to one of the best days we have ever had on our travels. Stay for an evening and throw yourself into the atmosphere of this wonderful city.
[Site 8: Experience 10]
---
I've visited 5 WHS in Central Mexico in October 2014 and I've really liked Guanajuato. It is different from the nearby cities of San Miguel de Allende and Queretaro, it is much more colourful and its layout is so strange, set against the hills and with so many underground streets!
It gets complicated to get around by car (a GPS here it's really useless, because underground and overground streets overlap and the GPS doesn't know exactly where you are..), so it is better to park somewhere and walk around. The different sites are fairly far from each other, so you may need to drive again to get to La Valenciana (where you can also get down to the mines, other than visiting the church). Spectacular is the view point from "El Pipila". In October it is very crowded because of the festival of Cervantes, but it's nice to see so many stages all around the city. Unfortunately the Theatre was closed during the day of our visit
---
3.50 The Netherlands - 14-Jan-14 -
When Puebla is Mexico's Arequipa, Guanajuato must be its Cuzco or Potosi. Cuzco because it's all built up against a mountain wall, a warren of little steep streets and unexpected vistas. And Potosi because of its silver mining connection of course. I stayed for two nights in the Valenciana neighbourhood (a splurge at the Casa Estrella de la Valenciana) and had the best views from my room and even better ones from the bathroom. The city lies in a "bowl" (somewhere I read it's a ravine) between mountain tops, just like a smallish La Paz. I am throwing in all kinds of Peruvian and Bolivian comparisons, as Guanajuato resembles those countries more than the rest of Central Mexico which is very Spanish-colonial/westernized.
The prettiest building in town is the Teatro Juarez. Sorry, another comparison comes to mind: the Teatro Tomas Terry in Cienfuegos (Cuba), another opulent turn-of-the-century theatre. Teatro Juarez is open to the general public, and for a fee of 35 pesos for entrance + 30 pesos camera fee you can visit several of the rooms and of course the main stage hall. Its decoration is Moorish-influenced, very nice.
I finished my visit at the obscure Mummy Museum. It lies on the outskirts of town, probably outside of the borders of the WHS. It's quite a tourist attraction with over 100 "mummified" (dried out) corpses on display taken from the general cemetery when their families could not pay the grave taxes anymore. It's a bit of a gimmick. I did feel bad about it, think of your dead grandparents being displayed like this in their nightgowns.
Guanajuato also is a university city, which results in a young crowd and many cheap eateries & cafés. I did see less of a Mexican middle class here, which was so prominent in Mexico City and Queretaro - occupying the terraces of restaurants or drinking expensive coffees.
Read more from Els Slots here.
---
If it is another day in Central Mexico it must be yet another run-of-the-mill UNESCO-inscribed colonial "Centro Historico" – Mexico really has gone overboard in inscribing its colonial towns! But no, this isn't just any Centro Historico – this is Guanajuato; a town which stands head and shoulders above its fellow Mexican Colonial WHS for interest. If you visit only one – then choose Guanajuato!
Yes, it is rather touristy – though mainly with Mexicans themselves which, to an outsider, adds a degree of interest to the crowds. Indeed, thinking about it, we are probably attracted to the city over others just because it is SO Mexican!
If you are travelling by self-drive car as we were, the arrival can be a bit of a surprise! Suddenly, as you reach the town centre, set deep in a ravine, there is nowhere for the road to go and it dives underground beneath the houses into a long one-way tunnel and, after various twists and turns, comes up a few minutes later God knows where! We consult our guidebooks and note that the map of one of them (obviously for walkers!) states "subterranean roads not shown". The town is indeed 2 worlds "road-wise" – above, a colonial city of narrow winding streets, stairways and pleasant piazzas, deep-green manicured trees and tinkling fountains, whilst below, a labyrinth of narrow roadways – I have read that driving a car there is "an experience somewhat like zooming around in the Batcave" – not far wrong! Although some of them are relatively new, the original tunnels were created in the mining days to divert the river which often flooded city and mines. The, much later, building of a new dam freed them for use as ready made by-passes and enabled large parts of the otherwise impossibly crowded town to be made traffic free!
This city, built on gold and silver, was for many years the wealthiest in Mexico. It lacks buildings from the very earliest colonial periods but provides a rich vein of architecture from the 18th through to the start of the 20th century – houses, mansions, churches, theatres, markets. The Juarez theatre, dating from1903 (photo 1), looks as if it should be in a major European city. And always, as you look upwards, the hillsides crowd in, full of multi-coloured houses. In the evening the central Jardin de la Union comes alive with locals and tourists and offers an oompah band and mariachi players. We are not great ones for "niche" museums but Guanajuato has its full share, covering the standard historical matters and other subjects as varied as "Mummies" and Diego Rivera. If you aren't "churched out" from all the other Mexican colonial towns, monasteries etc there are some fine churches too – particularly La Valenciana a few kms up and out of town. If you have a car (I understand there is also a bus), carry on around the "Panoramica" whilst you are up there and stop off at the Pipila viewpoint where you can look down almost vertically onto the town center (photo 2). If you aren't mobile you can walk or take the funicular. All in all a great place for wandering, relaxing, sightseeing, people watching, museum visiting, praying, eating/drinking, traditional music listening, art viewing, souvenir shopping etc etc - whatever you want from a town it would seem that Guanajuato could provide it! Amazing variety in a town of only around 80,000 people!
---
Ralph Zema
On the last day of our trip to Guanajuato, we went to an Italian restuarant that overlooks the city. As with many sites in Guanajuato, it took some climbing to get there. Our efforts were well rewarded, however: the city glittered with lights and the classic architecture of its churches and the university were ablaze. Bells rang out and we realized that Guanajuato is as magical a place as Venice. It embodies that wonderful combination of Latin and indigeneous cultures that is Mexico. The people are extraordinarily hospitable in Guanajuato and they seem justifiable proud of their unique city. Visit all the churches, the museums, the markets, the plazas and get lost in the alleyways. And don't miss Diego Rivera's home or the unforgettable panorama from El Pipila. You will remember Guanajuato.
---
James Taylor
I found Guanajuato to be a fascinating and beautiful city. The classic colonial churches have impressive domes and breathtakingly intricate facades. The weather (in summertime) was just about perfect. For details on my trip to Guanajuato and central Mexico, you can go to my web pages, starting at www.geocities.com/ucsb1990/mexico.html
---
Site Info
Site Links
Unesco Website
Official Website
Related
Visitors
150 Community Members have visited.