Guanajuato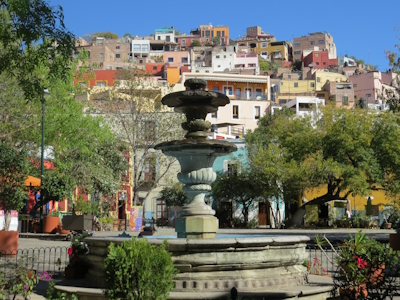 The Historic Town of Guanajuato and Adjacent Mines are an example of an influential Mining Town, with its technological innovations and Baroque architecture.
It became the world's leading silver-extraction centre in the 18th century after the decline of Potosi.
The wealth that resulted from this can be seen in monuments like the church La Valenciana (1765-1788). This church, built near the entrance of the eponymous mine, has a Churrigueresque portal, a number of gilded altarpieces and a pulpit that is incrusted with ivory and precious hardwoods.
Visit January 2014
When Puebla is Mexico's Arequipa, Guanajuato must be its Cuzco or Potosi. Cuzco because it's all built up against a mountain wall, a warren of little steep streets and unexpected vistas. And Potosi because of its silver mining connection of course. I stayed for two nights in the Valenciana neighbourhood (a splurge at the Casa Estrella de la Valenciana), and had the best views from my room and even better ones from the bathroom. The city lies in a "bowl" (somewhere I read it's a ravine) between mountain tops, just like a smallish La Paz. I am throwing in all kinds of Peruvian and Bolivian comparisons, as Guanajuato resembles those countries more than the rest of Central Mexico which is very Spanish-colonial/westernized.
The prettiest building in town is the Teatro Juarez. Sorry, another comparison comes to mind: the Teatro Tomas Terry in Cienfuegos (Cuba), another opulent turn-of-the-century theatre. Teatro Juarez is open to the general public, and for a fee of 35 pesos entrance + 30 pesos camere fee you can visit several of the rooms and of course the main stage hall. Its decoration is Moorish-influenced, very nice.
I finished my visit at the obscure Mummy Museum. It lies in the outskirts of town, probably outside of the borders of the WHS. It's quite a tourist attraction with over 100 "mummified" (dried out) corpses on display taken from the general cemetery when their families could not pay the grave taxes anymore. It's a bit of a gimmick. I did feel bad about it, think of your dead grandparents being displayed like this in their nightgowns.
Guanajuato also is a university city, which results in a young crowd and many cheap eateries & cafés. I did see less of a Mexican middle class here, which were so prominent in Mexico City and Queretaro - occupying the terraces of restaurants or drinking expensive coffees.
Click
here
to see more of my photos of Guanajuato
Community Reviews
---
---
---
---
---
---
---
Community Rating
Community Rating 3.91. Based on 11 votes.
Your Rating
Site Info
Full name: Historic Town of Guanajuato and Adjacent Mines
Unesco ID: 482
Inscribed: 1988
Type: Cultural
Criteria: 1 2 4 6
Site Links
Unesco Website
Official Website
Related
Connections
The site has 20 connections. Show all
Visitors
88 community members have visited Guanajuato. Show all