Caves of Maresha and Bet Guvrin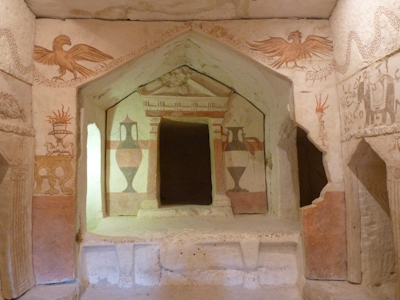 The Caves of Maresha and Bet Guvrin are man-made subterranean complexes up to 2,000 years old. These archaeological sites are situated below the ancient twin towns of Maresha and Bet Guvrin in Lower Judea.
In a layer of soft chalk some 475 cave complexes have been carved out during different periods. The area was in use from the Iron Age to Persian, Judaic, Hellenistic, Roman and Byzantine antiquity. Some forty burial sites were dug into the ground at the foot of the hills close to Maresha, including three main necropolises.
The region is close to the ancient route linking Mesopotamia to Egypt. Agricultural practice is also very old, the caves were for example in use for the pressing and storage of olive oil and for raising pigeons.
Map of Caves of Maresha and Bet Guvrin
Load map
Community Reviews
---
I am giving Bet Guvrin the same rating as the community average, but I probably would have rated it higher if not for the abbreviated nature of my visit. A large part of that was my own faulty planning, but the park closure practices contributed to that significantly.
In August of 2022, I was in Israel with the family on a Bat Mitzvah trip. Having seen every single other WH site in the country in the past, I could not put Bet Guvrin at the forefront of this particular trip's itinerary. I knew that the park likely required no less than 3 hours to see properly, but paring it down to just the main highlights looked like a reasonable bid to stay within the space of an hour and a half on one afternoon. In my experience, 90 minutes is a threshold that should not be exceeded when visiting as a group a place for which not everyone has the same degree of enthusiasm. What I failed to consider is that it could not be an hour and a half right before the closure.
The main sightseeing clusters at Bet Guvrin-Maresha National Park - marked as areas A, B, C, D - are connected by a circuit road that happens to run one way for a significant part (there are actual spikes across the road between lots B and C to ensure that no one drives against the directed flow). A full hour before the park closes, the gates to the initial stretch of the road are locked. You may be inside the park, but you can no longer navigate the full circuit in a car. You can instead use walking trails to get around, but at that point, there is no time to cover sufficient ground on foot.
The Bell Caves and the Apollophanes burial cave are in areas C and D. I had them as must-sees during preparations, so we went to those areas first. And then, when I thought we still had about 45 minutes to check out at least one another area, we were faced with a literal roadblock, unable to drive to either parking lot A or B. We did walk up one trail for about 15 minutes, which allowed us to see a single smaller columbarium at the edge of "area B" and enjoy a few panoramic views. And that was it.
Furthermore, there is a separate area E of the park (across the highway) that includes a Roman amphitheater and a couple of Crusader sites. It wouldn't be part of this visit anyway, but it basically stops allowing people to get in at the same time as the main circuit road gets blocked for the night, at 4 pm, a full hour before the official park closure.
The Bell Caves are jaw-dropping and the Apollophanes Cave is a visual delight. I'll have to make sure to see the other parts of the park next time. It is only about an hour's drive from either Tel Aviv or Jerusalem.
Read more from Ilya Burlak here.
---
3.50 Chinese-Canadian - 06-Sep-22 -
A close second with Masada as the top non-Jerusalem site in Israel, and that's because while Masada looks epic it doesn't have much else going but at the caves here you can explore so much, get a good idea how they used this place with limited availability and it can take a long time to hike everything.
The second art cave in the "back" is currently collapsed but the nearby shop gave me a nice picture to understand what I'm missing. It's probably possible to descend and look around but it's not a wise idea. The one next to it is already pretty great. I also really enjoyed getting led through a cave with odd markers that I never thought would bring me back out but it really did and on the way you get to see the presses, some kind of flooded area and entryways that seem unnatural.
Definitely not something to miss on the trip.
---
4.00 Philippines - 04-Nov-19 -
WHS#64
One of the highlights of my May 2018 Holy Land trip was an obscure National Park almost an hour south of Jerusalem. Maresha - Bet Guvrin National Park is home to a huge variety of manmade caves that together form, in my opinion, one of the most interesting archaeological ensembles in the world. It's recommended to have private transportation around the park, as I did, as it's quite a large area. This is not a normal tourist stop mostly because it doesn't really have any biblical or even historic significance, but a visit here is almost sure to impress.
The first part of my visit was to the ancient city of Maresha. Well, I didn't exactly see an ancient city, I'll tell you that. Instead, I had to climb a hill, which I believe was the tel, to get to the excavated caves. The caves I encountered were columbariums - caves used for raising pigeons with little niches in the wall. Indeed, I walked down and saw a huge cavern, almost like a giant catacomb or beehive, with little holes all over the walls. While the caves aren't being used by man anymore, they're still used by the avian inhabitants, as evidenced by ever-so-subtle scent of guano. And the birds flying around, of course. These columbariums seem to come in different shapes, with one being quite boxy or compartment-like and another like a bell cave. I hear there are also other types of caves in Maresha, but the columbariums were impressive enough in their own right to justify a visit. At least they were for me, as I never really found the other caves. Apparently, less people make it to Maresha than more popular, but still relatively unknown Bet Guvrin, so there really isn't much of a tourist crowd here.
Moving on to Bet Guvrin, you'll pass scenic hillsides with the occasional ruin, such as the Crusader Church of St. Anne. The Sidonian Burial Caves are the most crowded with tourists, maybe because they're quite small, but I actually saw a couple of tourist buses in the parking lot. Entering the caves, it's the artworks that draws attention. The colors and details are so vivid for their age of over 2 millenia, as these caves date back to the Hellenistic Period of the Middle East. Various animals, plants, accessories, and people of the time are portrayed, so they provide a clear look a the past. Next up, the Bell Caves are probably the most outright impressive caves in the area. They look like natural wonders, but they were actually carved from above by people until they met to form a huge complex of white chalk caverns. Lastly, I decided to check out the Roman ruins across the highway. It's impressively home to the only amphitheatre I saw on the trip, though it's no Colosseum or El Jem. Bet Guvrin probably has the more diverse collection of attractions between the 2 ancient cities.
Together, Maresha and Bet Guvrin, by virtue of their geology of soft carvable chalk allowed its various peoples throughout history to create a rich collection of caves that's unparalleled in the world for their impressiveness and diversity in age, purpose, and creative methods. I don't have any other site in the world to compare it to, and that's why I think it's among the most unique cultural WHS in the world, and the most unique site in Israel. Don't miss out on these caves, each one has its own charm, and together, they tell the untold story of this part of the world.
---
This site was one I had never heard of before investigating the UNESCO sites of Israel, but it turned out to be one of the highlights of our trip. I guess it really isn't featured in package tours because it doesn't have a strong religious connection, so in that way it is a lot less visited. But for our independent tour, it was an easy drive from Tel Aviv.
There are three main types of caves here: the more residential caves of Maresha, the Sidonian tombs, and the bell caves which are former chalk quarries. As a bonus, right across the road you get a Roman amphitheater, crusader ruins, and more.
We started our exploration with the caves of Maresha. The park entrance gives you a nice guide to follow for your walking tour of the place. The highlight of the first part of the tour is the columbarium -- a surprisingly large complex of a grid of aisles with thousands of niches for raising pigeons. Continuing along the trail, you encounter caves devoted to ancient olive presses and a bathtub cave. You can also walk to the top of Tel Maresha, the mound over the biblical city of Maresha. We did this, but it isn't that exciting. Near the end of our trail is another really enjoyable complex of caves, which were mostly cisterns under the ancient villas. Today, they are interconnected below ground so you can explore up and down various stone staircases and along different side-cistern-trails, which was a lot of fun. Back outside, we also saw several spots where active archaeological digs were in progress, but didn't visit them.
After that, we walked back to our car and drove to the area of the Sidonian Caves. These were used as large burial chambers with multiple niches, from the Hellenistic period. The beautiful murals of fanciful animals, etc. is what makes them worth visiting. (My photo is from one of these.)
The last set of caves we visited were the Bell Caves. These were dug as quarries for chalk, used as stone building blocks. The caves were originally dug from the hole in the top, expanding into a bell shape as the excavators went deeper. These are the most recent of the caves, dating to the Byzantine and early Arab centuries. Today, tourists enter at ground level, but the huge caverns are great to walk through and admire.
After finishing with the caves, we headed across the road to the Roman amphitheater. The day we visited, there happened to be some military graduation ceremony taking place, so we couldn't enter the amphitheater itself, but we got nice views from outside. We went on and explored the remnants of the crusader church and fortress and the Roman bathhouse beneath it.
It's really a fabulous park, covering many centuries of ancient history. Visited January, 2018.
---
There are several parts of Bet Guvrin which I found fascinating. First, it is one of the only places in Israel where the public can participate in an archaeological dig. There are numerous caverns which were dug under the houses of people in the area which were later used for garbage. Because the artifacts in the garbage were mixed, there are no formal strata that need to be preserved, so they are willing the let the public help out in digging.
Also, all of the caverns were dug by hand and many of them are enormous. They were dug over centuries by just extending the floor of the cavern further down. It is a popular attraction for Israelis but few foreigners bother to visit.


---
Chris W.
I visited the Caves of Maresha and Bet Guvrin the day after I arrived in Israel. The flights from the Netherlands arrive passed midnight and the next day i drove from the airport to Jerusalem but first visited the Caves of Maresha and Bet Guvrin.
It's a nice park; and best to go around by car. The Roman parts are outside the park and free to visit. In the park there are 4 places to park the car and see the caves around there.
It looks small if you're at the entrace, but once you go underground some complexes are very big. I really enjoyed my visit. Do take a pick nick lunch! Lots of places to eat but not much available in the park.
Recommend to go from Tel Aviv or Jerusalem; easily reached in a day by car. Photo's see the link below.
Read more from Chris W. here.
---
Bet Guvrin-Maresha National Park is located in about one hour drive from Jerusalem to the south, in a very nice area next to the boarder with Palestine. The complex consists of excavations in Maresha and more famous caves in Bet Guvrin. The whole site is quite large, which makes it difficult but doable without a car. Unfortunately, due to the lack of time that day we were not able to visit Maresha, so we focused on the caves of Bet Guvrin.
There are in general two types of caves in the park – first ones, much smaller and shallow, served as burial places during Sydonian times. They are covered with well-preserved paintings and Greek inscriptions. Then, around 1km ahead, there are famous bell caves – about 800 beautiful grottos spread over a picturesque area. Although they look like made by nature, I was surprised to find that most of them were actually human-bored. Most of them have holes in the center of the ceiling and sunlight plays inside making the interior view very intersesting.
I found this WHS one of the most interesting in Israel and it is strange to me that it is so rarely visited. During our visit in December only few tourists were there and even the entrance was free (or maybe we just did not notice the ticket office).
---
We included the National Park of Bet Guvrin-Maresha in our tour of Israel, just a few weeks after the site has been included in the Unesco family.There was no commemorative plate yet.I would say its a great advantage of travelling with a car as the different sites within the park are far from each other.They give you a handy leaflet at the entrance with detailled informations.Bet Guvrin was for me quite special for the variety of beautiful caves dug by its former inhabitants.There you find the Columbarium Cave where doves were raised in over 2000 niches-for their eggs, meat and also the fertilizer was used.Doves were also sacrified in religious rituals.Just in Maresha (which was abandoned during the Roman period) some 85 combarium caves have been found, with tens of thousand of niches.
Other hightlights are the socalled Sidonian caves which were used during the Hellenistic period as burial grounds.
They contain rich frescoes and inscriptions.
The Bell Caves date from the Byzantine period and are a great sight, not to be missed at the end of the circuit.
They come in all shades of greytones, and are really huge.
---
Bet Guvrin-Maresha is a large archaeological park with abundant testimonies to its different inhabitants in the course of history including Edomites, Phoenicians, Greeks, Jews, Romans, Crusaders and Arabs. The site is mostly known for its exceptional elaborate cave system which was carved in the soft rock for different domestic and agricultural purposes. I would certainly recommend not to miss the Roman amphitheatre at the site. It is not as impressive as the ones in Verona and Rome but it is certainly the best one in Israel. Another prominent finding were the Phoenician tombs covered with frescoes.
---
Site Info
Full Name

The Caves of Maresha and Bet Guvrin in the Judean

Unesco ID

Country

Inscribed

Type

Cultural

Criteria

5

Categories

Link
Site History
2011

Requested by State Party to not be examined

After "deferral" recommended by ICOMOS
Site Links
Unesco Website
Official Website
In the News
Visitors
76 Community Members have visited.