Calakmul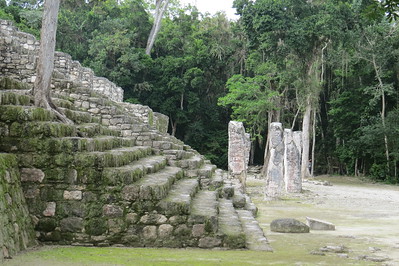 The Ancient Maya City of Calakmul, Campeche is one of the largest ancient Maya cities ever uncovered, with many objects like stelae, murals and burial tombs still in situ. The site contains 117 stelae, the largest total in the region.
It flourished between 400 BC to 900 AD, which makes it older than the other inscribed Maya sites. Afterwards the center of Maya power shifted to the north. In its time, Calakmul was the rival of Tikal.
The site was not rediscovered until 1931. The ruins of the ancient settlement consist of three groups of structures, with public open spaces and platforms with buildings. Its major monument, the pyramid temple Structure 2, is one of the most massive structures built in the Maya world.
Community Reviews
---
Visited just recently (November, 2021). Since the site was carefully decribed by other travellers I will focus on transportation warning so you may avoid problems while trying to get there without your own car.
Arrived in the afternoon (21.11.2021) at Xpujil and immediately started to organize a transport for the next day to Calakmul ruins. As there are no public transport directly to the archeological site you have to arrange something on your own. There are several options. The easiest seem to be tour agencies offering full day package (transport, food, guide) for 1500 (or more) peso per person. Taxis goes there for similar amount of money (or if you negotiate hard for a bit less) – this include 3 hours waiting time on the place. This option is paid by trip so if there are 3 -4 persons it might be the best solution. Other option is to go by bus from Xpujil ADO bus station to entrance of Calakmul National Park (some 60 km from Xpujil, Entronque a Calakmul) and try to organize transport from there (additional 60 km to Zona Arqueologica).
As realized the options I tried to find an agency and ask them for transport. Just opposite my hotel in Xpujil (Becan Hotel) I found an agency - Tour In Calakmul By Abel, google coordinates: 18.50806987416214, -89.39426131904403. It looked as normal agency, the person inside was very helpful and communicative (he spoke very good English). After short negotiations he reveled that next day he had a tour to Calakmul so it was possible to go with them – just transportation, no package. Good for me. Finally we agreed on the price 400 peso as I wanted to be left on the main highway (Entronque a Calakmul) – later on I wanted to go to Escarcega / Campeche. In the meantime another tourist from Canada came to the agency and realized it was possible to go to Calakmul on the next day. As he wanted to return to Xpujil he was about to pay 500 peso so he did. Received a receipt for that. Fortunately I did not pay anything but promised to pay next day while the transport would be organized.
Next day, as agreed we (together with that guy from Canada) have been on the spot at 6 a.m. but there was nobody waiting for us. The office was closed and nobody from the agency answered the phones. We waited until around 7.30 and realized that we had to organize alternative transport. I went there by bus while Desmond and the people who had paid for the package tour decided to go by taxi.
Personally I lost only a lot of time and some confidence in people but I was curious how this situation ended (both Desmond and the people from the package tour had paid deposits for the service that was never executed). It seems that the agency that was initially reliable with good opinions now changed into normal scam as they did not return the money.
You can read that on Tripadvisor (by using name Tours in Calakmul Abel) – three recent reviews indicate scam with full description
https://www.tripadvisor.com/Attraction_Review-g635715-d20367719-Reviews-Tours_in_Calakmul_Abel-Xpujil_Town_Yucatan_Peninsula.html
and Google – using the name: Tour In Calakmul By Abel – 5 recent reviews are from cheated persons
So what are the solutions ? Probably the easiest way is to go there by rented car or with someone who you know. Good option is to use local taxi (ideal for 4 persons) as you share the cost and usually pay after the service is executed. If you are lucky you can try to hitch-hike (or go by bus to Entronque a Calakmul and hitch-hike from there). Personally I did the latter option - bus from Xpujil goes around 7.30 in the morning, so after an hour you can reach Entronque a Calakmul. After buying tickets - National Park fee and local community tax - total 150 peso (additional 80 peso you will pay for a ticket to enter archeological site) I found a local Uber/taxi - for only 200 peso he agreed to go to Zona Arqueologica and back. Of course I paid at the end of a trip. From Entronque a Calakmul there are buses to Escarcega or Xpujil / Chetumal, not very frequent but it is the best option if you travel without your own transport. For timetable you can try to ask at the ticket booth. 
Places on the photo, bottom left, than clockwise: Estructura 2 (view from the top), Gran Acropolis (residential quarter), Estructura 1, Gran Acropolis (the pyramid)
---
For such a remote site, Calakmul was surprisingly easy to get to. I had considered leaving it off our itinerary at one point thinking that it would be too time consuming and complicated to visit without a rental vehicle. We visited in August 2019 after making our way to Xpujil from Palenque by bus.
Calakmul might be off the beaten path but it isn't unheard of and Xpujil has become a mini tourist hub for the couple dozen tourists that visit the site. It felt like most foreigners were eating at the pizzeria (with budget accommodation in the back) at the corner of the main roundabout and this place should probably be considered ground zero for getting local info for the region. We might've even been able to find someone with a rental car already but as it turned out the pizzeria knew a guy with a car that could take us to the ruins the next day at a very reasonable rate. In the end we were a group of 6 in 2 cars.
It is a long but not unpleasant ride into the park, once off the main road the scenery is pristine wilderness and you can't help but strain your eyes searching and hoping to see some wildlife cross the road. Aside from the checkpoints there really isn't much along the way but our driver pulled off to the side around 27km in (it is unmarked and has room for maybe 3 cars) where we walked along an unmarked trail for ~45 minutes and saw howler and spider monkeys, deer, toucans, etc. We also saw another family walking the trail so it seems legit if anyone wants to enjoy the natural aspects of the park.
We were given 4 hours at the ruins and chose the long trail, climbed the 3 climbable temples, loved the views of emptiness and reminders of our experience in Tikal, had to rush the last part and finished just under 4 hours as the last of our group to return. The only downside of the day and maybe it was just the time of year, but the mosquitoes were so bad we used an entire big bottle of repellent trying to keep them off and still couldn't stop long enough to read through a whole info sign (of which there were many). We saw maybe 2 dozen other tourists there and the site is huge so you end up spread out well which can actually make following the furthest sections of the long route more confusing with a lack of coherent direction markers and nobody else to follow.
This site is definitely worth visiting and really doesn't require a ton of effort to get to, just time. Xpujil has direct buses to Villahermosa, Campeche, Chetumal, Bacalar, Cancun, etc though the hours can be a little strange as it is all just through traffic. It would be a very long day trip by car from anywhere else and Xpujil isn't unpleasant. We had no time for it but there are other small ruins in the area as well.
---
4.00 Belgium, France - 17-Nov-16 -
Calakmul is one of those places that take people directly into one those famous American adventure movies. Hidden in the middle of a huge forest, it offers a great experience, combining culture and nature, to the brave souls willing to see it. Reaching Calakmul is not an easy thing.
There is only one road leading to the site. This road, if we can call it a road or a path, is already an adventure in itself. Full of holes, surrounded by forest, you can easily meet animals while driving, especially considering that you cannot speed anyway. Among the animals we saw in the site and on the way, we can mention many monkey, a coral snake, many ocellated turkeys, few wide pigs, few lizards and of course many birds.
To access the path leading to Calakmul, people must take the road linking Villahermosa. via Escarcega, to Chetumal. If you come from Escarcega, you have to drive on this road until the small village of Conhuas. Cross the village and few hundred meters after the end, you will find, on your right, the entry to the Calakmul path, with a guard to which you have to pay an entrance fee. This entrance is badly indicated so be careful. There must be a checkpoint at the very beginning. If there is none, you are probably on the wrong road.
Once on the Calakmul path, there is a 60 km trip to reach the ruins. Considering the state of the road, it may fairly take 1,5 to 2 hours to reach the small parking of the site. You will also see one or two additional checkpoints with guards to which fees have to be paid. An important tip, if you drive your own car, is to have enough fuel, given that from Escarcega to Chetumal, there are very few gas stations, mostly located in Xpuhil town.
The ruins are in a less good state than the ones people can see in Chichen Itza, Uxmal or Palenque, but offer this unique sensation of being untouched since their discovery. Nature is playing a key role is this experience. Finally, climbing on some of the highest pyramids offers a great view on the forest. From there, you see nothing but trees, no human presence.
---
I visited this WHS in December 2015. Some say that it's all about the journey, not the destination. To me Calakmul truly deserves it's place on the list and is a very good example of how a mixed WHS should be. You won't end up in Calakmul by chance. The Mayan ruins are in the middle of the biosphere reserve on the forest border with Guatemala. I'd suggest getting to the Rio Bec Mayan cluster close to Chicanna/Becan/Xpuhil and visiting these ruins first and sleeping over to visit Calakmul first thing in the morning. I marvelled at House of the Serpent Mouth in Chicanna and spent a lovely afternoon exploring practically alone for hours on end. I was at the entrance to the 70km road to the site at around 07:30 and it turned out to be a wise choice. The road is full of potholes and turns and quite narrow at times to be a 2 way road. Being there early meant I could drive on without having to slow down because of other vehicles in the opposite direction (which I experienced on my way out!). The highlight of the ruins are the several carved stelae beneath the 'pyramids'. Climbing to the top is still allowed and it's a great experience to be high above the forest canopy and have a panoramic view of the biosphere. The peak of the recently discovered El Mirador in Guatemala can be seen on a sunny day and with binoculars. Structure 2 is one of the tallest Mayan ruins in Mexico and a small tip to help you climb up and down safely is to go up and down in a zig zag pattern not straight up and especially not straight down. There's no rope to help you like there is in Coba for example but the view is certainly worth the effort and to me the best forest view you can get from any Mayan ruin in Mexico. The biosphere is full of interesting birdlife and lots of elusive fauna. The loud howler monkeys echo all over the place and can be easily spotted while the quick black handed spider monkeys are a bit more difficult to capture on camera! All in all this is one of my favourite Mayan sites mostly because it's more quiet than other more iconic Mayan ruins and because they can still be enjoyed to the full.
---
4.50 The Netherlands - 19-Jan-14 -
I love remote sites! And who can withstand the experience of watching a WH-listed ancient Maya ruin with the background noise of howler monkeys? Calakmul is as much a natural site as it is cultural, although it was inscribed as a cultural WHS only. It lies in the Calakmul Biosphere Reserve in the south of the Yucatan peninsula, which is the largest nature reserve in Mexico. It's a 110km / 2-hour drive from the nearest decent accommodation. At the turnoff from the main road, you first have to pay an entrance fee to the park and then you can drive on into the jungle. It's the kind of road where you expect an oncilla sprinting across it at any moment (it didn't happen, of course).
After about 20km I arrived at the visitor center. A nice place to stop for a quick look, and it's also the last place where they sell drinks and snacks. They have a few Mayan objects on loan from the Museum of Anthropology, the rest of the presentation is geared toward the landscape. The final 40km is on a much worse road: it's paved but it has a lot of potholes. It took me an hour to get there, fortunately, there are few other visitors so you can drive on any side of the road.
The small parking area probably is a sign of how few visitors come here, there's room for 20 cars at most. Signing up in the guest book, I was the second visitor of the day (ca. 10 a.m.). You can be so unlucky though to encounter a large tour group: at my hotel both nights large European tour groups were staying (Danish, German) and they obviously had visited Calakmul too. The entrance fee is 45 pesos (2,5 EUR), and you even don't get a ticket for that (let alone a brochure or something). You just have to follow the trail with the painted arrows.
I walked the jungle trail completely alone and that was a good hike. Before having seen one of the ruins, I already stumbled upon a troop of monkeys. I saw the brushes moving and knew I just had to be patient to get a glimpse of them. They were Geoffroy's spider monkeys, with black faces and brownish backs. Great to watch, they were having their breakfast.
The trail is divided into short, medium, and long branches, but I have no idea what that means (how long is long? What do you miss following only the short trail?). This is the only criticism I have of this site: signposting is as erratic as on Mexican roads: signs can be forgotten, pointing both ways etc. The main area is the Central Plaza, which has structures on all four sides. They've not cut the trees around the structures so it still has the atmosphere as if you've just stumbled upon them in the jungle. The stelae for which the WHS is particularly known are present everywhere, just like rows of columns in an Ancient Roman archeological site. The decorations on them mostly have eroded. The structures themselves aren't big on decoration either.
At the back of the Central Plaza the trail leads to the highest structure of the complex, the Great Pyramid or structure no. 2. It is over 45m high. I decided this would be the one to climb this day – climbing is still allowed here and the stairs are in pretty good shape. From a previous experience in 1997 (I don't remember where it was, Teotihuacan?, Palenque?) I remember that it is very steep and especially scary to go down. But I pushed on this time and it wasn't that hard. And there was no one around to see me climbing up slowly. The views are what you hope for: at the top of the pyramid you're above the level of the forest canopy and you can see far, very far. You can apparently see other Mayan structures in Guatemala, but I did not know which way to look. But I did see some parts of Calakmul.
When I climbed down I heard the noise of howler monkeys. This unmistakable sound I know so well from red howler monkeys in Peru and Guyana, where it is the wake-up call at 5 a.m. These ones were a little late around noon. I went to the source of the noise, and stood under the tree they were hanging out in. I've always found howler monkeys difficult to see, they don't move around as other monkey species. But with some patience and endurance of the sound piercing my ears, I saw black bottoms, black limbs and finally also a large black head like a gorilla peeking down at me. These are Guyanan/Yucatan black howlers, another new mammal species for me and the fourth new species during my stay in this area (I saw an agouti and a little fox near my hotel in Chicanna).
After a 2.5-hour visit, I was fulfilled and prepared for the long drive back. But this is surely a WHS "worth a journey".
Read more from Els Slots here.
---
anthony Sun
Two years ago in December of 2007, my family and I took a driving tour of the Yucatan in Mexico. Calakmul is certainly the highlight. We spent an evening in the town of Campeche and drove to Calakmul the next morning. The drive goes through pristine forests and after you turn off the highway, you are entering the Calakmul Biosphere. You can definitely notice the bird sounds and we even had to stop to let a family of wild turkeys cross the road.
The Mayan city of Calakmul is less restored than Chichen or Uxmal and so much more in its natural setting. There are no crowds of tourists unlike Chichen (thousands of tourist come to Chichen from Cancun by the bus loads just for the day) and we only saw a couple of other families there that day.
The best part of Calakmul is that you can still climb the pyramids unlike Chichen and Uxmal where they are totally off limits. There are several that you can climb and we did the two highest. On the main pyramid, you will have a 360 degree view of the country side and we sat up there for nearly an hour just looking at the forest to the horizon. Unfortunately when it got too hot we had to descend to some shade.
A local guide pointed out another pyramid in the southern direction in the distance which is Mirador just over the border in Guatemala. My understanding is that the World Heritage Fund is restoring Mirador and that they believe that it rivals Tikal and all other Mayan cities. Once completed and open to the public, I anticipate that Mirador will become another WHS.
The last tidbit on Calakmul is that they discovered an opening on the main pyramid to another pyramid inside. They built the main pyramid over an older pyramid. Pictures show that the inner pyramid has very well preserved paintings and features. Unfortunately unless you are doing field work, the entrance is locked by a steel door and not open to the public.
Not to be missed.
---
Site Info
Full Name

Ancient Maya City of Calakmul, Campeche

Unesco ID

Country

Inscribed

Type

Mixed

Criteria

1

2

3

4

9

10

Categories

Link
Site History
2014

Extended

Extended to include Natural Criteria
2004

Revision

Has formerly been on T List as Campeche Nature Park (1986)
Site Links
Unesco Website
Official Website
Related
In the News
Visitors
97 Community Members have visited.