Calakmul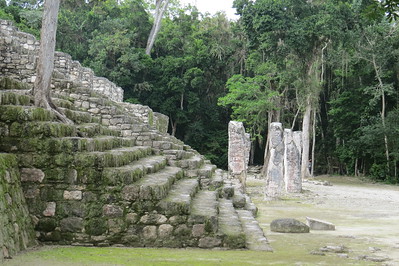 The Ancient Maya City of Calakmul, Campeche is one of the largest ancient Maya cities ever uncovered, with many objects like stelae, murals and burial tombs still in situ. The site contains 117 stelae, the largest total in the region.
It flourished between 400 BC to 900 AD, which makes it older than the other inscribed Maya sites. Afterwards the center of Maya power shifted to the north. In its time, Calakmul was the rival of Tikal.
The site was not rediscovered until 1931. The ruins of the ancient settlement consist of three groups of structures, with public open spaces and platforms with buildings. Its major monument, the pyramid temple Structure 2, is one of the most massive structures built in the Maya world.
Visit January 2014
I love remote sites! And who can withstand the experience of watching a WH-listed ancient Maya ruin with background noise of howler monkeys? Calakmul is as much a natural site as it is cultural, although it was inscribed as a cultural WHS only. It lies in the Calakmul Biosphere Reserve in the south of Yucatan peninsula, which is the largest nature reserve of Mexico. It's a 110km / 2 hour drive from the nearest decent accommodation. At the turnoff from the main road, you first have to pay an entrance fee to the park and then you can drive on into the jungle. It's the kind of road where you expect an oncilla sprinting across it at any moment (it didn't happen, of course).
After about 20km I arrived at the visitor center. A nice place to stop for a quick look, and it's also the last place where they sell drinks and snacks. They have a few Mayan objects on loan from the Museum of Antropology, the rest of the presentation is geared to the landscape. The final 40km is on a much worse road: it's paved but it has a lot of potholes. It took me an hour to get there, fortunately there are few other visitors so you can drive on any side of the road.
The small parking area probably is a sign how few visitors come here, there's room for 20 cars at most. Signing up in the guest book, I was the second visitor of the day (ca. 10 a.m.). You can be so unlucky though to encounter a large tour group: at my hotel both nights large European tour groups were staying (Danish, German) and they obviously had visited Calakmul too. Entrance fee is 45 pesos (2,5 EUR), and you even don't get a ticket for that (let alone a brochure or something). You just have to follow the trail with the painted arrows.
I walked the jungle trail completely alone and that was a good hike. Before having seen one of the ruins, I already stumbled upon a troop of monkeys. I saw the brushes moving and knew I just had to be patient to get a glimpse of them.. They were Geoffroy's spider monkeys, with a black face and brownish back. Great to watch, they were having their breakfast.
The trail is divided in short, medium and long branches, but I have no idea what that means (how long is long? What do you miss following only the short trail?). This is the only criticism I have of this site: signposting is as erratic as on the Mexican roads: signs can be forgotten, pointing both ways etc. The main area is the Central Plaza, which has structures on all four sides. They've not cut the trees around the structures so it still has the atmosphere as if you've just stumbled upon them in the jungle. The stelae for which the WHS is particularly known are present everywhere, just like rows of columns in an Ancient Roman archeological site. The decorations on them mostly have eroded. The structures themselves aren't big on decoration either.
At the back of the Central Plaza the trail leads to the highest structure of the complex, the Great Pyramid or structure no. 2. It is over 45m high. I decided this would be the one to climb this day – climbing is still allowed here and the stairs are in pretty good shape. From a previous experience in 1997 (I don't remember where it was, Teotihuacan?, Palenque?) I remember that it is very steep and especially scary to go down. But I pushed on this time and it wasn't that hard. And there was noone around to see me climbing up slowly. The views are what you hope for: at the top of the pyramid you're above the level of the forest canopy and you can see far, very far. You can apparently see other Mayan structures in Guatemala, but I did not know which way to look. But I did see some parts of Calakmul.
When I climbed down I heard the noise of howler monkeys. This unmistakenable sound I know so well from red howler monkeys in Peru and Guyana, where it is the wake-up call at 5 a.m. These ones were a little late around noon. I went to the source of the noise, and stood under the tree they were hanging out in. I've always found howler monkeys difficult to see, they don't move around as other monkey species. But with some patience and endurance of the sound piercing my ears, I saw black bottoms, black limbs and finally also a large black head like a gorilla peeking down at me. These are Guyanan/Yucatan black howler's, another new mammal species for me and the fourth new species during my stay in this area (I saw an agouti and a little fox near my hotel in Chicanna).
After a 2.5 hour visit I was fullfilled, and prepared for the long drive back. But this is surely a WHS "worth a journey".
Community Reviews
---
---
---
---
---
Community Rating
Community Rating 4.00. Based on 6 votes.
Your Rating
Site Info
Full name: Ancient Maya City of Calakmul, Campeche
Unesco ID: 1061
Inscribed: 2002
Type: Mixed
Criteria: 1 2 3 4 9 10
Site History
2014 - Extended

Extended to include Natural Criteria

2004 - Revision

Has formerly been on T List as Campeche Nature Park (1986)

2002 - Inscribed
Site Links
Unesco Website
Official Website
Related
Connections
The site has 10 connections.
Visitors
46 community members have visited Calakmul. Show all