Willemstad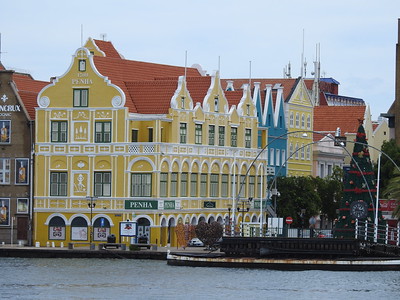 The Historic Area of Willemstad, Inner City and Harbour, Curaçao is a colonial urban landscape where Dutch-European architecture was combined with tropical models.
Willemstad was established as a trading post, port and settlement by the Dutch West India Company in the early 17th century. Most of its original urban structure remains, as do the colourful buildings from the 19th century. The designated area contains four historic districts around a natural harbour.
Community Perspective: Solivagant and Zoë in their reviews 8 years apart agreed on finding the city too commercialized while the architecture isn't exactly outstanding. When you spend a bit more time, however, Willemstad does start to grow on you and Els even designed her own City Walk as a result. And Kyle discovered three museums of interest and a lively music scene.
Community Reviews
---
3.50 California - United States of America - 31-Dec-22 -
Having 4 days and 4 nights in Curaçao allowed my wife and I ample time to explore Historic Willemstad and the island as a whole. Using Els' neatly compiled list of 18 representative sites across the already well described districts, I explored the island by morning (car) and after lunch I explored Willemstad (on foot). Renting a car proved useful (if expensive), it allowed us to easily visit Curaçao's National Parks, Ramsar Wetlands (Flamingos!), Caves, Plantations, and best beaches.
To enhance your experience of the History of Willemstad, I would recommend three museums (all part of listed monuments within the WHS).
1. Kura Hulanda Museum (Otrobanda)
2. Mikve Israel-Emanuel Synagogue Museum (Punda)
3. Curacao Maritime Museum (Scharloo)
A particularly memorable experience in Willemstad, was in Nieuwstraat (Pietermaai) at the 'Mundo Bizarro', a popular live music restaurant/pub. Hearing Caribbean music and feeling the energy of the dance floor as the musicians expertly played their set, I will not forget it. Nearby, 'Kome' restaurant serves delicious dishes and has a great atmosphere. Considering that Willemstad is off and on busy based on the arrival of cruise ships, if you have a few days you can see a more "lively" atmosphere or laid back one. When the pontoon bridge is not in service, take the free ferry to cross back and forth, ideally near dusk.
According to the official website there are 743 listed properties that contribute to the Willemstad world heritage site. Both establishments I highlighted are listed properties and its one of the joys of Willemstad, see this art gallery in a historic building in Punda, enjoy a meal in a listed building in Pietermaai. While there are too many "tourist trade" businesses, over the course of a few days, Willemstad felt more and more "lived in" rather than "visited" as I became more familiar with walking routes that held more interest for us.
After reviewing the WHS maps of Willemstad, you might notice an area of "outer" Otrobanda called Kortijn. Once upon returning to the city after a half-day excursion, we stopped just before the Juliana Bridge. We paused because we had a wonderful view of the city. There was brief on and off-again rain, but the view was magnificent (even if not captured by camera). We could see the Santa Famia Cathedral towering over Kortijn. From there we could see the rest of Otrobanda, St. Anna Bay, and Punda. This moment illuminated just how many historic structures make up this world heritage site. Even though I explored all four districts thoroughly, at that moment I realized there was still plenty more to see.
Read more from Kyle Magnuson here.
---
3.50 The Netherlands - 29-Nov-20 -
Curacao holds the WHS where I could finally "finish" the Netherlands: the "Historic Area of Willemstad, Inner City and Harbour". While I already was done with the 9 other Dutch WHS in 2011, Willemstad seemed out of reach. The 10-hour flight to an island fully dedicated to mass tourism had always deterred me. During Covid times, however, there are no cruise ships, and the total number of monthly visitors is limited to 20,000. So it was exactly the right moment for me!
I stayed overnight for a week in the Pietermaai neighborhood and explored the other 3 zones of the WHS on foot. I used itineraries that I found on the internet to identify the most interesting structures of Scharloo, Otrobanda, and Punda.
I started in Scharloo, a neighborhood of detached 19th-century residences. The place to be here is the long Scharlooweg. The stately buildings along this road now house companies and also the Swiss consulate. All are heavily secured and have gates in front. No one walked this street on a Sunday, I only met a stray dog.
The Waaigat separates Scharloo from the Punda district, the oldest part of the city center. As a pedestrian, you can choose from 3 bridges in a row to get to the other side. Especially this part of Willemstad is very reminiscent of Amsterdam. Fortunately, car traffic nowadays uses the also impressive 56-meter-high Juliana Bridge.
I almost immediately left Punda to cross another stretch of water: St. Anna Bay. This is where the origins lie of 17th century Willemstad. Fort Amsterdam is a reminder of that time when access to the port had to be well protected against pirates and foreign naval forces. One usually crosses St. Anna Bay via the Queen Emma Bridge, the iconic pontoon bridge. However, when I arrived the bridge had just opened for a large cargo ship. At those times there is a free ferry back and forth. I got on that one and was in the Otrobanda district within a few minutes.
Otrobanda is a residential area with both working-class and upmarket houses from the 18th and 19th centuries. My walking route through Otrobanda was easier to follow than the one through Scharloo, but here too many buildings have changed hands or have fallen into disrepair. Next to the bright yellow Masonic Lodge - which indeed still stands – there should have been "another very beautiful mansion (white with blue woodwork)" from the beginning of the 18th century. What I found however was a charming ruin (see photo).
Finally, the Punda district. This consists partly of the government buildings of Curaçao and the other part of shopping streets mainly aimed at tourists. The administration buildings are nicely painted yellow. The shopping streets are narrow with properties on top of each other. The Post Museum here is located in the oldest remaining building. Punda was my least favorite neighborhood of the three, the best thing is watching the pontoon bridge open and close from a terrace on the waterfront.
After my first half-day city walk, I was able to do multiple short hops into town and visit also attractions with limited opening hours such as the Maritime Museum. Willemstad does grow on you. Its historic area is quite large and goes well beyond the row of colourful houses at the Handelskade near the pontoon bridge. Compared to St. George (Bermuda) and Cartagena (Colombia), two similar WHS that I visited during the past year, Willemstad has less focus on fortifications and more on urban colonial architecture made possible by its success as a trading city.
Read more from Els Slots here.
---
2.50 Chinese-Canadian - 03-Jun-20 -
No trip to Curaçao is complete without a visit to Willemstad. Well, actually it easily could because it's at the opposite of the island as you arrive by air but I suppose there isn't so much to do that you would skip it (besides, it's a 5 minute drive from the airport). If you are coming from Europe, especially The Netherlands, then this is a waste of time though. It's basically a waterfront in Dutch style. I spent very little time here mainly because the parking is expensive like back in Europe so I stopped across the river, photoshoot, walked across the bridge and then circled around the small town a few times. It's actually super small. I later drove through it to get to the nearby beach which is more or less for drinking and partying rather than chilling.
The buildings you see are clean and neat, nice Dutch Caribbean variation of the Colonial settlements, but not all of the buildings are remains from the past and good efforts are spent that new ones will fit in with the style. Aside from the waterfront I don't think it's worth checking out anything else. It's pretty and that's all. The town itself is just shops and restaurants but on the day I visited there was also nothing going on so I suppose the atmosphere could be nicer in the evening or just other days.
---
My assessment of Willemstad passed through a number of phases during our visit and certainly finished "higher" than it stood at some stages during the day we were there! However the initial view from the sea as we entered by ship was perhaps the highlight – it is certainly memorable and seemed to augur better for things to come. The Queen Emma pontoon bridge quirkily "opened up" to let our boat enter a narrow waterway (around 150 metres wide?), lined on both sides by brightly painted houses of vaguely Dutch design – the entire view is framed beyond by the slim high level Queen Juliana bridge linking the 2 sides. Beyond however lies a large and ugly oil refinery and freight shipping terminal.
The inscribed old town is in 3 sections, divided first by the main N/S waterway, with another smaller "canal" at right angles creating a third sector on the main (eastern) side. All 3 are walkable within half a day. Our ship moored at "Otrabanda" ( = "the other side") and we started there. This is the less "showy" and busy side and has a few pleasant buildings and quiet courtyards, but also has some undistinguished areas and an elevated road from the new bridge running through it, together a large modern resort development at one end. The old Riffort which adjoins this has been turned into a restaurant and shopping arcade within the shell of its walls. The hotel has nice a/c and free wifi (as well as such essentials as an infinity pool and a casino!) and is constructed reasonably sympathetically with pastel walls matching the general Willemstad theme, but it reminds you that you are very much in Americanised "Caribbean resort" territory!!
Perhaps the best thing about Otrabanda is the view of Punda on the other side and of the pontoon bridge. This is pedestrianised and a "short" partial opening for small boats is indicated by a yellow flag, whilst a long one for ocean going traffic has a red one. During the red flag a free ferry operates and is quite fun to ride. As you cross the bridge you get views of the government buildings and of the most striking block of buildings facing the harbour (photo). One of these, the Penha building, is dated 1708. But closer examination reveals that some of the other structures are modern ones and, as one moves away, one enters streets of pretty non-descript or even poor quality buildings. Occasionally there is a notable building like the Synagogue dating back to 1732 but the main impression is of loads of Gem shops and other tourist traps of no merit, together with areas needing some TLC – I noted particularly a ruined art deco cinema called "Cinelandia" . The Government area has some nice 18th century buildings and a church (which is "pay to enter" – as is nearly everything in Willemstad!) and leads through to the walls of Fort Amsterdam which consists solely of restaurants. Another of Punda's tourist attractions is the small, so called Venezuelan, floating market selling fish, vegetables and handicrafts but hardly worth a stop.
If you cross the canal north of Punda by the modern "Dutch style" pedestrianised lifting bridge, you enter the third sector of the city called Scharloo. Large areas of this former Jewish merchant area are very run down or even collapsing but money is also being invested in what could potentially be a very nice area to live and do business in. It was here that our spirits were lifted somewhat by the sight of some fine and well restored mansions. At the time of our visit some of the streets were still unpaved and drains etc were being laid – no doubt in a few years it will be fully restored but, in the mean time, it is still well worth visiting.
So, what overall assessment can be made of Willemstad? Its obvious "comparator" is the other "Dutch" Caribbean WHS of Paramaribo. In my view this latter is more worthy of a visit both for its early "Dutch" official buildings and for its Caribbean architectural variation on the "European" theme which, with its emphasis on wooden architecture, is more striking than that of Willemstad whose distinctive attractive "pastel" shades are perhaps not quite enough to make it "outstanding". Its location in Surinam also means that is has avoided the commercialization of Willemstad and has maintained a larger area of authentic buildings. Interestingl,y both are inscribed on criteria ii and iv (Interchange of Values and Significance in Human History) but Willemstad is also regarded as meeting criteria v (Outstanding example of Human Settlement)!! The justification for such a difference escapes me!
---
Site Info
Full Name

Historic Area of Willemstad, Inner City and Harbour, Curacao

Unesco ID

Country

Inscribed

Type

Cultural

Criteria

2

4

5

Categories

Link
Site History
2011

Name change

From "Historic Area of Willemstad, Inner City and Harbour, Netherlands Antilles" to: Historic Area of Willemstad, Inner City and Harbour, Curaçao
Site Links
Unesco Website
Official Website
Related
Visitors
124 Community Members have visited.